How Illuminator helps your business
Illuminator's highly structured data and intuitive design helps you find exactly what you need:
Substance and Material Identification
Gain Global Market Access
Sustainability for your Business
Quick and easy access
Search more intuitively than ever before
Effortlessly create personalized collections of relevant substances and topics
Intersect your collections to enable automated change tracking
Get weekly updates on new and changing regulations
See new lists first to maximize the value of your subscription
UL's Illuminator provides first-of-its-kind access to the ChemADVISOR™ Regulatory Database. With personalized views and automated alerts, you can track and monitor chemical regulatory changes with ease.
Staying on top of chemical regulations
Managing regulatory change remains a significant concern for businesses and industries at large. The impact of a new regulation may only become clear to a company once the regulatory deadline is imminent and they may not have enough time to address their compliance obligations.
Illuminator helps you find what you need and get notified early when there is a new regulation. It will help protect your products and saves time and resources when the product is ready to launch.
Illuminator allows you to:
Focus on your substances

Create content that focuses on the substances of most interest to you.

View detailed regulatory content

Dig into the details of over 6,800 individual regulatory lists from over 130 countries around the world.
Connect to the original sources.
Use data created and organized by UL's subject matter experts to dive deeper into the topics important to your business and industry.

Customize the information you see

Create your own substances and list collections.
Generate reports that focus on the intersection of the substances and industries you care about with the regulatory insight you need to succeed.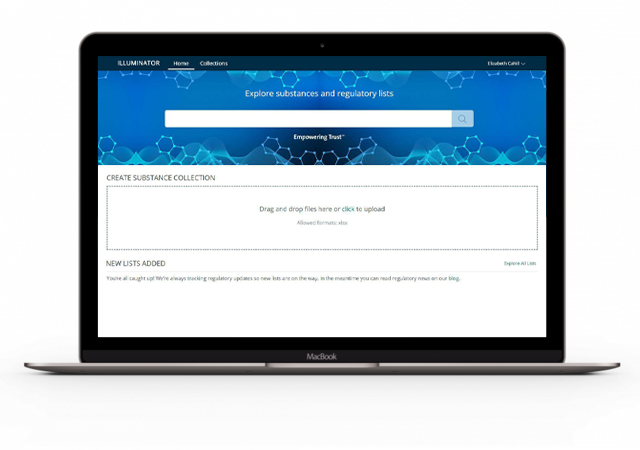 Our data supports a diverse set of industry sectors:
Food and beverages
Personal care and cosmetics
Specialty and laboratory chemicals
Paints and coatings
Pesticides and biocides
Electrical and electronic equipment
Toys and children's products
Textiles and clothing
Subscriptions to Illuminator are offered as single user or group user plans both monthly and annually. Contact us to get in touch with our team or sign up today for a two-week complimentary trial!
Get in touch
Have questions, need specifics? Let's get this conversation started.