Despite the heavy investment of man hours from companies up and down supply chains to manually provide and process accurate and complete product-related information, the volume of requests often becomes unmanageable. The demand ultimately weakens the reliability and integrity of the data and its value in the supply chain for making critical business decisions and managing compliance.
Our Supply Chain Network is a powerful digital platform to help companies across supply chains intelligently share, analyze and manage product-related data. It enables buyers to quickly and easily create replicable frameworks in an environment deploying data security measures for suppliers to submit required information.
This consistent format for collecting data empowers you to process and manage information in order to make critical business decisions and meet regulatory demands in a more efficient and confident way.
Solving more of your challenges
UL's Supply Chain Network has advanced translation capabilities to reduce the efforts required and delays caused by language barriers when trading internationally. The automated system effectively gathers, shares and manages information and data across a supply chain. It offers additional value to both buyers and suppliers by:
Managing the simple update of frequently changing information due to changes in formulation, physical properties or regulations
Saving and accessing data on UL's platform operated with standards designed to protect your confidential business information
Offering a platform designed to improve data quality/accuracy
Mitigating risk of passing inaccurate data through multiple tiers of the supply chain
Option for suppliers to share the data with multiple buyers, ultimately saving them time
How it works
Buyers (called Recipients) assemble product surveys, ranging from physical properties to regulatory information, within the UL multilingual compliance questionnaire library then invite their suppliers to join our Supply Chain Network
Suppliers submit answers from their personal dashboard. The data is stored in Supply Chain Network. The same responses can be used to submit to other customer requests. Additionally, suppliers can make and manage requests to their own suppliers.
Recipients are able to analyze and report on permission-based data that was received and stored within the application.
Recipients manage and track activity within the application. Results can be optionally ported into ERP, formulation, logistics and other information systems.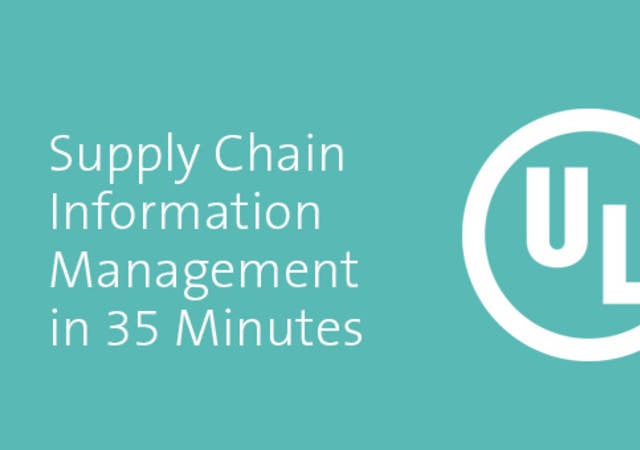 Supply Chain Information Management in 35 minutes
This webinar discusses how to collect information from up and down the supply chain, how to manage this data and communicate it efficiently, how to identify data sources in downstream communications, and the implications of supply chain information for compliance.
Register now