The typical UL Mark product evaluation process
Although individual projects vary, the typical UL Solutions product evaluation process for the UL Mark has a number of steps for both you and UL Solutions and follows the path below: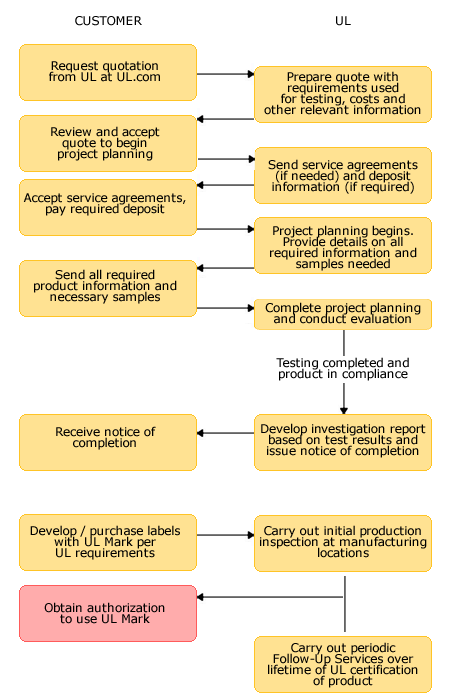 Start with UL Solutions requirements early in your product development cycle.
It is easier to design a product with UL Solutions requirements in mind than to redesign a product to meet a set of requirements. If you are new to UL Solutions or simply uncertain about your product construction, request a preliminary evaluation. We'll evaluate your prototype designs and assist in pre-production product conformance. Pre-testing advice is cost-effective and may often offset final testing costs.
Obtain a copy of the UL Standard for Safety used to evaluate your product.
Make sure to understand the requirements your product will need to meet. Contact your local UL Solutions Customer Service team for information about how to obtain a copy of the UL Standard covering your product. You can speak with a UL Solutions project engineer if you need clarification of technical requirements.
Use UL Recognized Components to reduce required testing.
Obtain the conditions of acceptability and ratings for all components used in your product. Verify that all components are suitable for how you're planning to use them. Your components supplier can provide all the information necessary to address these issues. You can also check UL's Online Certifications Directory for details on UL Recognized Components.
Assess your product against UL Solutions' requirements.
Do your own assessment of your product at your facility before submitting it to UL Solutions. Bringing your product into compliance before submitting it to UL Solutions makes for a more cost-effective, faster testing process.
Make sure you understand the Follow-Up Service (FUS) process and how UL Solutions determines continued compliance once your product has been certified. FUStart and our other customer resources provide valuable information about FUS.
Provide complete set of product documentation.
Ask your local UL Solutions Customer Service team for a list of the information you need to provide for certification. In general, expect to share detailed information on all critical component, product dimensions, product enclosures, openings, power connections, markings and labels, manufacturing location details, and factory test equipment.
Be aware of shipping requirements that can affect project timeline and costs.
U.S. Customs and Border Protection is enforcing Importer Security Filing (ISF) requirements for shipments arriving at U.S. ports via ocean vessel. Meeting these security filing requirements will prevent delays and unplanned additional costs. Please see the Security Filing page of the U.S. Customs and Border Protection Web site. The required information should be provided to your freight forwarder at the time of shipment or to our customs broker at [email protected].
Make your testing work harder for you.
Countries around the world have different electrical systems and product requirements. Let us know upfront where you plan to market your product so we can build a comprehensive test program that provides most direct, cost-efficient path to global certification.
Keep the lines of communication open.
Be in contact with your project engineer throughout the testing process for status updates and to answer any questions. Create a free MyHome @UL account to access your customer and project information online.