NORTHBROOK, Ill., February 28, 2020 — The following is a notification from UL that the communications cable identified below may pose a fire hazard. The communications cable does not comply with UL's Safety Standards and is not authorized to bear the UL Mark for the United States or Canada.
Name of Product: Monoprice, Type CMR Cable - (PID8108) Copper Cable White
Amount Shipped:  12 boxes
Hazard:  The communications cable does not meet the flammability requirements of the safety standard which may cause an increased risk of fire.
Remedy: UL recommends that you stop using this cable.
Identification on the Cable: The surface of the cable jacket displays the following description: (UL) E467139 23AWGX4P CMR CAT6 UTP RoHS COMPLIANCE 0968FT
Identification on the Box: 
MONOPRICE 
1000FT 23AWG Cat6 500 MHz
UTP, Solid, Riser Rated (CMR),
Bulk Ethernet Bare
Copper Cable-White
Made in China
Type: CMR
Conductor: Solid
23AWG/4 PAIR
QTY: 1000FT (305 M)
UL No.: E467139

E467139
Photographs: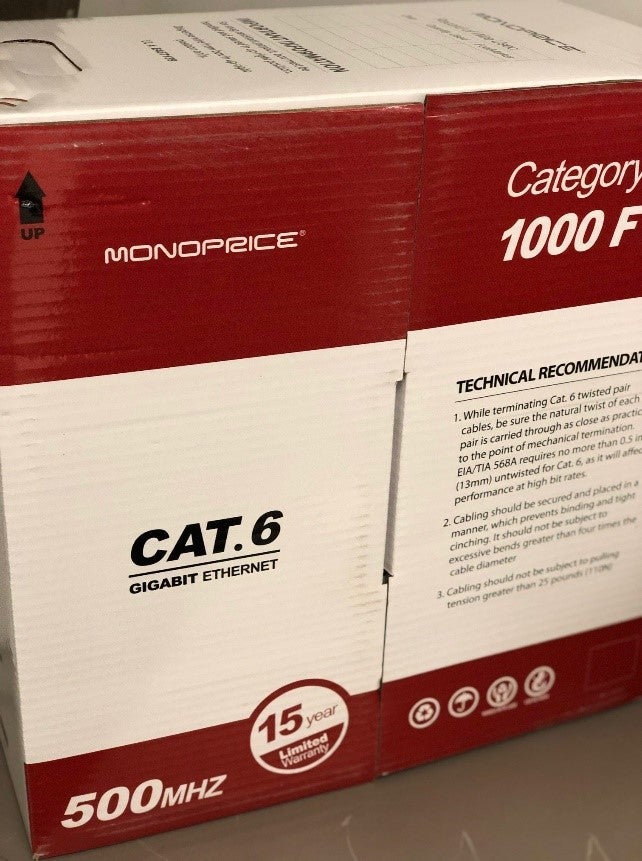 Known to be distributed by:  www.Monoprice.com  may have been sold by others.
About UL:
UL helps create a better world by applying science to solve safety, security and sustainability challenges. We empower trust by enabling the safe adoption of innovative new products and technologies. Everyone at UL shares a passion to make the world a safer place. All of our work, from independent research and standards development, to testing and certification, to providing analytical and digital solutions, helps improve global well-being. Businesses, industries, governments, regulatory authorities and the public put their trust in us so they can make smarter decisions. To learn more, visit UL.com. To learn more about our nonprofit activities, visit UL.org.