By Eslam Abdelaal, Saudi Regulatory Program expert
Saudi Standards, Metrology and Quality Organization (SASO) has prepared a new standard, Energy Efficiency Functionality and Labelling Requirements for Lighting Products – Part 3: Street Lighting based on relevant ADMO, International and National Foreign Standards and references.
In addition to the products already in scope of the energy efficient lighting standards: Part 1 2870/2018 and Part 2 2902/2018, the lighting products that fall under this new standard Part 3 will also require to be tested and have the SASO energy efficiency certificate and label.
The draft of the standard was released on March 30, 2019, and is in the collection of comments stage until May 28, 2019.
Standard scope:
The new standard will cover requirements for street and road lighting applications, covering:
Classification of street/road lighting

:

Three type of lighting classification (M, C and P)

Tunnel lighting

:

D

aylight and night for tunnel

Technical requirements of lighting products

:

Illustrates all lighting products included in the scope of standards
List of products covered:
| | | | | |
| --- | --- | --- | --- | --- |
| Regulatory parameters | Metal halide | High intensity discharge (HID) | Control gear | Luminaires |
| Energy efficiency | YES | YES | NO | YES |
| Functionality/performance | YES | YES | NO | YES |
| Electrical requirements | YES | YES | YES | YES |
| Mechanical requirements | YES | YES | YES | YES |
| Energy efficiency labeling | YES | YES | NO | YES |
Example for the new energy efficiency label for street lighting products.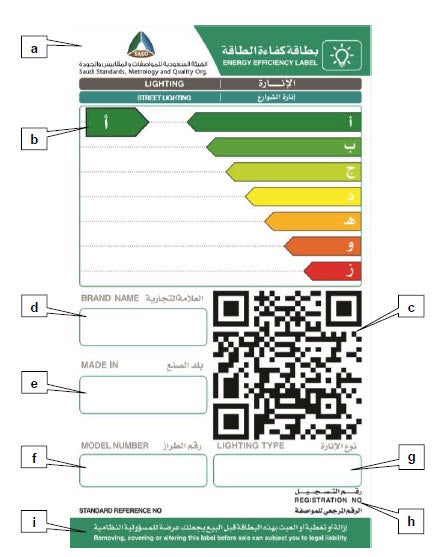 How UL can help
UL is providing technical expertise, a worldwide network of Certification Body (CB) and performance testing laboratories and qualified staff that can support in delivering technical assessments and reports to cover the applicable international standards, national differences and regulatory requirements.
UL's National Certification Bodies (NCBs) in all regions can supply CB Test Certificates in a reliable and effective way. UL's laboratories are fully equipped and accredited to carry out tests and issue valid test reports according to SASO and International Electrical Safety Standards, and the latest Saudi Energy Efficiency Standards. UL also has Arabic speaking staff who are experts in SASO's processes, online systems and requirements. UL can support in the achievement of SASO energy efficiency labels and SASO IECEE Recognition Certificates.