Authored by: Paul D. Bates, Additive Manufacturing Lead Development Engineer and Tony Robertson, Business Development Manager
Additive manufacturing (AM) -- often referred to as 3D printing – is becoming more common as a new manufacturing method, creating questions and concerns about safety. Are you seeing facilities using some form of 3D printing today? Are you aware of some companies evaluating this technology to support product development or even production? How can you help assure the correct safety codes are being identified for compliance with applicable requirements and that AM sites are meeting all those requirements to operate in a safe manner?
3D printing has existed for more than 30 years, but the rate of adoption of this technology is expanding and codes are in a race to catch up. Many existing codes can be applied today but knowing which ones are current and where additional information can be obtained is a challenge for many code authorities While many codes exist, some have the potential to create conflicting requirements, leading to subjective interpretations that could create an unintended risk.
UL has been engaged with industries utilizing this manufacturing process for many years. Recently, UL has leveraged its safety expertise in collaboration with AM industry experts to research the safe use of this technology.  Collectively, UL and industry have developed guidance documents that support the evaluation of AM facilities for safety and code compliance.  These guidance documents identify all the necessary safety codes and standards that need to be followed to assure the safe use of 3D printing technology.
So how important is process evaluation?
There are several different technologies used for in 3D printing. One of the fastest growing uses fine metal powders. According to the Wohlers Report 2019, a leading additive manufacturing report, sales of metal AM systems increased by nearly 80% between 2016 and 2017 and 40% in 2018, making metal AM a key driver in the overall adoption of AM technologies and systems intended for industrial applications.
What happens when innovative technology like 3D printing evolves faster than safety codes and standards?
When determining how to evaluate a facility and whether it meets all the national and local safety codes and standards, it can be difficult to find a single go to place to find those requirements and understand how they apply. UL 3400, Outline of Investigation for Additive Manufacturing Facility Safety Management, is an evolving document that has compiled all applicable standards, best practices and guides into a single reference. 
The safe deployment of 3D printing technologies requires a comprehensive risk assessment to identify potential hazards and develop appropriate hazard mitigation strategies or requirements.  UL 3400 provides the roadmap for that comprehensive risk assessment.
How can this comprehensive risk assessment of an AM facility and 3D printing equipment be handled?
A comprehensive risk assessment requires a multi-tiered approach to address all aspects of the AM process. Any hazards with the materials to be used, hazards with the equipment and the overall safety of the facilities must be identified and mitigated.
Materials
Resins, both in solid forms like beads or filaments, or liquid like photo polymers used in AM processes can emit hazardous fumes, volatile organic compounds and other emissions when processed. Metal powders used in AM processes are typically microscopic in size (< 100 µm) and often pose toxicity, reactivity, combustibility and instability hazards. Dust clouds, formed for example by the accidental swirling of powders, have the potential to catch fire and explode under certain conditions. Other hazards include health-related risks resulting from inhalation, ingestion or contact with the skin.
Equipment
Some of the equipment used in metal AM involves potentially hazardous energy sources such as heated nozzles, lasers and electron beams. As AM technology evolves, the design of production equipment is becoming more and more complex. Typical equipment hazards include electrical energy exposure unwanted irradiation, entrapment, thermal burns and others. Some of these hazards can be life threatening if not properly mitigated.
Facilities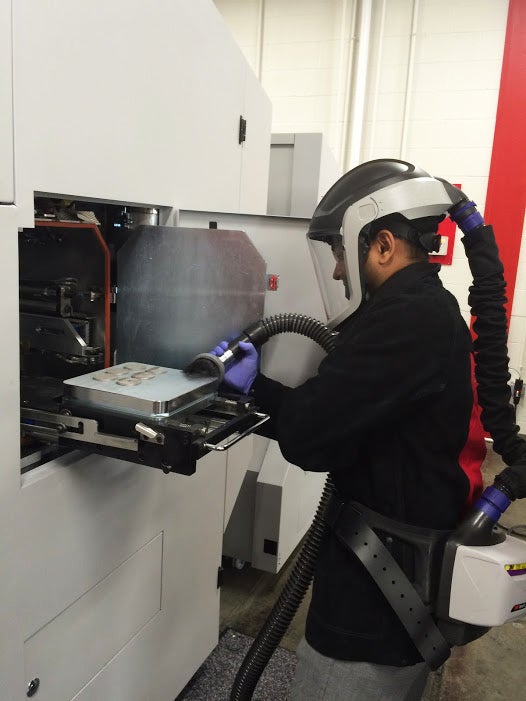 Manufacturing production equipment is often tightly grouped to maximize space utilization and increase production efficiency, which can result in an unsafe work environment. In addition, certain AM production processes use gases capable of displacing the ambient air in a localized workspace such as argon and nitrogen, thereby potentially depriving operators of sufficient breathable air. The absence of a gas or low-oxygen monitoring system to ensure safe breathing air levels can have catastrophic results on worker safety. Furthermore, the use of reactive powders such as aluminium or titanium has led to debates among authorities having jurisdiction (AHJs) and code officials regarding the most suitable types of fire suppression systems. Careful facility design and safe work practices are thus critical to achieving a safe work environment.
Beyond the risk to human health and safety, AM production can also negatively affect the atmosphere. For example, if not properly designed, AM workplace ventilation systems can exhaust contaminated gases and toxic compounds, impacting atmospheric air quality and safety. Improper disposal of AM waste materials can contaminate soil and groundwater reserves. This can have a potentially adverse effect on plants, animals and aquatic life.
What are some strategies for risk mitigation?
Risk mitigation typically involves a systematic or tiered approach that looks to prevent unwanted exposures or occurrences and also includes strategies to reduce harmful consequences should a hazardous event occur.  These strategies typically include:
Personal Protective Equipment (PPE)

– During 3D printing, an operator is often exposed to hazardous materials. PPE is worn to shield an operator from this possible exposure. Each material requires different PPE. The Safety Data Sheets (SDS) for a specific material coupled with proper training and SOPs provide the best guidance.

Standard Operating Procedures (SOPs)

– These are the "now what do we do" instructions for various activities or emergency instructions if an incident occurs. These are often developed by a facility safety official or subject matter expert (SME) and not supplied by a machine manufacturer.

Hazard identification

– This activity is completed by a facility team to review an entire process, from start to finish. Each step is evaluated along with identifying specific hazards that could be introduced by the raw materials or AM process. A hazard identification report covers processes beginning with material coming into a facility progressing to finished parts and disposal of the waste. The more detailed in the report, the better.

Emissions

– Each 3D printing process will create some form of emissions. These could be in the form of VOCs, ultrafine particulate, soot or condensate from the high temperature lasers melting metal powder, or even the resulting radiation from some materials emitting during the printing process. Proper shielding, proper ventilation and operator training is critical to mitigating these risks.

Dust exposure,

fires and explosions

– Some 3D printing technologies utilize metal powders. If these powders are handled incorrectly, they can form dust clouds leading to possible fires and even explosions. Proper SOPs and handling procedures are crucial.
Already well adopted by industry for the creation of prototypes and the small-volume production of high-value parts and components, 3D printing technologies are on the verge of transforming large-scale production operations. Along with the application of other advanced and emerging smart industrial technologies, 3D printing has the potential to improve the quality of manufacturing while also reducing production costs, improving time to market and increasing resource conservation.
For its long-term success, wider adoption of 3D printing technologies heavily depends on addressing the unique health and safety issues of these technologies. The collaborative efforts of industry and standard development organizations are essential in helping to ensure the continued development and evolution of appropriate safety guidelines and standards to address new and emerging 3D printing safety challenges in the future.
For additional information about additive manufacturing safety, please contact the Codes and Regulatory Services Team at ULRegulatoryServices@ul.com.