Safety evaluations, electromagnetic compatibility (EMC) testing, human factors engineering, clinical trials, medical device or invitro-device regulations, Food and Drug Administration (FDA) submissions. These are just some of the requirements medical devices must comply with before successful product placement on the market.
Although it is great to have all your product services met by a single provider, this solution comes with its own set of challenges. For instance, the need for specific talents which may mean multiple project engineers, testing performed in more than one laboratory location, multiple project start and end dates, multiple sample and documentation request etc. These are some of the tasks that fall to manufacturers to coordinate, whilst also ensuring the project is delivered within budget, within scope and on time to meet their go to market dates.
Project management advantages
Depending on the complexity of the device, some evaluations can have a lot of moving parts that may require the expertise of numerous people, which if not managed properly can cause confusion and poor communication leading to project delay. However, coordinating a project with multiple service offerings needn't be a stressful exercise for our customers. With proper project management services, you can work within a single project experience and have a higher level of project coordination. Not only does the service ensure you have a single point of contact, the project manager is with you from the start of the project, working with you to develop a project plan which meets your needs, managing the project through graphical tools and/or formal report-outs. You will also be alerted to potential risks as the project progresses, ensuring all agreed project deliverables are received at the end of the project.
Project management techniques
Identify all team members and stakeholders and distribute a list to help ensure you know who to contact
Agree on and document the scope and timelines of the project, including milestones and the critical path of the project
Be provided a single Project Manager for all your ongoing projects. They will be the single point of contact that will be able to report the status and expected completion dates of all ongoing efforts
Any issues or delays that may arise are detected early on and reported to you so that we can get them resolved in a timely and cost-efficient manner
After completion of the project, review what went well and what did not in order to make your next experience perform even better
The below graphic shows how UL has identified the value of proper project management.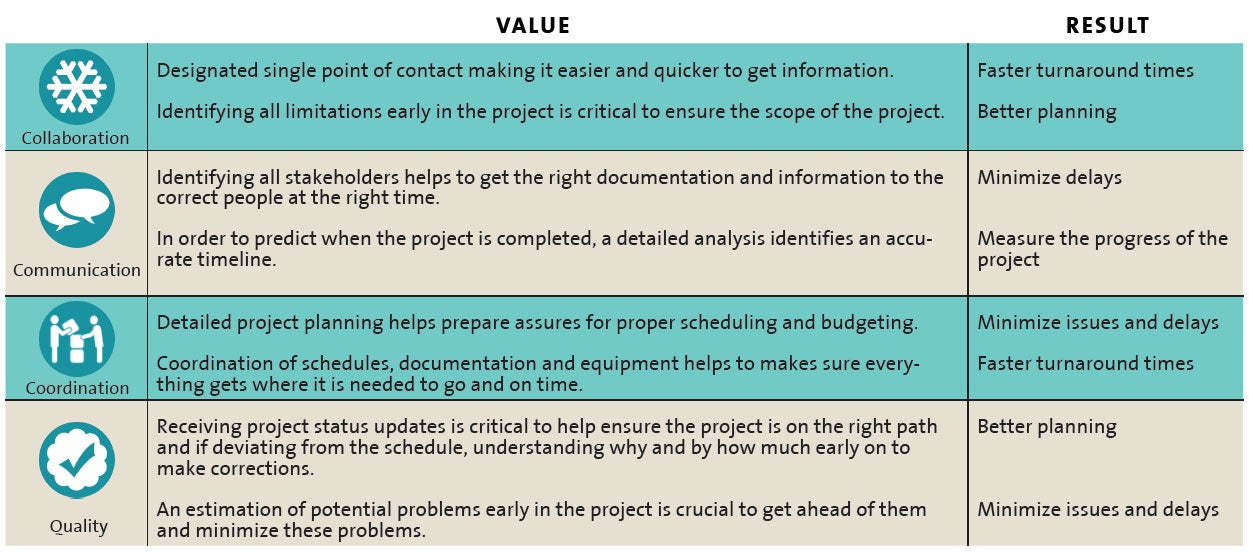 So, the next time you consider buying services from UL and consider how an orchestrated project management service may be of benefit to your company.
For more information on our project management services, please contact us today.