By: Paola Pesconi, G-Mark Regulatory Program Expert
Oman recently implemented requirements in the field of energy efficiency, including testing according to the standard GSO 2530/2016, registration on the Omani authority (DGSM) online database of approved models and mandatory energy label to be placed on products.
The program is currently in force for one category, air conditioners, as detailed in the Ministerial Decree 107/2018 issued by the Ministry of Commerce and Industry (MoCI), dated May 24, 2018.
To comply with the new requirements, finish the online registration and obtain the permit to use the Omani Energy Label, which is necessary to submit a request to a Notified Body for verification of the test reports and of the declared technical details.
UL Demko has been appointed by Directorate General of Standards and Metrology of Oman (DGSM) and by Gulf Standardization Organization (GSO)  as the Notified Body and is now able to perform the verification for energy efficiency for Oman.
In addition, UL has the capability to perform energy efficiency testing in accredited laboratories and to issue Gulf Type Examination Certificate, needed as prerequisites for market access to Oman.
As a result of the verification, the manufacturer will receive:
A letter of approval, issued by the Oman authority (DGSM), to show compliance to the applicable standard and to confirm the registration on the online database

An energy label, generated by the system, with the indication of the energy class, to be placed on approved products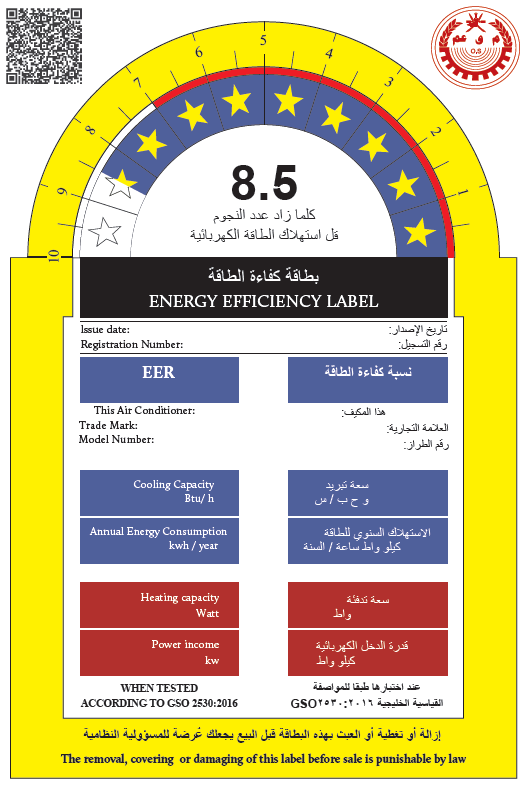 Layout of OMAN Energy Label
Products impacted are:
single-package of window type

split-system nonducted air conditioners using air-cooled condensers

split-system ducted air-conditioners using air-cooled condensers
with capacity up to and including 70,000 Btu/h (20 kW).
How UL can help?
Tests at accredited UL laboratories and issuance of an energy efficiency test report required for the registration

Verification and registration on Oman Energy Efficiency Registration (EER) website

After issuance by DGSM, deliver letter of approval and energy efficiency label

Issue Gulf Type Examination Certificate (G Marking)
UL is expertly qualified to assist companies in demonstrating their products meet the requirements of energy efficiency standards, providing testing for appliances in accredited laboratories.
UL is accredited Notified Body for Gulf Type Examination and for Oman Energy Efficiency program and is actively participating to GSO meetings for Notified Bodies, in order to be constantly updated on new requirements and their implementation.