As manufacturers and retailers work to overcome the many challenges of developing and selling safe and sustainable products, today's sustainability programs aim to improve the social, environmental and health impact of products' materials; manufacturing processes; and use, reuse and recycling.
Products must not only be safe for their intended use, but consumers also want them to be made through carbon-neutral manufacturing processes, have no negative effects on human health or the environment, and be manufactured under socially responsible labor conditions — all attributes of sustainability.
UL Solutions scientists developed this white paper to help you better understand how to handle the complex task of manufacturing and selling sustainable products through sustainable chemistry.
This white paper offers insights to help you:
Select sustainable chemicals.
Develop sustainable chemicals.
Use sustainable chemicals.
Build trust in the quality, safety and sustainability of your products.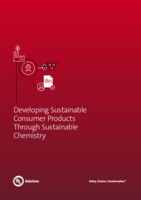 Developing Sustainable Consumer Products Through Sustainable Chemistry
13.12 MB
Please complete the short form below to access the white paper.