Supporting industrial battery safety
Having your battery chargers certified for both safety and energy efficiency can help strengthen product preference. We offer bundled services that allow you to enter your target market quickly and efficiently.
Testing to industrial battery charger standards and regulations
We provide certification for battery chargers, including:
ANSI/UL 1012 Power Units Other Than Class 2
ANSI/UL 1236 Battery Chargers for Charging Engine-Starter Batteries
ANSI/UL 1310 Class 2 Power Units
ANSI/UL 1564 Industrial Battery Chargers
California Code of Regulations Title 20, Sections 1601 through 1608 – Appliance Efficiency Regulations
10 C.F.R. section 430.23(aa) Appendix Y to Subpart B of Part 430 – Uniform Test Method for Measuring the Energy Consumption of Battery Chargers
IEC 60335-2-29 Household and Similar Electrical Appliances – Particular Safety
Requirements for Chargers
Whether you're targeting a specific market or looking to go global, we will work with you to understand your products and develop an individualized test plan that works for you and meets your needs.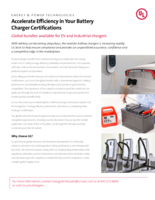 Accelerate Efficiency in Your Battery Charger Certifications
281.72 KB