Certification for EV infrastructure 
EV chargers are rapidly increasing as EV demand rises. Globally, the EV charging infrastructure industry is expected to grow at a compound annual rate of 46.8 percent from 2017 to 2025, reaching $45.59 billion in revenue by 2025.1 You can help fuel this demand by developing EV infrastructure components that meet emerging standards for safety and performance, as well as interoperability with smart grid technologies. 
We currently offer certification for EV infrastructure components, including: 
EV charging standards and safety certifications
ANSI/UL 2202 Electric Vehicle Charging System Equipment (AC to DC)
ANSI/UL 25942 Electric Vehicle Supply Equipment (AC to AC) 
UL 2750 Outline Of Investigation For Wireless Power Transfer Equipment For Electric Vehicles 
UL 9741 Standard for Bidirectional Electric Vehicle (EV) Charging System Equipment
ANSI/UL 2231-12 Personnel Protection Systems for Electric Vehicle Supply Circuits – General ANSI/Requirements (referred to in UL 2202/UL 2594)
ANSI/UL 2231-22 Personnel Protection Systems for Electric Vehicle Supply Circuits – Protective Devices for Use in Charging Systems (referred to in UL 2202/UL 2594)
ANSI/UL 22512 Electric Vehicle Plugs, Receptacles and Couplers
UL 2580 Batteries for Use in Electric Vehicles
ANSI/CAN/UL/ULC 2271 Batteries for Use in Light Electric Vehicle (LEV) Applications
Other electric vehicle services
Electric Vehicle Supply Equipment Version 1.0 – EPA ENERGY STAR®
CHAdeMO protocol – Protocol verification
Certification body (CB) scheme certificates
IEC 61851-1 Electric Vehicle Conductive Charging Systems – General Requirements
IEC 61851-22 Electric Vehicle Conductive Charging Systems – AC to AC Connections
IEC 62196 series Plugs, Socket-Outlets, Vehicle Connectors and Vehicle Inlets – Conductive charging of electric vehicles
Supply - EMC Requirements For Off Board Electric Vehicle Charging Systems
Informative EV charging infrastructure test reports
IEC 61851-23 - Electric Vehicle Conductive Charging Systems
IEC 61851-21-2 - Electric Vehicle Requirements For Conductive Connection To An AC/DC
IEC 62752 - In-Cable Control And Protection Device For Mode 2 Charging Of Electric Road Vehicles
IEC 62955 - Residual Direct Current Detecting Device (RDC-DD) To Be Used For Mode 3 Charging Of Electric Vehicles
Enter new markets
Compliance solutions for country or regional regulations are available through UL Solutions – please contact us for more details.
Leverage UL Solutions expertise for compliance with next-generation EV charging standards
EVs are an emerging market. E-mobility manufacturers must monitor the landscape carefully to stay abreast of technical developments and the changing regulatory environment.
We have tested and certified EV technologies for more than 20 years. Our goal is to help update and develop new standards as the market evolves. Tap into our knowledge and experience to help you further differentiate your products in the marketplace. We can help accomplish this by testing and certifying next-generation components for compliance with various codes and regulations.
You can leverage our experience and understanding of the demands of the global market to help you make the right decisions throughout the product development processes.
References
The State of the Charge: 2017 Report of California's Electric Vehicle Charging Industry, Electric Vehicle Charging Association.

Harmonized trinational North American Standards (U.S., Canada and Mexico).
Electric Vehicle Charging Testing
Watch the video to learn more.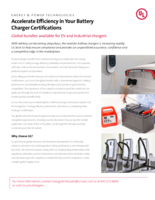 Accelerate Efficiency in Your Battery Charger Certifications
281.72 KB
Illustration - Comprehensive safety and performance testing and certification services for EV and EVSE
1.07 MB