Materiality assessments help identify topics that reflect significant economic, environmental and social impacts or substantively influence the judgments and decisions of stakeholders. 
Companies that disclose or want to disclose their sustainability performance in line with the GRI (Global Reporting Initiative), SASB (Sustainability Accountability Standards Board), and the European Directive on non-financial reporting must conduct materiality assessments.
UL Solutions advisory services
Compliant with GRI guidelines, material topics are identified based on the following two criteria:
The significance of the organization's economic, environmental and social impacts.
The substantive influence on the assessments and decisions of stakeholders.
Benefits of ESG materiality assessment 
Enhances stakeholder engagement.
Shapes a broader societal understanding of sustainable development.
Analysts perceive sustainability disclosures on material issues as a signal of good performance.
Identify which ESG factors impact your organization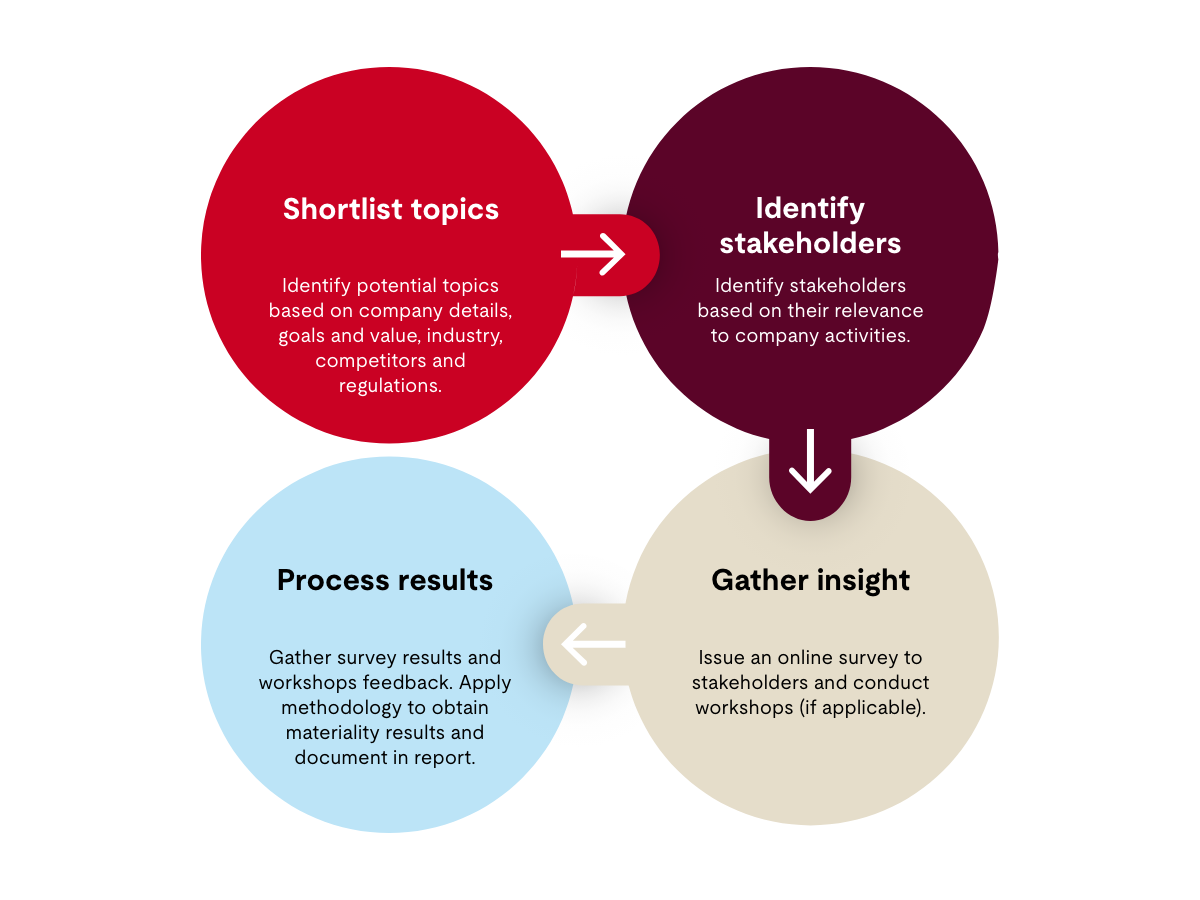 How it works
Kick off and survey

The first weeks are focused on meetings and workshops to gather relevant information about the company, industry and competitors, allowing the UL Solutions advisory team to propose a list of potential ESG topics and stakeholders to consider.

These topics are included in a survey developed by UL Solutions (or interviews) and sent to the relevant stakeholders. An agreement about the methodology that will be applied to the survey/interview responses will also be decided at this time.

Analysis

Once the survey closes, the responses are collected and assessed in line with the specified method. This yields a list of topics ranked by impact, relevance and importance. This step can be modified to fit each customer''s needs and circumstances.

Materiality results

Your matrix is created from the topic list results. If requested, a customer can receive multiple matrices (one for each country, stakeholder group, business unit, etc.).

A final report is also delivered, complete with a description of the research process, potential topics, stakeholders, survey statistics and results, a list of material topics and a detailed description of the methodology applied. This report also includes a systemization proposal and gap analysis.
ESG and Sustainability Management Software
Learn more about UL Solutions ESG reporting software.
Learn more