Energy efficiency matters
As more city and state regulators mandate the submission of energy efficiency scores to comply with energy ordinances, it is critical that you are ready to meet requirements.
Why ENERGY STAR certification for buildings?
ENERGY STAR, the U.S. government-based energy efficiency program founded in 1992, has helped American consumers save 520 billion kilowatt hours of electricity in 2020, saving $42 billion (USD). Assessing your building for compliance with ENERGY STAR may offer savings and peace of mind that you're doing the right thing for the environment and your wallet. Additionally, displaying your ENERGY STAR certification on the front of a building lets everyone entering the building know the property is a leader in energy efficiency.
Work with UL Solutions for your ENERGY STAR needs
Choosing an independent third-party organization with deep expertise in the ENERGY STAR field proves crucial as you work toward compliance, certification and benchmarking goals. UL Solutions serves as an Elite Member certifier after certifying over 300 Properties for the 2022 Certification Season, 150 more than the minimum requirement. 
With UL Solutions, we can help you on your energy savings journey with benchmarking, ordinance, and building certification.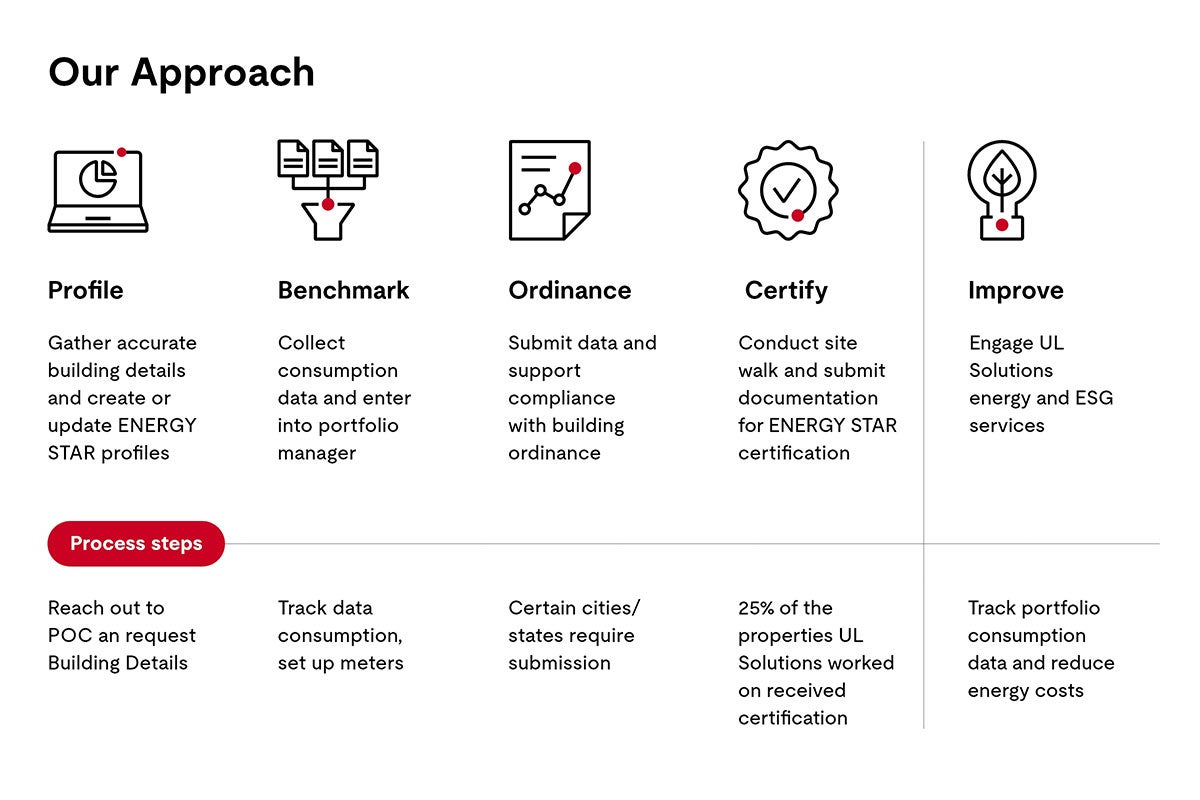 ENERGY STAR building certification
Beyond the cost-saving and sustainability benefits, if you score over 75 on the ENERGY STAR assessment, you can earn recognition for your results with ENERGY STAR certification. In order to reach this, you need to meet some minimum requirements for reporting:  
An ENERGY STAR Score of 75 or higher
Site visit for Indoor Air Quality (IAQ) Testing
Verification by a licensed professional engineer (PE) or registered architect (RA)
Must be submitted within 120 days of the performance end date
Benchmark your building's performance
The collection and tracking of building energy, water and waste usage data empower your business to collect the energy efficiency information you need to succeed:
Establish a baseline
Allow building owners to set target reduction goals
Compare building performance to a national sample of similar buildings
Utility logins required (electric, natural gas, water) 
Regularly updated, accurate building details required
Complying with local and state ordinances
State and local government requirements aim to protect the environment and improve building energy efficiency. State and local municipalities require buildings to benchmark utility data based on stringent parameters:
Building type
Minimum building square footage
Energy-only versus energy and water data
Buildings that fail to report their energy or water usage in time can face monetary penalties and/or public disclosure of violations in certain municipalities, making understanding the energy use of your products and property a priority. 
Meet your ESG goals
ENERGY STAR compliance works toward your ESG goals. It provides you with metrics on how your building consumes energy, which will reveal energy efficiency opportunities that may help you reduce costs and meet more of your ESG goals. Learn more about UL Solutions ESG advisory and assurance services.