Northbrook, IL - July 13, 2012: UL is notifying consumers, retailers and distributors that the Under-Cabinet Fluorescent Luminaire identified below bears an unauthorized UL Mark for the United States and Canada.  This Under-Cabinet Fluorescent Luminaire has not been evaluated by UL to the appropriate Standards for Safety and it is unknown if this product complies with the safety requirements for the United States or Canada.
Name of Product: Under-Cabinet Fluorescent Luminaire Model No. 28060
Manufacturer: Globe Electric Company Inc.
Date of Manufacture: Prior to November 2011.
Identification:
On the product: The product bears a UL Mark and the following:

PORTABLE LUMINAIRE
ISSUE NO. BL-59,955
The product is marked with the date of manufacture (see the picture of the label below) with a numerical marking. For example, products manufactured in August of 2010 are marked "Date 08 10". Products manufactured with "Date 11 11" and after are authorized to bear the UL Mark.
On the packaging:

28060
Known to Be Sold at:  Rona Inc., QC, Canada. May have been sold at other retailers.
Photos of the product: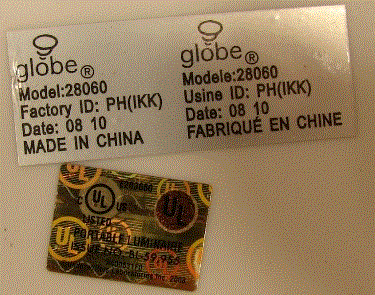 Photo of the packaging: