NOTE: This information is from a previously printed press release, newsletter, or other dated
document. It is presented here for archival purposes only.
NORTHBROOK, Ill., Feb. 13, 2008 -- Underwriters Laboratories (UL) is notifying consumers that a lamp manufactured by Li Yang Lighting Co. may pose a hazard to users.
Name of Product: Model FS5-629-23A
Units: Approximately 500 units
Manufacturer: Li Yang Lighting Co.
Date of Manufacture: 2005 to 2006
Hazard: The lamp's electrical circuit board can spark and overheat due to an electrical fault, posing a fire hazard to consumers.
Identification: The lamp base is provided with the following labels: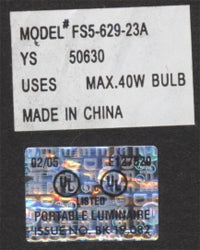 Consumer Contact: Li Yang Lighting Co. Contact by e-mail [email protected].
What You Should Do: UL recommends that you stop using the product immediately and return to the place of purchase.