NORTHBROOK, Ill., Sept. 30, 2015 — The following is a notification that UL is aware that counterfeit UL Marks have been applied to rolling fire doors in Southern California. These doors have not been evaluated by UL to the appropriate Standards for Safety and it is unknown if these doors comply with any safety requirements.
Although the counterfeit label is marked "R1422", the UL file number for Cornell Iron Works, Inc., Cornell Iron Works, Inc. was not involved in the sale or distribution of the doors with counterfeit UL Marks
Name of Product: Rolling Fire Doors
Identification: The product bears a nameplate with two counterfeit UL Marks and the following:
R1422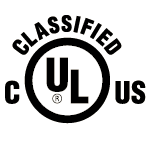 Underwriters Labortories Inc.
CLASSIFIED
ROLLING FIRE DOORS
            Note: "Laboratories" is misspelled as "Labortories" on the nameplate.
Photo: Photo of the counterfeit label:

Location: Rolling fire doors with a counterfeit UL Mark have been found in Southern California, they may have been distributed to other locations.