Valentine's Day is a popular holiday that is celebrated around the world. The marquee symbol for this day is the heart, which represents love and romance. In addition to Valentine's Day, February is recognized as National Heart Month in the U.S. making the shape ubiquitous during this time of year. Brands have replicated their products to resemble hearts in the form of candles, candy and even pizza.
While there is a warm and comforting feeling associated with the heart shape, it is important to remember how vital the organ is for people and animals to survive and thrive. The heart is usually out of sight, out of mind. It functions autonomously. It can't be seen; therefore, it is hard to tell if it is suffering due to mistreatment and unhealthy practices.
According to the American College of Cardiology, cardiovascular disease accounted for approximately 800,000 deaths in the United States in 2017, and 31 percent of all deaths on a global level. By 2030, the estimated cost of CVD will be $1,044 billion. Another important issue concerning hearts is congenital heart defects, which are the most common type of congenital disability.
A big hole needs to be sewn
Congenital heart defects can affect how blood flows through the heart and out to the rest of the body. They can vary from mild, such as a small hole in the heart, to severe, such as missing or poorly formed parts of the heart.
Hospitals, churches and not-for-profit organizations do what they can to help people and children who are dealing with these types of heart issues while raising awareness and educating people about how to sustain a strong and healthy heart. These organizations mainly work with under-resourced communities who need this type of philanthropic aid the most.
But even those organizations are restricted due to relatively small resources or employees to help serve their patients or clients.
A charitable hobby
Jean Zakshevsky and Jeanine Spencer (Bogashewicz) have been working at UL for over 30 years in the company's Melville, New York office. About 15 years ago, they, along with some of their colleagues, began knitting and crocheting during their lunch hour. It started as an informal activity that granted an opportunity for socialization among some of the employees.
Story continues below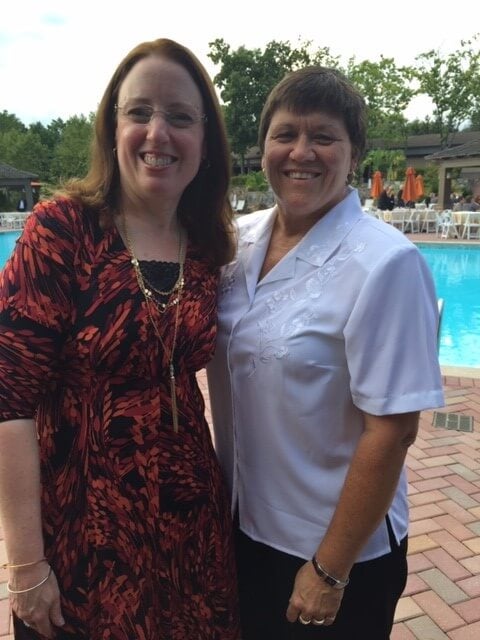 "We were making gifts, or we did it just to relax," said Zakshevsky, project handler for performance materials, UL. "After a while, we had enough stuff for ourselves, and we had given gifts to everyone we knew."
The group still wanted to knit and crochet, and they had more than enough supplies to continue their lunchtime hobby. So, they formalized their group, which they simply call the Knitting and Crocheting Club. But what were they going to do with all their hand-crafted items?
"We would pick out organizations or charities that we could make stuff for, and build a project around that," said Spencer, staff engineer for performance materials, UL.
They would decide as a group what to make and which charity to donate the items to. For example, each February, in honor of National Heart Month, the group would make red hats for the American Heart Association. Those hats were distributed to kids with the congenital heart issues throughout the state of New York.
"The love that goes into these little hats is mind-boggling," said Michele Gervat, community impact director, American Heart Association. "Everyone who does it says how much they enjoy it. We received over 7,000 hats in about three years."
UL's knitting and crocheting club contributed several hundred of those hats. They have also done several other projects with different organizations over the years. Among them are:
Dolls for children in Guatemala

Scarves for troops in a project called Operation Gratitude

Blankets for Warm Up America

Hats and blankets for local hospitals
"I have to tell you, there's the relaxing part of actually doing and making it and then the accomplishment of actually finishing it," said Spencer. "When we deliver our hand-crafted items and you see how happy it makes others...that's what it is all about."
Related | Corporate and charitable partnerships mean true collaboration
"The parents or the kids that get to pick out which hat or blanket they want, they're like, 'Wow! I get to pick out what I want!' It's just one of those you-can't-beat-it, feel-good moments," said Zakshevsky.
UL's mission is to help make the world a safer, more secure and more sustainable place to live. UL's employees work to support that mission, and many do so beyond what their job description requires of them.
"Supporting the well-being and safety of others is core to who we are at UL. The Melville Knitting and Crocheting Club exemplifies the dedication of our employees to use their talents and resources to help others," states Barbara Guthrie, vice president of Corporate Social Responsibility, UL. "The impact this team is making is truly an inspiration to us all."
Thank you to UL's knitting and crocheting club for all the work you do to help the people who need it most.
If you are interested in becoming involved with any of the club's upcoming projects for this year, you can contact: [email protected] or [email protected]
UL's Knitting and Crocheting Club created a variety of garments