by Dr. Eleanor Grimes, senior regulatory specialist, UL's Supply Chain team
On Sept. 14, 2021, the United Nations released its biannual update to the Globally Harmonized System (GHS), which is now on its ninth revision. Although the UN GHS is not automatically legally binding, it serves as the base legislation for chemical classification, labeling and safety data sheet production worldwide. As the GHS revisions take effect, those changes disseminate via local legislative procedures into local law. Most local legislation currently adheres to Revision 7 or earlier, with different countries adopting at different rates, but by keeping an eye on the latest updates to the GHS, you can prepare your company for future changes.
Revision 9's release was slightly delayed; the latest version normally releases in July, not as late as September, but unlike previous versions, the global pandemic influenced its formulation. The UN normally decides on GHS revisions at a series of meetings held twice each year in Geneva, where representatives from around the world convene. Participants put forward changes from a series of working documents and informal papers, agree on them via consensus and include them in the revision. However, due to the pandemic, the 39th Session was postponed from July 2020 until December 2020, and the meeting became a virtual experience. 
The changes
The most significant change in Revision 9 involves chapter 2.1, resulting in a complete overhaul of explosives categorization. 
The previous series of explosives classification mimicked the classification for these substances found within the transport regulations, which takes into account how the product is packaged and delivered. However, the scope of the GHS should cover situations where an explosive may not be configured for transport (such as in manufacturing processes or general handling), which may result in a requirement for a different classification.
This results in the development of two main categories. The second category subdivides into three more subcategories representing high-, medium- and low-risk products in only their primary packaging. The first category covers all other explosives, including those deemed too sensitive for a transport classification.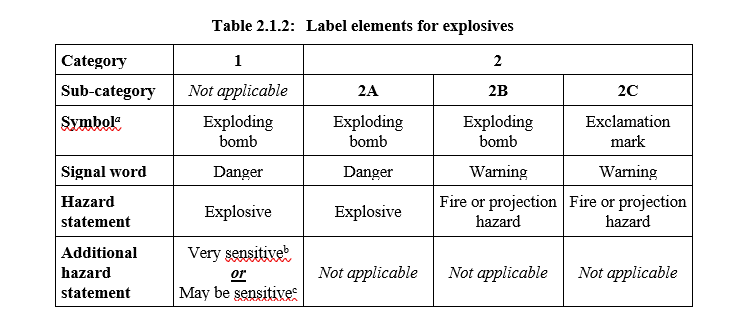 Naturally, alongside these hazard class changes, authorities have also updated hazard and precautionary statements in order to address these new hazards correctly. Other changes to hazard and precautionary statements include the new precautionary phrase "P265 Do not touch eyes" for eye irritancy and eye damage, as well as a series of other already-existing statements that underwent minor phrasing changes.
Other changes to the regulation include updates to decision logic flow charts and the Annex 1 Classification and Labelling summary tables. In general, the content has not undergone significant changes for either section, but they have been redesigned for clarity purposes. 
The final set of changes to Annex 9 (guidance on hazards to the aquatic environment) and Annex 10 (guidance on transformation/dissolution of metals and metal compounds in aqueous media) involve a series of changes updating the OECD testing guidelines. 
Sources
Safety Data Sheet (SDS) Authoring and Labeling Services
Create, maintain and distribute comprehensive SDSs and labels to meet your increasingly complex global compliance requirements.
Learn more
Chemical Regulatory Compliance
Manage your chemical compliance needs with the help of global regulatory expertise and leading resources.
Learn more
Chemical Compliance Training
UL provides a series of chemical regulatory training programs designed to help understand the diverse set of requirements and how to confront them.
Learn more