At some point in our lives, we outgrow our awe of the weather. No more splashing in mud puddles, catching snowflakes on our tongues or laughing at the unexpected rain shower. Weather becomes a nuisance unless it's blue sky and ample sunshine.
This might be true for most people but not Joan Aymami, UL's senior global business development manager for renewable energy. Aymami's fascination with all things weather continues still today.
"For me, not only was it amazing to see it snowing, but also to see that someone can predict if tomorrow it's going to snow, be windy or sunny," he said.
Aymami, who grew up in Spain, spent his free time going up into the mountains with his older, astronomy-loving brother.
"I enjoyed going with him a lot, but instead of looking at the sky, I was amazed by the weather," he said.
Related | Wind turbine stands tall in West Texas
A trained meteorologist who studied physics, Aymami worked in the Department of Meteorology at the University of Barcelona. It was here that he took his first step into the energy sector. He started a business that used advanced computer modeling to simulate air movement taking place over the Earth. By understanding the behavior of the atmosphere, Aymami and his three partners could determine the most promising sites for alternative energy investment.
"When you can simulate what the weather or climate looks like, you can use the results for many different industries and business applications, such as air quality, energy or transportation," Aymami said.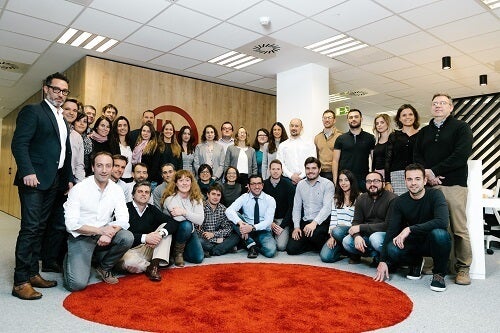 In the early 2000s, advanced modeling was primarily a function of government due to its cost. Aymami's company was one of the first private sector businesses in Europe to simulate atmospheric conditions.
"At the time, the only way to work in meteorology was to be a weatherman," he said. "But, I wanted to connect my love of weather with my other passion, the economy.
"It inspired me to create my own business:  to work on my own; to create my own team; to do what I think I'm best at," he said.
In 2009, Aymami merged his renewable startup with AWS Truepower, a small renewable energy company located in Albany, New York. The goal was to grow the business in Europe and Latin America. AWS Truepower provided project advisory services, performance engineering and grid solutions, as well as information services for clients.
UL acquired AWS Truepower in 2016, bringing with it a mix of renewable energy testing, inspection and certification. Currently, Michael Brower, another founding partner of AWS Truepower, leads the Renewables group within Energy & Power Technologies
"It's a really nice house within UL's Energy & Power Technologies division," Aymami said. "The main difference now is that we have mainly unlimited resources. If your proposal makes sense and meets the overall strategy of the company, you will be listened to."