BASF's journey to zero waste started with a 2016 challenge to "walk the talk," according to Helen Williams, senior environmental health and safety specialist for the global chemical company's production plant in Huntsville, Alabama. The facility's former operations manager wanted BASF customers to see that the company believed wholeheartedly in sustainability and environmental reduction.
For the plant's leadership, it was about going above the status quo, to not only commit but achieve through facility leadership and employee collaboration. And Williams, who monitored the facility's external emissions and environmental programs, was the perfect person to guide the effort.
A six-and-a-half-year employee with more than 20 years of experience, Williams had always been focused on waste reduction, but, she said, "My manager wanted me to look beyond what we were already doing."
Williams' early focus included analyzing the facility's material and energy flow to minimize industrial waste and emissions through source reduction strategies. Waste from one application would be moved for reuse in another area. As raw material and virgin product consumption decreased, hazardous waste shipments decreased as well.
"My first goal was always to eliminate waste generation, then directly reuse the waste in another process, with recycling as the final option," Williams said. "The challenge to further improve our reduction strategies meant we started to look for other areas of opportunity in the facility."
All aboard for waste reduction
To meet the challenge, BASF formed the Zero Waste to Landfill team, which consisted of one member from each of the facility's departments. Members took the team's initiatives back to their groups to help connect the dots between waste generation and waste disposal.
"We knew it was going to have to be a culture change to get people to start thinking in terms of segregating waste," Williams said. "Because we integrated the team from the beginning, different areas started to see how their jobs linked together and moved beyond individual actions to assuming responsibility for the entire facility."
Making it 'easy'
To keep people from taking the "shortcut," i.e., throwing waste away, BASF set up more than 50 recycling stations all over the plant. They strategically placed each station based on where waste was generated. The team also mapped out the plant's waste intake to develop decision processes for each type of material.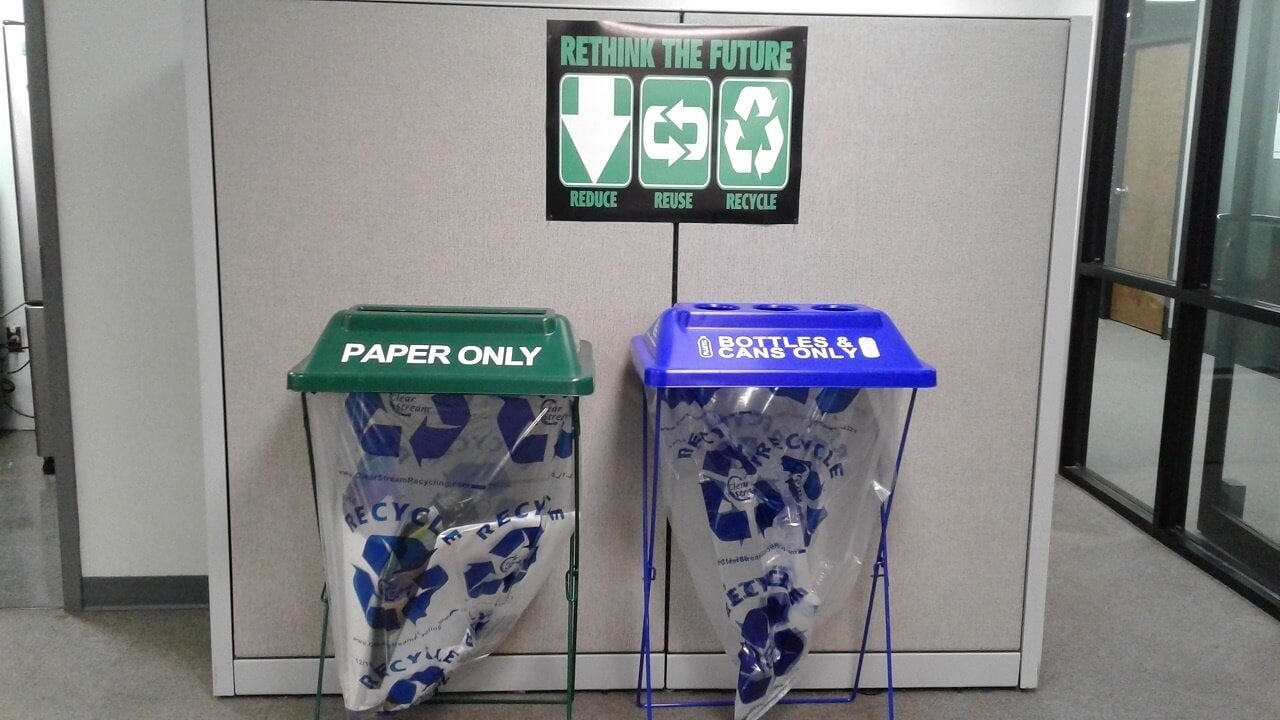 For example, parts come into the facility packaged in cardboard with plastic divider trays. The uncoated parts are unpackaged, loaded on the coating line and then repackaged in the same packaging when they are coated to be shipped off-site. This practice reduces more than 7,401 potential tons of waste. The facility also reuses drums, pallets and other containers. Williams estimated that they currently reuse about 80 percent of their packaging.
This sort of initiative has delivered a value that goes beyond being kind to the environment, especially in terms of costs saved for the company.
"If you don't have to buy it from somewhere else and if you don't have to dispose of it, that's big," Williams said. "They were going to have to segregate the waste on the line anyway, so this process didn't stop or disrupt production."
Partnerships key to success
Having an integrated team involved in the Zero Waste to Landfill challenge helped Williams and the facility succeed. Not only did they identify strategic places for reuse, but they also helped communicate the project's importance as well as monitor the initiative for each department.
External partnerships also proved useful, especially as the facility looked for more and more ways to reduce, reuse and recycle.
"It's the little volumes of waste that proved most difficult," Williams said. "Our waste company helped us find alternatives along with referring us to different certification companies as getting certified was also a priority for us."
But the companies Williams was referred to weren't really committed to certification, because, she was told, "nobody else had really ever asked for it." Fortunately, BASF eventually found UL and its Zero Waste to Landfill Validation program, one of the first programs of its kind that focused on monitoring and measuring material flows that are not part of an organization's final product.
"We agreed with their philosophy, what they're doing and how they measure results," Williams said. "Plus, UL is a globally recognized company."
UL presented the BASF facility with the Zero Waste to Landfill Validation in August 2017. One year later, the facility earned the first Platinum Level Zero Waste to Landfill Validation from UL, achieving 100 percent landfill diversion with 5 percent incineration with energy recovery.
According to the news release, less than 0.2 percent of waste goes to the landfill from the BASF production facility and in 2018 general trash disposal was reduced by almost 40 tons, recycling was increased by 71 tons, and waste that could be directly reused was increased by 81 tons.
All of these achievements can be attributed to the robust waste management program at BASF Huntsville.
A lot of pride going around in Huntsville, Alabama
BASF has also received awards from Honda, Subaru, the American Chemistry Council and the City of Huntsville Air Pollution Board, Williams noted, who said that winning awards from their customers and community are especially satisfying.
"When our customers come in and they see what we're doing, especially in the auto industry, our efforts become even more of a core value for us," she said.
Other facilities want to emulate BASF's achievements as well. Sites near Mobile, Alabama, and Chattanooga, Tennessee, have asked Williams for her contacts and information on how their Huntsville facility does it, especially as it relates to difficult waste.
But, in the end, it's the little things that bring a smile to Williams' face, like coworkers folding the candy boxes that you get at the movie theater.
"And they're folding them flat and recycling them instead of putting them in the trash," she said. "Seeing people do things that just aren't ordinary gets me excited."