Industry adoption of scanning lidar technology is growing. Recently, UL's team completed a successful yearlong scanning lidar campaign designed to assess local wind resources in support of offshore wind farm development in Germany's North Sea. For this campaign, two scanning lidars were deployed and operated from fixed platforms, namely, an offshore substation and a wind turbine. This program's success was not only dependent on the hardware; it also required optimized planning, robust system deployment, experience in monitoring the operation and definitively advanced data analysis know-how.
How lidar is used in offshore wind development
Scanning-wind lidar systems offer the possibility to measure wind remotely and have become one of the preferred solutions to measure offshore wind. Its flexibility and compact size make scanning lidar easy to deploy on fixed offshore platforms, nacelles and transition pieces of offshore wind turbines at any stage of a wind farm project, from prospecting to operation. 
To determine the horizontal wind field in an offshore location, a scanning lidar evaluates the wind from different directions at a fixed elevation. The wind speed and direction are calculated for confined areas in the scanned domain. Eventually, wind profiles are constructed by measuring at different elevations ranging from sea level to the top blade tip height or higher. Scanning lidar is ideal for offshore wind measurement because it fulfills customizable scan patterns. These patterns can have a vertical or horizontal variation, which provide information on wind speeds over an area that is wider in both height and direction. From those scan patterns, a virtual mast can be constructed at several locations of interest at a distance up to several kilometers from the device. Virtual met masts are only one example of how you can benefit from the latest lidar technology. Customized lidar scans can also provide insight into local wind flow.
The benefit to using this technology is the ability to measure wind conditions for multiple locations and heights with a single measurement system, independently of sea conditions, along with the ability to connect the system to a reliable energy supply and perform data transfer. 
UL's lidar program has proven to be a robust tool for wind resource assessment. It is also a great application for measuring inflow conditions at offshore wind farms. Here are of some of the benefits of deploying scanning lidar technology:
A scanning lidar is able to deliver local information on wind resources at defined virtual met masts in a surrounding area of about 2 kilometers
A scanning lidar is able to analyze the spatial distribution of wind speeds in complex flow situations such as near-coastal offshore sites.
Energy assessments are based on either of the above measurement types or in combination with traditional wind measurement sources such as met masts.
A virtual met mast of a scanning lidar is used as input for power curve evaluations.
Details of the wake field can be revealed by scanning the wake at different positions and distances.
Add value to your campaign by checking the scanning liars performance against our International Electrical Commission (IEC) conforming met mast before or after the measurement campaign.
The use of scanning lidar for offshore wind measurement is growing
In addition to the project in Germany's North Sea, UL is currently operating several offshore scanning lidar campaigns. These campaigns include offshore resource assessments for the Federal Maritime and Hydrographic Agency (BSH) as well as blockage and wake measurements for the research projects X-Wakes and FINO1.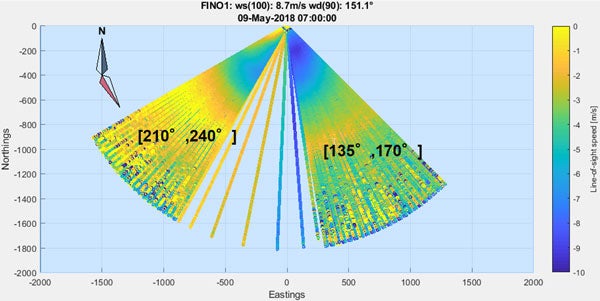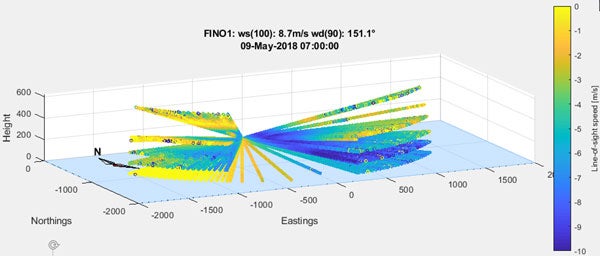 The deployment of scanning lidar is ideal in offshore environments, but the success of the campaign is dependent on the optimized planning, robust deployment and dismantling of the system, experience monitoring the operation, advanced data analysis tools and comprehensive reporting. UL has worked extensively in offshore wind resource and energy assessment. If you are interested to learn more about UL's offshore scanning lidar program, please contact us.