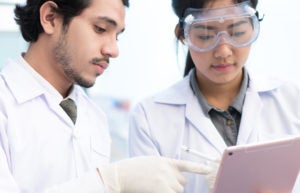 While many marketers focus on search engine optimization (SEO) for general search platforms, have you considered SEO for Prospector? ULProspector.com has 360,000 industry professionals using the site regularly for material research. In fact, over 11 million technical documents were viewed on ULProspector.com last year.  The size of and activity from this qualified audience means optimizing your listing for search can increase traffic from qualified industry professionals.
Here are 8 ways to help your products appear more frequently in Prospector search results.
Include every relevant product in your listing– The more products you list on Prospector, the higher chance your company has of appearing in search results.  The increase in impressions boosts your opportunities for sample requests and sales.
Create a separate profile page for each product– Instead of creating one profile page for an entire product line, each product should have its own profile page. This will help our users find what they are looking for and help your company streamline technical requests and inquiries that come from Prospector users. Learn more about the profile page by reading How to Drive Search Results with Your Prospector Profile Pages.
Craft a detailed product description  – Make sure that the product name is in the first sentence of the description. What exactly is your product? How does it work? What makes it unique? Provide users with distinctive information such as how your product can be used and where it comes from. Include details on what makes your product special and better than competitors'. Be sure to include any applicable agency ratings, certifications, uses and applications for the product. Use proper grammar and relevant keywords to describe your product.
Select relevant keywords– How do you know which keywords are relevant? If you want your product to appear when people search for "multifunctional wetting agent," then "multifunctional wetting agent" should be in your description. If you're not sure which keywords professionals are using to find your products, the analytics tools within Connect can show your company's most searched keywords on Prospector.
Include proper/comprehensive documents for each product– The most successful listings on Prospector include multiplerelevant documents for each product.  These documents should be sent to Prospector in English so they can be  processed in a timely manner. Provide your customers with all the information they need to assess your product. For example, you should include:

| | |
| --- | --- |
| TDS / Data sheets | MSDS / Safety information |
| Material Status | Grade Name |
| Brochures | Certifications |
| Toxicology data | Formulations |
| Nutritional or Allergen Data | Regulatory info |
| INCI names and CAS numbers | Articles/Whitepapers |
| Schematics/Demo videos | Processing Data (Plastics) |
| Multi-point Data (Plastics) | Automotive Specifications (Plastics) |

Assign products to appropriate categories– For what functions and applications can your product be used? Placing your products under appropriate categories will help users find what they need more efficiently. Our data team can work with you to determine how to best categorize your product on Prospector.
Keep your information current– When your company launches a new product, make sure to contact your Account Manager to add the product to your Prospector listing. To raise additional awareness about the update, schedule a new product announcement in the Prospector eNewsletter.  It is also recommended that you periodically review your Prospector listing to ensure that the product names, descriptions, and documents are up-to-date.  We advise putting a reminder in your calendar to do this quarterly.If you are in the plastics industry, establish data feeds to ensure your data on Prospector is always accurate.
Purchase Sponsored Search Results – When you purchase sponsored search results for a particular product, that product will appear as a highlighted Sponsored Product at the top of a search results page. This paid service is an excellent way to push your product and company name to Prospector users.


If you would like to work with your Account Manager to set up or help increase traffic to your Prospector profile, please email [email protected].