We know that a commitment to diversity is not enough — inclusion is critical.
We want every employee to know that they belong and can fearlessly be their authentic selves. To accomplish that, we are building an equitable workplace where we call out implicit and explicit bias, ensure all voices are heard, all people are seen and know that their contributions are valued. Together, we are creating a culture that celebrates our commonalities and differences, openly addresses challenges, and provides every employee with the resources and support they need to grow, thrive and succeed.
To measurably advance equity at UL by 2025, we have committed to: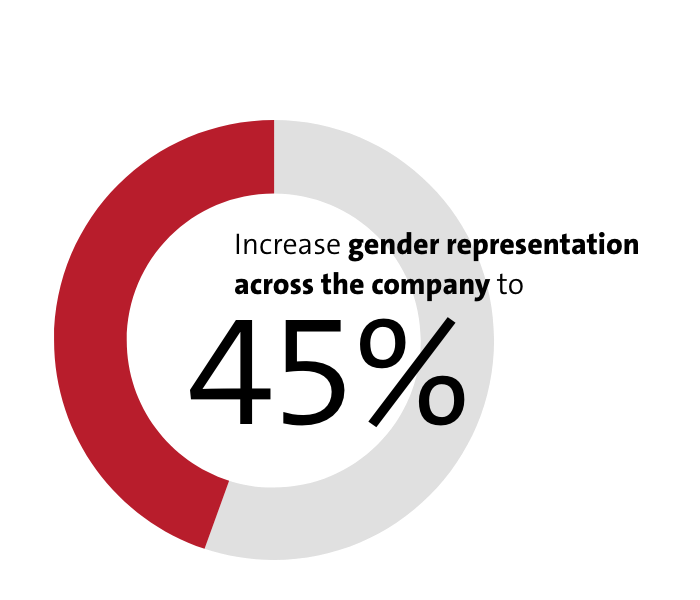 Increase gender representation
across the company to 45% (currently 38%)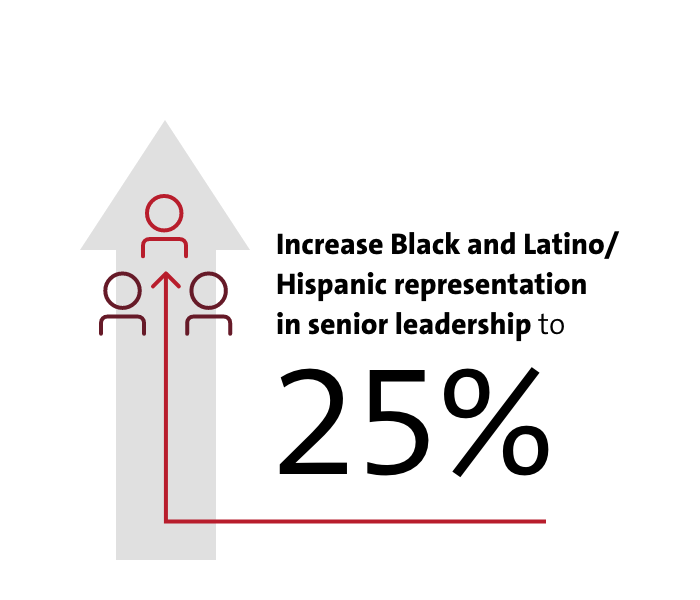 Increase Black and Latino/Hispanic representation
in senior leadership to 25% (currently 7%)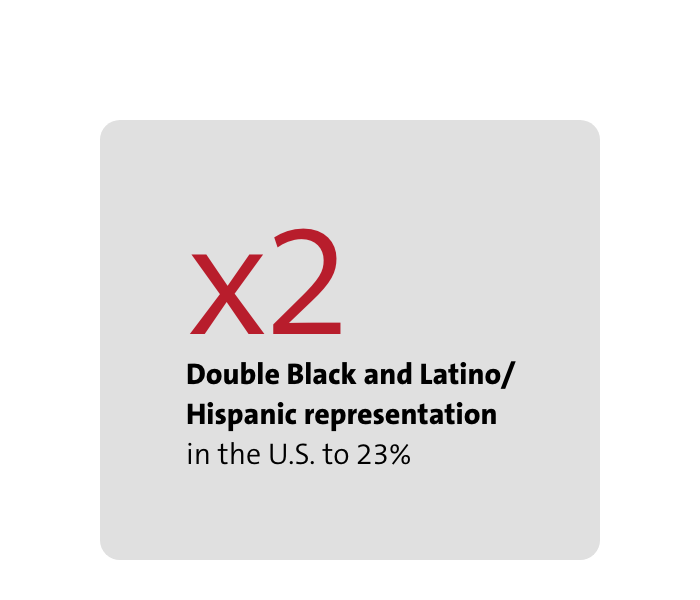 Double Black and Latino/Hispanic representation
in the U.S. to 23% (currently 13%)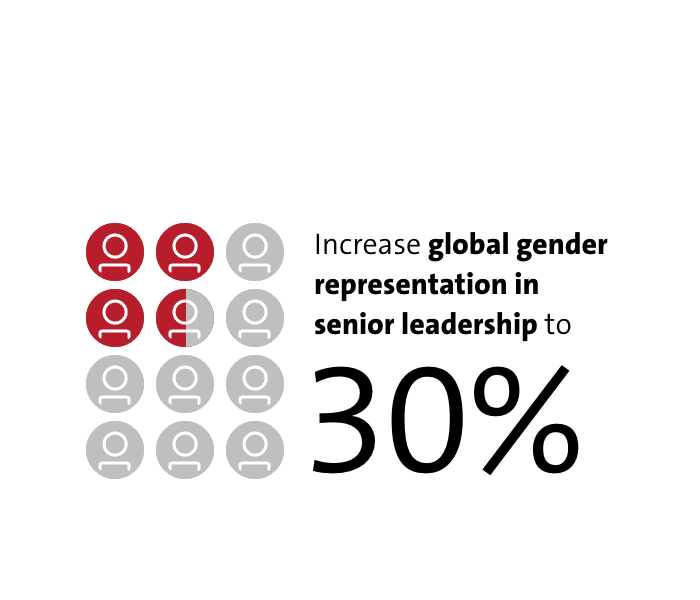 Increase global gender representation
in senior leadership to 30% (currently 25%)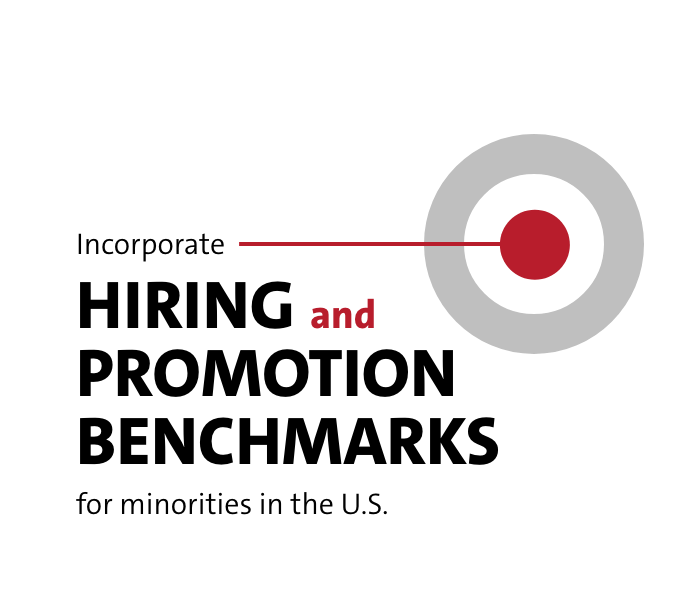 Incorporate hiring and promotion benchmarks for minorities 
within the U.S. (currently 13%)

Improve LGBTQ+ workforce experience 
by becoming a "Best Place to Work for LGBT Equality" by obtaining a Human Rights Campaign Corporate Equality Index score of 90% by 2021 and 100% by 2022.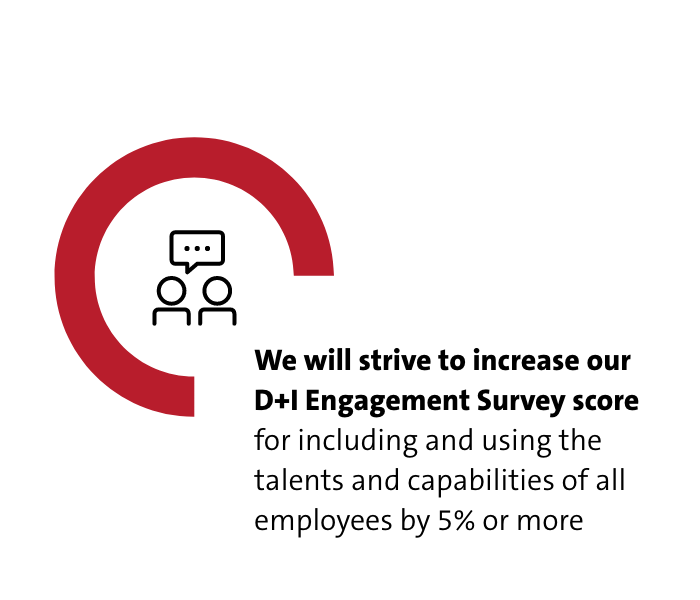 We will strive to increase our D+I Engagement Survey score
for including and using the talents and capabilities of all employees by 5% or more (current score is 5% below benchmark at 54%)
We will implement these initiatives to advance our D+I goals:

Enhancing our diversity recruitment practices through hiring manager training, employer branding, a campus recruitment strategy focused on diverse talent and building partnerships with minority- and women-focused professional associations

Supporting employee initiatives for advancing racial equity, we establish campaigns to match employee donations to vetted, nonprofit organizations working to eliminate racism and ensure economic and social equity

Enhancing our benefits and wellness programming with a focus on mental health through partnership with our Employee Assistance Program (EAP) organizations

Advancing our strategic community nonprofit partnerships with partners such as the YWCA Metropolitan Chicago Racial Justice League, which we recently joined

Launching a new Supplier Diversity and Responsible Sourcing Program to invest in underrepresented businesses

Launching "Leading Inclusively," our new diversity and inclusion training initiative

Incorporating D+I into our new behavior and competency framework

Establishing D+I metrics within the succession planning process

Developing a Global Allyship Program for all colleagues
Our commitments
As we continue to work toward a more equitable and representative population, we are committed to taking action. Our initial focus on representation and programmatic commitments are the result of the inclusion conversations following the racial and social justice movement, external benchmarking, internal baseline analyses and working sessions with functional leaders. While we are initially focusing on racial equity for all minorities within the U.S., we are also focusing on gender equity globally and building an inclusive environment for all of our colleagues.
We are committed to making meaningful and intentional progress along the way. By doing so, our colleagues can take part in both the what — the goals and benchmarks we are seeking to achieve — and the how — the systems, programs and processes put in place to advance our goals.
Our focus on D+I will continue to:

Enable UL to recruit, retain and advance colleagues clear of implicit biases.

Prepare colleagues and leaders with tools to inclusively lead high-performing teams.

Create an inclusive environment that drives employee engagement and empowers a One UL culture.

Serve as a key driver for innovation, our business transformation and future growth.
Our Diversity and Inclusion function
UL formalized its ongoing D+I efforts by officially launching the company's D+I function in 2019. The function is positioned to shape UL's global D+I strategy as aligned to our mission, business objectives and business transformation. Information and resources to further embed D+I into our culture and our day-to-day interactions are available on a dedicated company intranet.
We've developed a co-created strategy with a top-down, bottom-up approach to better amplify the voices of the employees and to ensure leadership, commitment and accountability is leveraged along the way. We will continue to work to ensure that D+I is infused into our DNA and acknowledged through action that D+I is imperative to our business, our employees, our customers and our communities.
Strategy
Our recent D+I progress is driven by a multiyear plan that aligns our business strategy and overarching mission of building a diverse, inclusive and equitable company.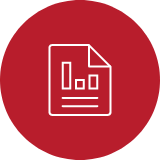 2019 — Building the case
In 2019, we formalized our D+I work, beginning the process with a discovery and diagnostic phase. During this time, we conducted a series of more than 60 focus groups in more than 30 locations, a cultural audit and benchmarking to better understand our current state, gather baseline data and identify existing gaps.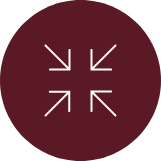 2020 — Building the core
We are continuing to build on our year one work, focusing on aligning D+I to our UL Key Results, leveraging data from the 2020 Employee Engagement Survey, building awareness, and educating and equipping our people leaders and colleagues with the tools and resources they need.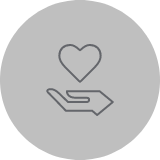 2021 — Building the culture
In 2021, we will work to further the integration of D+I with systemic initiatives such as more inclusive policies and procedures. And we intend to find ways to provide more equitable access to growth opportunities, along with targeted development for our historically underrepresented groups.
Diversity and Inclusion ecosystem
Our D+I strategy is a top-down, bottom-up approach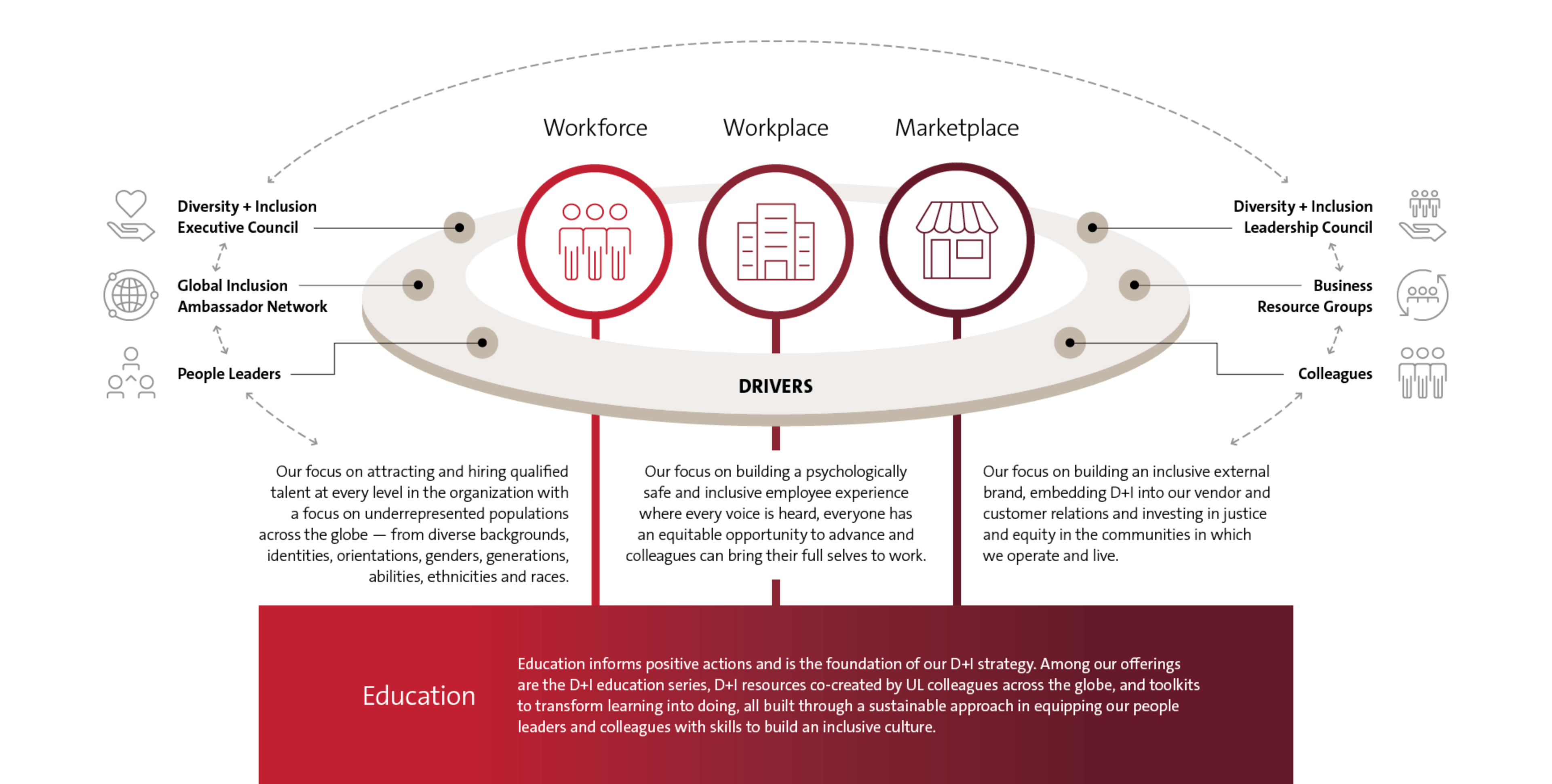 Our intentional steps toward a more inclusive culture:

In 2020, we established the D+I Leadership Council, comprised of the D+I Regional Ambassadors and Business Resource Group (BRG) Leaders.

We worked with an external partner for current state analyses and a five-year systematic review of UL's global demographic trends.

Our Business Resource Groups expanded from five to seven, with two new BRGs: Military and UL Parents.

At the close of 2019, we hosted our third annual D+I Summit, Building a Global Culture of Inclusion. There were over 2,000 in attendance, including virtually and in person.

We have committed to two Diversity and Inclusion pledges, committing to gender balance and equity and creating a globally inclusive culture: the CEO Action Pledge and the Chicago Network Pledge.

We have implemented the UL Inclusion Promise and have received over 600 signatures to date.

Our more than 70 D+I ambassadors helped facilitate, advocate and promote D+I regionally and locally.

In 2020, we held a virtual D+I gathering with over 4,000 in attendance.
Business Resource Groups (BRGs)
Our BRGs are voluntary, employee-initiated and employee-led associations that help us foster an inclusive workplace by supporting diverse perspectives and empowering community advocacy and transformation. BRGs serve as a catalyst for UL's cultural competence, business strategy and growth.
We now have seven BRGs with more than 1,200 members globally. All BRGs are open to anyone within the company.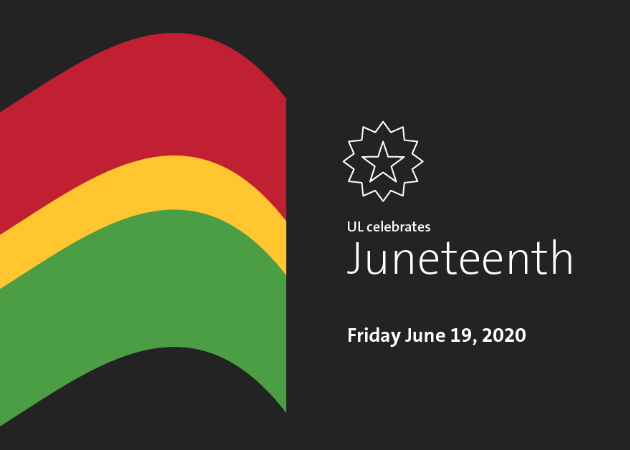 Black BRG
The Black BRG (BBRG) is dedicated to driving inclusion by accelerating UL's commitment to engaging African American/Black employees and those with diverse backgrounds, skills and capabilities. Its focus includes furthering UL's commitment to corporate social responsibilities in African American/Black communities, developing and retaining African American/Black employees by developing skills, increasing representation in C-E level roles, and growing the talent pipeline among prospective candidates.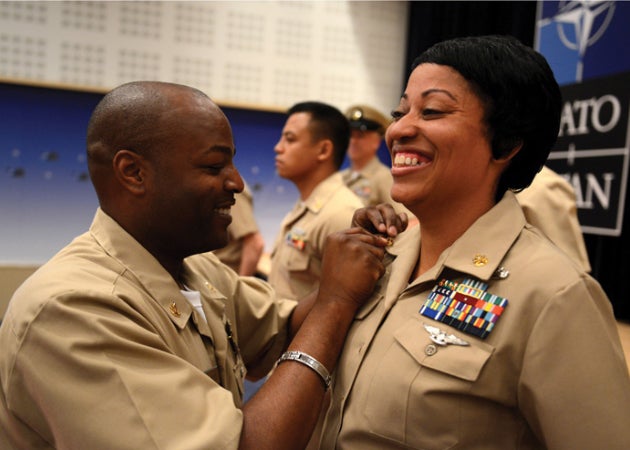 Military BRG
The Military Business Resource Group (MBRG) was created to establish and grow a community of employees who served in the military, have a friend or family member who has served or is still serving, and all employees who are interested in promoting awareness of military and veteran issues. This is not a U.S.-centric group, but rather a global group encompassing all military service, whether voluntary or conscripted. The MBRG's purpose is to make a positive impact by creating meaningful networking opportunities, honoring and remembering our military veterans and those currently serving, giving back to veteran causes, and connecting them to career opportunities.
PRIDE UL BRG
PRIDE stands for People Recognizing Identities and Differences for Equality. PRIDE UL is committed to increasing awareness and understanding of our LGBTQ+ community. This BRG strives to create a positive and supportive work environment, helping deliver UL's commitment to D+I, recruiting and retaining LGBTQ+ talent, and supporting customer engagement.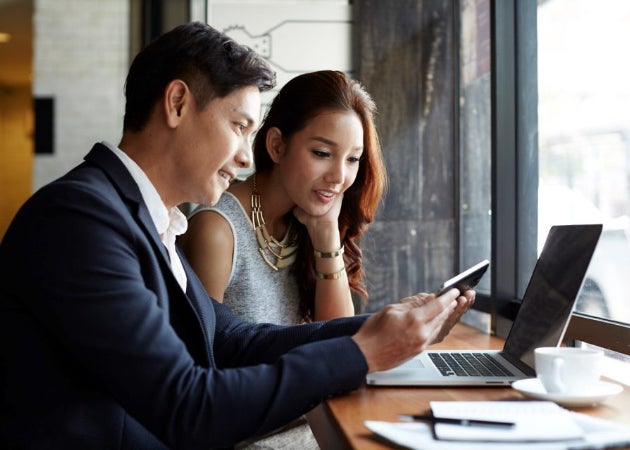 UL Latino BRG
The UL Latino BRG promotes the heritage of Hispanic and/or Latino UL employees by sharing the Latino/Hispanic culture through educational opportunities, networking, cultural events and social gatherings. This BRG also supports the professional development and leadership opportunities of Latino/Hispanic team members to help recruit and retain top talent.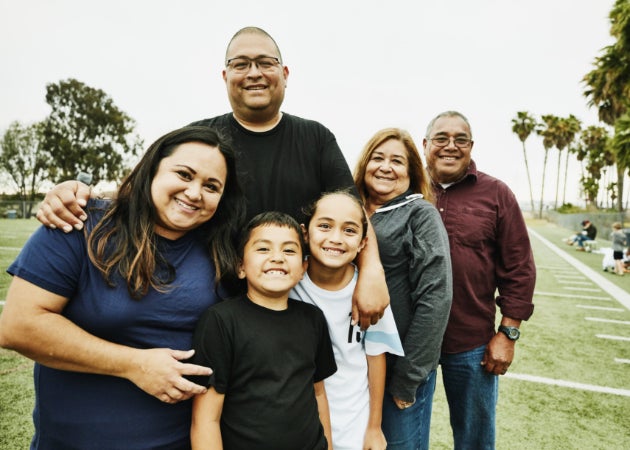 UL Parents BRG
The UL Parents BRG focuses on fostering a workplace where parents with children of all ages can thrive by supporting each other, providing expert guidance and influencing policy to help ensure that we are attracting and retaining top talent. Working parents make up a large contingency of UL's employee population. By creating a community via the UL Parents BRG, parents and caregivers can learn/share/advocate how to balance work-life priorities to enable greater employee engagement, productivity and retention — all of which has a positive impact on UL's business goals.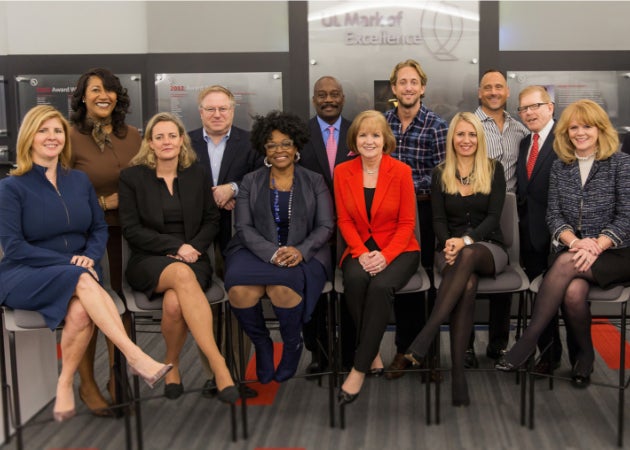 Women in Leadership BRG
The Women in Leadership BRG (WILBRG) helps accelerate the advancement of women working at UL by cultivating a strong community of female leaders. The BRG helps members develop their leadership skills and personal/business networks, shares best business practices and thought leadership, and promotes career opportunities for women.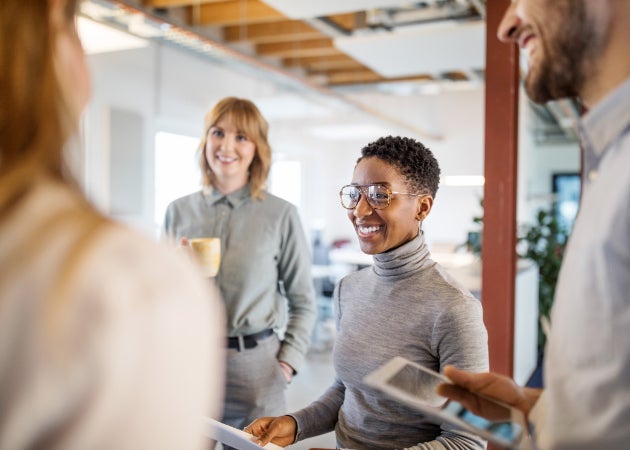 Young Professionals BRG
The Young Professionals BRG (YPG) aims to build and nurture an inclusive environment that engages young professionals in support of UL's mission and business. Goals and objectives include supporting UL's effort to attract, develop and retain young professional talent, building an internal support system for young professionals to share experiences and information, developing personal and professional growth opportunities, and influencing change to help grow and digitize the business.
2020 BRG highlights
 Black BRG
In honor of Black History Month, the BBRG held a Yammer campaign to #celebrategreatness — members posted and invited colleagues to create/share posts celebrating Black people's invaluable contributions to science, technology, engineering, mathematics, art, design, leadership and more.

The BBRG celebrated National Engineering Week 2020 with a series of activities and events featuring science and contributions from our Standards division. They also held a rubber band car engineering design and launch competition.

The BBRG initiated and partnered with Social Sustainability to develop and launch the first-ever UL Safety Smart® Virtual Summer Camp; over 400 children attended.
Military BRG
The MBRG participated in a giving campaign during the Memorial Day period and provided donations as well as UL-matched contributions to the Memorial Day Flowers Foundation.

In honor of Veteran's Day, MBRG and PRIDE UL collaborated and provided a webinar that highlighted the experiences of gays in the military as well as historical information on the "Don't Ask, Don't Tell" policy of the U.S. Military in the 80s and 90s.
PRIDE UL BRG
The PRIDE UL BRG hosted a pronoun usage webinar titled "A Conversation on Pronoun Usage" in April of 2020, which gave us the opportunity to collaborate with the UL Corporate Branding team to get approval for identifying pronouns in UL's email signature blocks.

PRIDE UL worked with Out & Equal to become a sponsor for the organization and hosted a booth and participated in the 2020 Virtual Workplace Summit.

PRIDE UL partnered with UL Parents to host a webinar titled "Parent and Child Perspectives on Coming Out" in recognition of National Coming Out Day.
UL Latino BRG
The UL Latino BRG expanded their chapter presence by establishing the first chapter with Field Service team members in the U.S.

The UL Latino BRG celebrated Hispanic Heritage Month virtually by sharing local traditions and customs celebrated in the different Latin America locations.

The UL Latino BRG partnered with our D+I Global Ambassadors to work collaboratively on initiatives in the U.S. and Latin America. 
UL Parents BRG
The UL Parents group offered virtual programs to help support parents and caregivers. These included a webinar on social media and screen time and project managing your household.
Women in Leadership BRG 
WILBRG hosted an International Women's Day (IWD) Celebration — #EachForEqual.

WILBRG's Women in STEM (WiSTEM) supporting and promoting the Believe, Do and Succeed 2020 Global Marathon Series in which our CEO was guest for the fifth session.

WILBRG's EMEA Chapter launched the new digital learning platform/dedicated channel — "Foster Women Leadership."

WILBRG Hosted Global Women's Suffrage/Women's Equality Celebration.
Young Professionals BRG
The YPG hosted a virtual introduction to yoga and mindfulness for Wellness Month in May.

The YPG offered virtual opportunities for discussion and collaboration regarding the cultural significance and civil unrest after the death of George Floyd.

The YPG launched awareness campaigns around key societal topics, including the U.S. election.