Create and customize e-learning courses for FDA regulation of medical devices, pharma, HR compliance training and more — quickly and professionally
It's increasingly common for product managers, subject matter experts, operations leadership, department administrators and other stakeholders to be responsible for producing employee learning and process training courseware. But without instructional design or multimedia development expertise, they can find course-building and maintenance to be an overwhelming task and prohibitively expensive to outsource.
Empower your leaders to collaboratively author courses anytime, anywhere to custom fit to your organizational needs with our digital SCORM authoring tool.
With UL Create, you can:
Easily convert PPT slides into e-learning modules.
Make new courses or edit courses from UL Solutions' extensive training library.
Set up fully web-responsive and mobile-ready courses.
Support versioning.
Assign course development roles to streamline workflows.
Deliver multimedia content on ComplianceWire® worldwide with cloud-based hosting services.
From concept to delivery in five easy steps

1. Select a design theme and personalize it to meet your branding needs
Add brand-specific logos, fonts and colors to your course. Update your entire training catalog's branding simply by editing a single course.

2. Insert your own content or adapt a course from our e-learning library 
Add your content slide by slide or choose from the UL Solutions library of up-to-date course titles, created by our Content Solutions department.

3. Enliven your training with interactive media 
Enhance the learning experience by uploading videos, audio, info pop-ups, information trees, quizzes, product logos, third-party hyperlinks and images.

4. Collaborate easily with cloud-based tools
Work with your content creators worldwide and manage editing, quality and approval processes. 

5. Easily publish to your LMS, or ours
With just one click, publish directly to ComplianceWire® or any AICC, SCORM-compliant learning management system (LMS). 
Additional Create assets
Secure data storage. 
Secure cloud-based delivery and storage of your course assets, such as text, images, and videos with low latency and high transfer speeds, all within a developer-friendly environment. 
Disseminate a course in multiple languages.
With the help of Localization Interchange File Format (XLIFF), you can create multiple language versions of the same course. 
The ease of a single-vendor partnership.

When it comes to troubleshooting, turning to a single point-of-contact provider makes problem resolution faster and more streamlined, as opposed to coordinating with multiple vendors who are familiar only with their piece of the learning solutions puzzle.  
UL Create: your course-building secret weapon
Disseminating accurate, up-to-date training in a constantly changing marketplace is complex, even with today's sophisticated software solutions. 
 
UL Solutions offers a suite of ready-to-use online training courses that simplify the selection of your employee training courses, with the responsive design fluidity to match your learner's device of choice. UL Create makes the delivery even more powerful by facilitating the creation and customization of engaging content that meets your employees' learning needs and fulfills compliance requirements.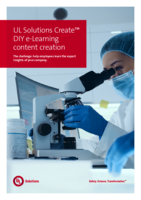 UL Solutions Create™ DIY e-Learning content creation
1.5 MB