Testing and certification solutions for electric sign and sign component manufacturers
We offer comprehensive testing, certification and professional training in engineering best practices and regulatory standards to manufacturers of electric signs including portable, stationary, and fixed types with LED, neon, fluorescent, HID, electroluminescent, or incandescent illumination. We can also certify photovoltaic (solar) electric signs that are intended for connection to the power grid or that are only for off the grid use.
Product Categories
Digital Signs
Electric Signs
Sign Retrofit Kits
Products and Services 
General Coverage Electric Signs
Our General Coverage program for electric signs provides manufacturers extensive flexibility to design a wide range of signs without having to submit products for evaluation at UL Solutions.
General Coverage Sign certification can be provided for all types of custom-made signs including channel letters, box signs, awning signs, changing message signs and portable signs. Signs can be certified for dry, damp or wet location installation. Signs too large to ship as one assembly can be certified as sections of a sign and assembled in the field.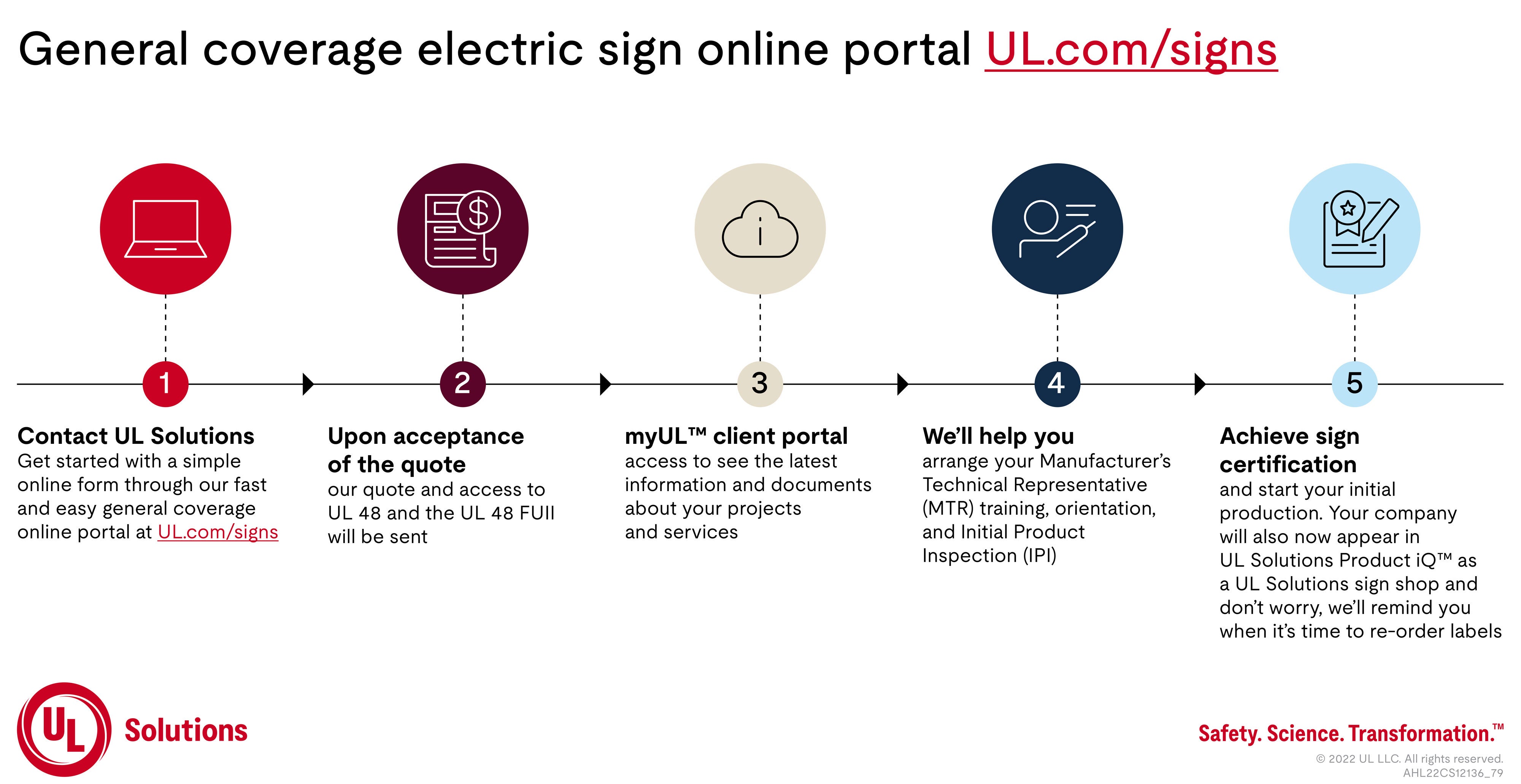 Sign Components
The UL iQ™ for Sign Components is designed to be a buyer's guide for general coverage sign shops and designers. Manufacturers can easily perform parametric searches to quickly identify a list of components that can meet their specific design needs.
Electronic Display Signs
As sign technology advances so does UL Solutions, providing services for illuminated and nonilluminated changing message signs intended to be installed and connected to an electrical supply source in accordance with the National Electrical Code, ANSI/NFPA 70.
Manufacturers can choose among different certification options for their flat panel digital displays, including evaluation as part of a complete electric sign, CB test certificates or informative test reports for global market access. 
California Title 24 Regulation for Electric Signs
UL Solutions' combined safety and energy efficiency certification Mark for electric signs is the easiest method to demonstrate compliance with the California Energy Commission (CEC) Title 24, Part 6, section 140.8 regulation for electric signs. 
Sign Retrofit Kits
We provide safety services for retrofit sign conversions consisting of subassemblies or kits intended for field installation in certified signs in accordance with the National Electrical Code, ANSI/NFPA 70.
After consultation with members of the sign industry and the regulatory community, we have changed the practice of applying the UL certification Mark for sign retrofit kits on major components of the kits. Now the certification Mark is only authorized to appear on the kit's installation instructions. This change is expected to prevent misuse of the UL Mark on sign retrofit kit components and facilitate the availability of retrofit kit installation instructions.
Please download our frequently asked questions addressing the background and implementation details for this important change.
Why UL Solutions for electric sign solutions
We have more than 100 years of technical leadership in the development and application of standards and code requirements for electric signs 
The UL Mark has earned strong recognition in the sign industry and is widely accepted by electrical inspectors and other regulatory authorities
We offer energy efficiency certifications to comply with local jurisdictions
We will help you stay ahead of the curve on emerging standards requirements and regulations
We offer a range of flexible training options to help sign shops of all sizes succeed
UL Solutions keeps you informed – visit our FAQ page for more information on LED Sign Retrofit Kits.
Faster Sign Certification
Becoming a UL Solutions sign shop has never been easier. Our new electric sign online registration portal allows prospective UL Solutions sign shops to take control of the sign submittal process. By answering a few simple questions in an online form, a submitter can navigate from the application process to applying the UL Mark to their compliant signs in as little as a few days.
Get started today
X
Subscribe to our Lumen Insights newsletter
Stay in the know with real time Lighting industry updates from UL