Advancing smart technology continues to create a competitive and challenging market for original equipment manufacturers (OEMs) who already struggle to differentiate their products from those of their competitors.
Each OEM has its own definition of what a smart product is, with no universal alignment. 
OEMs are setting an accelerated innovation pace that owners, general contractors, consultants, integrating contractors and building operators are trying to keep up with (and trust) within their operations. However, the lens they look through to meet the operational goals of the building is inconsistent throughout the contracting process. Expectations and capability gaps exist among the major stakeholders.
Owners want investment value and assurances. 
Consultants want innovation with predictability. 
General Contractors (GCs) and systems integrators want working tools and outcome control. 
Installing contractors want lower risk and control of project cost overruns. 
To help bridge these gaps, OEMs must play a significant role in unifying smart building stakeholders through their offerings. The market needs the assurance that technologies will work as intended and are purposely built with an operational mindset for the whole building.
Today, smart building technology value expectations are growing. Commercial buildings are continually being operated more as an asset than an expense, and the building needs to serve the business's operation rather than just house the operation. The need for the building to serve the business's mission is creating higher operational expectations in owners and operators, which drives demand for solutions that meet the promises set by smart building specifications and financial operating cost projections. OEMs technologies are the foundation of a successful smart building, and the foundation of the expected seamless link between design intent, performance, and occupant satisfaction.
UL Solutions is in a particular position to provide a smart rating verification Mark in addition to its other services to strengthen the manufacturers' market share and customer satisfaction by helping to:
Expand product relevance by addressing the evolving needs of our customers 
Improve the product development life cycle through holistic assessment 
Help growth through product differentiation with UL Marketing Claims Verification 
Align with specific organizational initiatives 
Ensure that minimum smart capabilities are met  
Verify features and future readiness 
Adhere to market, technology and regulatory trends 
Maintain a competitive advantage by identifying key features  
Smart product transparency for asset owners and customers 
What is the Smart Systems Rating Program? 
UL Solutions Smart Systems Rating Program is a criteria-based rating program for smart building systems. The marketing claim verification is based on a comprehensive assessment of a smart system or product based on six dimensions. 
Smart systems that are assessed through the program receive a level rating of Smart System/Product Verified - Silver, Gold, Platinum or Diamond based on the assessment results. 
The dimensions are carefully chosen to cover the most important aspect of what makes systems smart —communications and interoperability, resiliency, cybersecurity, control and automation, digital experience, and functional value. Upon successful assessment, UL Solutions will issue a verification Mark that can be publicly accessed and used for marketing claims.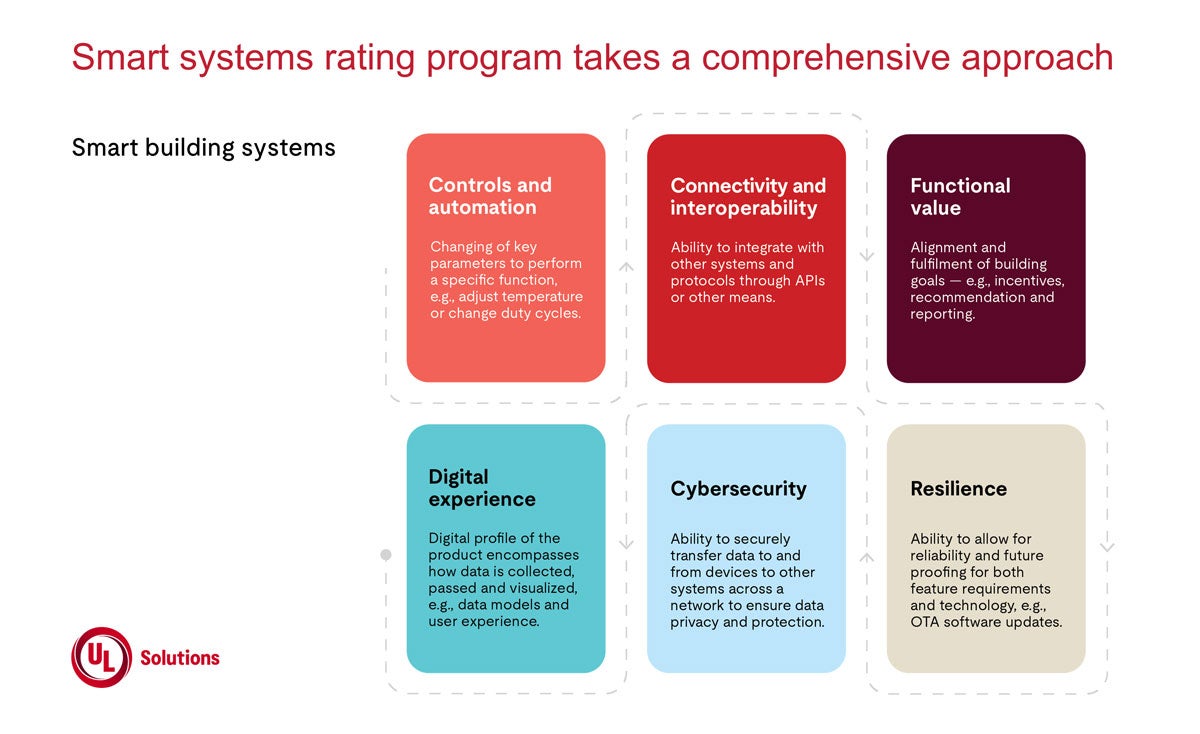 X
Get connected with our sales team
Thanks for your interest in our products and services. Let's collect some information so we can connect you with the right person.