Evaluate, test and certify to UL 2849, the Standard for Electrical Systems for eBikes
Investigating potential hazards is a fundamental part of building consumer trust and protecting brand reputation. With that said, new strategies and protective circuitry will be required for safe operation as e-bike technology evolves. 
To help assess the safety of e-bikes and electrically power-assisted cycles (EPACs), we involved industry leaders in developing next-generation e-bike safety requirements for UL 2849, the Standard for Electrical Systems for eBikes. This Standard offers electrical and fire safety certification by examining e-bikes' electrical drive train system, battery system and charger system combinations.
UL 2849 covers:
e-Bikes (typically sit-to-operate and over-the-road use) and pedal-assisted electric (pedelec) cycles
The risk of electric shock during charging over the life of the product, as well as other potential electrocution hazards
The Standard does not evaluate for the operator's ability to maintain control while riding.
UL Solutions is recognized by Occupational Safety and Health Administration (OSHA) as a Nationally Recognized Testing Laboratory (NRTL) to certify micromobility products to UL 2849, the Standard for Electrical Systems for eBikes.
U.S. Consumer Product Safety Commission (CPSC) Micromobility Safety Guidance
On December 20, 2022, the U.S. Consumer Product Safety Commission's (CPSC) has called on manufacturers, retailers, importers, and distributors of micromobility devices to comply with established UL safety standards. This includes products covered by UL 2272 and UL 2849, which address electrical systems in personal e-mobility devices (such as hoverboards) and eBikes, respectively. Click here to access the release from CPSC.
New York City Council's law on micromobility devices and batteries
In a move to strengthen fire safety of e-bikes, e-scooters, and the lithium-ion batteries that power such devices, on March 2, 2023, the New York City Council passed Initiative 663-A, mandating e-bikes, e-scooters, e-mobility devices, and light electric vehicle (EV) battery packs to be third-party certified. On March 20, 2023, New York City Mayor Eric Adams signed this into law. With this new law, any company selling, leasing or distributing micromobility devices, such as e-bikes or e-scooters, has until September 16, 2023, to obtain certification from UL Solutions or another National Recognized Testing Laboratory (NRTL) to:
UL 2849, the Standard for Electrical Systems for e-Bikes, for the electrical system of any powered bicycle sold, distributed, leased, or rented in New York City.
UL 2272, the Standard for Electrical Systems for Personal E-Mobility Devices, for all powered mobility devices, including e-scooters, sold, distributed, leased, or rented in New York City.
UL 2271, the Standard for Batteries for Use in Light Electric Vehicle Applications, of any storage battery for a powered bicycle or mobility device sold, distributed, leased or rented in New York City.
A local law takes effect in September, which will require all of these [micromobility] devices that are sold within the city to be certified by UL Solutions or National Recognized Testing Laboratory.

FDNY Fire Chief Daniel E. Flynn
Consumer Product Safety Commission Forum on Lithium-ion Battery Safety 07/27/2023
The National Bicycle Dealers Association (NBDA) statement to retailers and industry on UL 2849 certification
The NBDA has been educating retailers and the industry at large about the growing safety concerns inherent in the surge in consumer purchases of electric bicycles and scooters that utilize lithium-ion batteries as the power source for electric propulsion systems.
On July 15, 2022, the NBDA advises all retailers to encourage their vendors and suppliers to certify their e-bikes or e-bike systems installed on e-bikes to UL 2849. They will provide retailers a letter to send to their e-bike suppliers notifying them of this request for certification to UL 2849.
"The bicycle industry needs to take immediate action. After extensive consultations with experts in the field, e-bike and e-scooter lithium-ion battery safety is a large and immediate subject that we need to act on now. The advisement statement we have prepared for retailers takes the interest of e-bike continued growth within the industry and safety for all. If we do not address the core issue, we may see this propel to something beyond our control,"

Heather Mason
NBDA President
EN 15194 for e-bike safety and other European market standards
We support the following standards for e-bikes within the European market:
EN 15194 for e-bikes is the only specific published standard. At this time, EN 15194 does not cover the safety of electrical systems utilizing battery packs in the same manner that UL 2849 covers this subject.
EN 50604-1 for light electric vehicle (LEV) batteries and/or EN 62133-2 for portable or auxiliary system batteries
2014/30/EU for EMC
2011/65/EU/ for RoHS
2014/53/EU (RED) – If the device uses radio technologies
Machinery Directive 2006/42/EC for Product Safety
ISO 4210-10 (in development) for e-bikes could become an EN standard in a few years.
Benefits of e-bike certification
Making sure that your products comply with the appropriate standards can prove challenging. Fortunately, we're here to simplify the process for you. UL Solutions contributed to UL 2849, the Standard developed by UL Standards & Engagement, and is familiar with the technical requirements for testing and certification. By tapping into our technical expertise and testing capabilities, we can help you increase your regulatory acceptance and brand recognition. More importantly, however, is the fact that we can help you get safer products to market — a critical responsibility of all e-bike manufacturers. The National Fire Protection Association (NFPA), a leading information and knowledge resource on fire, electrical and related hazards, have advised consumers to "only purchase e-bikes and e-scooters that are listed by a nationally recognized testing laboratory and labeled accordingly" (such as UL Solutions). Learn more about NFPA's tips for e-bike safety here.
UL certification is a valuable marketing tool that tells your customers that your product, process, service or company has successfully met stringent requirements. Communicating this achievement can help you win in the market by strengthening your product's presence and differentiating it from competitors.
Why UL Solutions for e-bike certification
We can serve as your single source of answers by offering a comprehensive range of testing services for your e-bikes and EPACs. Our team of experts will help you achieve the electrical and fire safety certification you need to meet the Consumer Product Safety Commission's standards for safety, enabling you to sell your products in the global marketplace. Plus, our familiarity with the Standard allows us to help you cut your costs and accelerate your time to market. That's how we'll help you achieve what's possible, and that's what makes us different.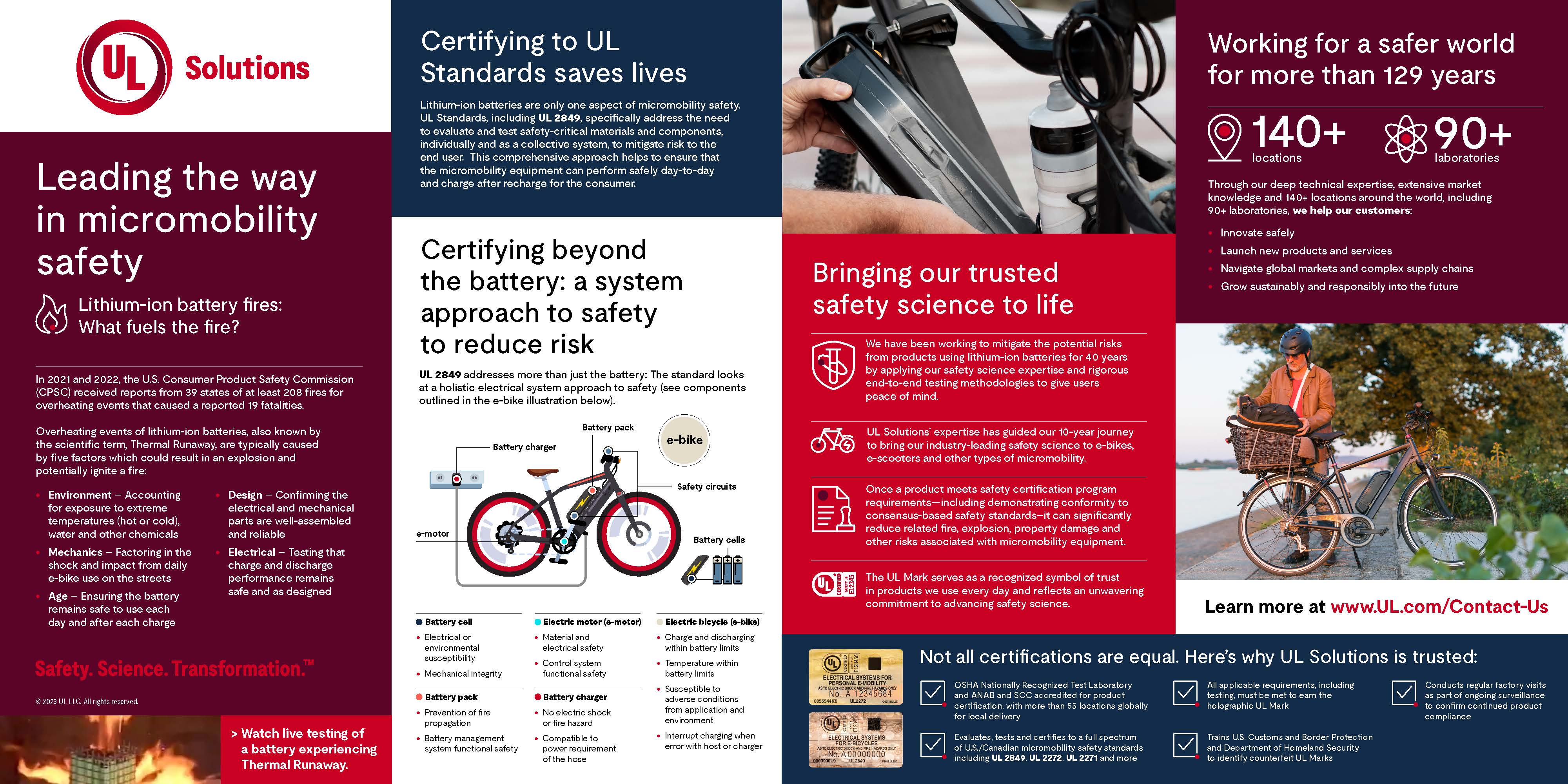 Watch now: Accelerating the shift to micromobility products
UL Solutions is accelerating the shift to micomobility products by helping innovators quickly bring safer and more sustainable micromobility products to market.
Watch now: Addressing public safety through product safety: the responsibility of all e-bike manufacturers
UL Solution's Global Director & Industry Leader (Consumer Technology), Ibrahim Jilani, discuss about the safety risks of e-bikes and how we can help manufacturers get safer products to market.