Featuring the UR Mark (for North America) and the D Mark (serving worldwide markets including Europe) means that UL Solutions has evaluated representative samples of a product, part or subassembly, including those for which no specific electrical safety standard exists.
The value of component certification for end-products manufacturers
When the components for your appliances, HVAC/R or lighting products have been tested and certified by a recognized third-party provider like UL Solutions, your customers can be confident that your product has met stringent standards for safety.
The value of component certification for component manufacturers
Differentiating your components with our Marks means standing out from the crowd of non-marked components. End-product manufacturers can trust your production is consistently monitored to help ensure that safety standards are met.
Our worldwide network of engineers and facilities allows us to provide local services with a global outlook and provides you with valuable access to experts in your target markets. We support our customers in their drive to protect public safety and brand value, mitigating their risk with quality assurance and supply-chain compliance services.
Three trends that show why it's important to demonstrate the reliability of your supply chain
As a manufacturer, you want to demonstrate to customers that the safety features of your product are not compromised by economic decisions.
Long lead times, sources and raw materials in short supply, and inconsistent quality of raw materials may induce manufacturers to adapt the quality of their products. Make sure that such changes on the bill of material are transparent and reliable.
Moving production locations because of changing geopolitical scenarios affects logistics, production time and costs. Make sure that your new components have the same nominal specs as the original ones so the final product retains its quality.
In the case of plastic materials, the growing adoption of circular economy and recycling practices may affect a product's mechanical resistance and robustness if a percentage of recycled materials is introduced. Make sure your percentage allowed remains consistent and doesn't increase over time.
Different component marks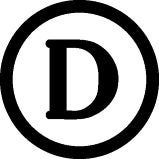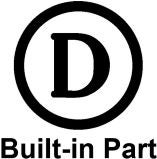 UL's Recognized Component Mark indicates compliance with North American requirements.
Three variations of UL's Recognized Component Mark are used: one for the U.S. only, one for Canada only and one for both the U.S. and Canada.
UL's D Mark indicates compliance with EN and/or IEC requirements and has two variations: one for complete end-products and components covered by an applicable EN and/or IEC standard and one for parts or subassemblies intended to be built into an end-product in a factory by the producer of end-products but don't have a specific European electrical safety standard.
The D Mark Built-In Part Certification mainly covers fans, motors and heating elements evaluated to the relevant requirements of the end-product standard EN/IEC 60335-1 in which they are intended to be built-in.
Benefits of the UR Mark and D Mark/D Mark Built-In Part Marks
Achieving certification for components provides you the following benefits:
Global visibility to the engineering community through the UL Product iQ® database
Eligibility for compliance with end-product standards
Differentiation from noncertified products and proof of ongoing quality through annual surveillance
Ability to leverage UL Solutions' trusted reputation to differentiate your products in a crowded marketplace
Enhanced market acceptance and global market access
The UL Product iQ database helps with sourcing and certifications
An online resource for product and component selection, Product iQ is used by thousands of designers, engineers and suppliers to find providers of recognized materials and components. It helps you find critical components that meet your needs with quick, intuitive searches and has data you can trust for verifying UL certification. This powerful database offers robust search features, advanced search and filtering options and access to tested, reliable UL Solutions information.
Alternative component sourcing and testing in three easy steps
Get your products to the market with minimal disruption by sourcing quality components that have been evaluated and recognized by UL Solutions for similar applications.
If your organization is experiencing component supply issues, we can help you quickly manage those disruptions. The following three-step process addresses how to conquer component sourcing fast and efficiently.
Step one
Leverage our vast, complimentary UL Product iQ database of components to source alternative suppliers and components. If you do not have an account, you can quickly create one and instantly search for components. For certified water products, solid state lighting, electrical insulation systems and surge protective services, visit our UL iQ™ family of databases.
Step two
When you have chosen the alternative components that best fit your product needs, we can perform accelerated component performance equivalency testing to help ensure that your alternative component will perform as well as, or better than, your current component.
Step three
Our laboratories and expert engineers are available to rapidly perform end-product evaluations using the alternative component and have it included in your product certification.
This three-step process helps you source quality components, evaluated and recognized for similar applications, to get your products to market with minimal disruption.
International Certification for Components: News and Updates
Learn about the IECEE Certification Management Committee's recently officialized updates impacting components currently not covered by a specific IEC standard.
Learn more
X
Get connected with our sales team
Thanks for your interest in our products and services. Let's collect some information so we can connect you with the right person.