By Elena Andreula, EMEA Regulatory Program Expert
On March 29, 2017, the United Kingdom submitted notification of its intention to withdraw from the European Union.
U.K.'s departure from the European Union has been delayed until October 31, 2019.
In the event of a "Brexit" with no deal:
UKCA (U.K. Conformity Assessed) marking would become the new U.K. product conformity marking that will be required for goods currently subjected to CE marking. It will indicate that a product complies with U.K. regulations and can be placed on the U.K. market.

If you have already placed a good on the market before October 31, 2019, you can continue circulating after Brexit.

After October 31, 2019, for a time-limited period, if you manufacture goods that meet the relevant EU regulatory requirements and bear the CE marking, you can still place them on the U.K. market. The government will give businesses notice before this period ends. Once this time-limited period ends, only the UKCA marking will be recognized with respect to the U.K. market.

Where products require third-party conformity assessment (other than self-declaration), it will be necessary to apply for the new UKCA mark from a recognized UK Conformity Assessment Body immediately starting from the exit day.

The UKCA marking will not be recognized on the EU market and products currently requiring a CE marking will still need a CE marking for sale in the EU.

Current Notified Bodies located in U.K.. will lose their status as EU Notified Bodies and will be removed from the Commission's information system on notified organizations (NANDO database). Manufacturers/importers who have up to now used U.K. notified bodies will need to make plans to switch to EU-recognized conformity assessment bodies if they wish to continue to market in the EU after a no-deal Brexit.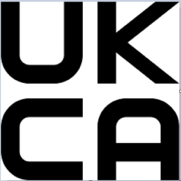 This is the design for the UK marking for certain products to be sold in the U.K. that will replace the CE marking in the event of a Brexit with no deal.