NOTE: This information is from a previously printed press release, newsletter, or other dated document. It is presented here for archival purposes only.
NORTHBROOK, Ill., April 21, 2008 -- Underwriters Laboratories (UL) is notifying consumers that portable 500-watt halogen work lights manufactured by Shanghai Xiangshan Industries may pose a risk of fire and electric shock. These lights do not comply with UL requirements and are not eligible to bear the UL Mark.
Name of Product: Chicago Electric Shop Light
Units: Unknown quantity
Date of Manufacture: January 2004 to present
Manufacturer: Shanghai Xiangshan Industries, Ltd.
Hazard: These shop lights may overheat and pose a risk of fire and electrical shock.
Identification: On the product: The shop lights bear a label with the UL Listing Mark and the following information:

Identification: On the packaging: The packaging has the following information: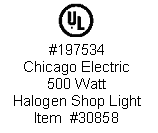 What You Should Do: UL recommends that users stop using the product immediately and return them to the place of purchase.