NORTHBROOK, Ill., December 18, 2009 -- Underwriters Laboratories (UL) is notifying consumers and retailers that the holiday lighting, identified below bearing a UL Listing Mark, may pose a risk of electric shock and fire. This product does not comply with UL's safety standard and is not authorized to bear the UL Mark.
Name of product: Model No. 610-149
Number of units: Unknown quantity
Manufacturer: I - Zenx International Company
Date of manufacture: March 2009
Hazard: The decorative outfit may overheat creating a shock and fire hazard
Identification: The product is provided with the following markings:
On the product:
Attached Cord Label - Model No.610 -149
The cord is provided with a UL holographic label consisting of the UL Listing Mark and the following:
Decorative Outfit
Issue No. 59,661
For Indoor and Outdoor Use

LISTED
On the packaging: The packaging is marked with a UL Mark and the following:
Sterling (Outdoor/Indoor) Novelty Light Set
10 PC. Light Set
Approximate Length: 8.5Ft.
Approximate Lighted Length: 6 Ft.
Spacing Between Bulbs: 8"
End-to-End Construction

(Do Not Connect More Than 3 Sets)
Known to be sold at: Bronner's CHRISTmas Wonderland, Frankenmuth, Mich., and may have been sold by other retailers.
Photos of the decorative lighting packaging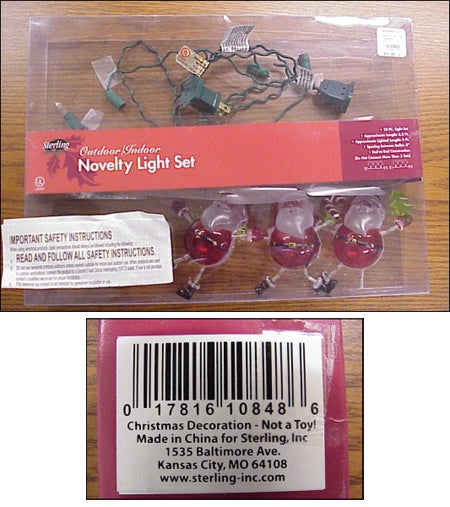 What you should do: UL recommends that users stop using the product immediately and return the decorative outfit to the place of purchase.