NOTE: This information is from a previously printed press release, newsletter, or other dated document. It is presented here for archival purposes only.
NORTHBROOK, Ill., May 28, 2008 -- Underwriters Laboratories (UL) is notifying consumers that an electric fence controller manufactured by Horizont Geraetewerk in Germany may pose a risk of electric shock. These fence controllers do not comply with UL and Canadian requirements and are not eligible to bear the UL Mark for the United States and Canada.
Name of Product: HotShock 600
Date of Manufacture: Unknown
Units: 402
Manufacturer: Horizont Geraetewerk in Korbach, Germany
Hazard: The fence controller allows moisture to enter the enclosure, which could wet internal electrical components and pose an electric shock risk.
Identification: The product has a label that identifies the model as HotShock 600. The label also has an unauthorized UL Mark for the United States and Canada, serial numbers that range from 1843767 through 1895860, and the following information: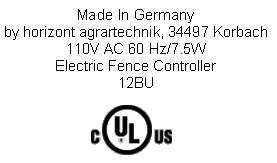 What You Should Do: UL recommends consumers stop using the product immediately and return it to the place of purchase.