NORTHBROOK, Ill., Feb. 28, 2017 — The following is a notification from UL that the drain fitting identified below bears a counterfeit UL Mark for the United States and Canada. This drain fitting has not been evaluated by UL to the appropriate Standards for Safety and it is unknown if it complies with any safety requirements.
The counterfeit drain fitting is similar in appearance to a legitimately UL Listed Model 1000 that is authorized to bear the UL Mark. The counterfeit Model 1000 drain fitting is marked with a four-digit code on the handle that ends with "00".
Name of Product:
Drain fitting Model 1000 – Size 1" with ½" test orifice.
Manufacturer:
Ningbo Jintian Fire Fighting Equipment Co. Ltd.
Identification:
The fitting handle bears a counterfeit cULus Mark and the following:
0500
NIC-BSA-726-57-SM
TESTANDRAIN®
DRAIN FITTING-SPECIAL TYPE
MODEL 1000
FM
Approved


LISTED
40S1
Photo of Drain Fitting: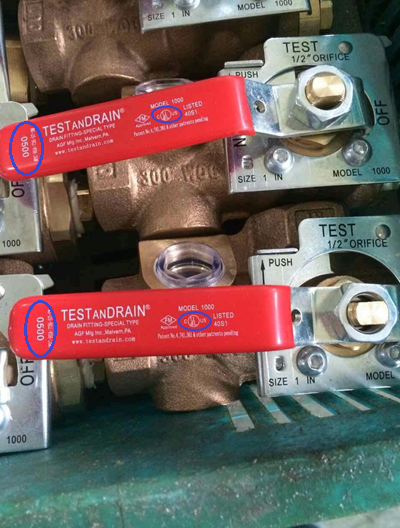 Consumer Contact: 
Consumers that have questions should contact AGF Manufacturing Inc.: (610) 240-4900 or [email protected]
Known to be Distributed By:
Ningbo Jintian Fire Fighting Equipment Co. Ltd.