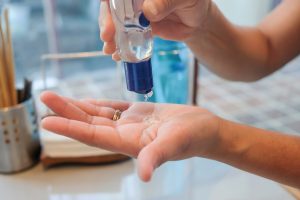 The free SDS offer has expired.
Update August 1, 2020:
UL remains committed to helping organizations around the globe as they respond, reopen and resume work throughout the unprecedented times of COVID-19. The complementary WHO formulations Safety Data Sheets promotion has expired; however, our team of regulatory experts are always available to assist and help you. Please contact us using this form UL Materials & Supply Chain if we can be of assistance.
by Stacie Abraham
At UL, safety is at the heart of our mission and drives every decision we make.
Businesses all over the world are beginning to manufacture hand sanitizers to meet the critical need for such products. The World Health Organization (WHO) provides a "Guide to Local Production: WHO-recommended Handrub Formulations" that contains specific formulations for both ethanol-based and isopropanol-based hand sanitizers.
Additionally, in the United States, under the current public health emergency the U.S. Food and Drug Administration (FDA) has issued a "Policy for Temporary Compounding of Certain Alcohol-based Hand Sanitizer Products During the Public Health Emergency".
Safety Data Sheets
For manufacture and shipment of such products, a Safety Data Sheet (SDS) is required.
Therefore, UL has created an SDS specifically for both the ethanol-based and isopropanol-based WHO-recommended hand sanitizer formulas. These Safety Data Sheets have been prepared in several regional Globally Harmonized System (GHS) formats, and we are offering them free of charge.
For general inquiries, contact UL Materials & Supply Chain.
Talk to an expert
Regulatory compliance requires a deep knowledge of various national and international regulations, combined with expert analysis and interpretation.
If you need any assistance in ensuring that your products are safe, compliant and sustainable, you know who to trust. UL's team of world-class regulatory experts are here to help you achieve chemical regulatory compliance, and crucially, save you time and money.