In today's business landscape, the hazardous locations industry is continually challenged to design, produce and operate safe, reliable, energy efficient and innovative products for use in potentially explosive atmospheres. Due to COVID-19, travel and transportation globally has slowed down. The International Energy Agency (IEA) has found that global road transport activity had dropped almost 50% below the 2019 average by the end of March 2020 and commercial flight traffic has dropped almost 75% below 2019 by mid-April 2020.[1] Consumption overall has decreased by 5% globally in the first quarter and it continues to be down as many regions have put restrictions in place since then.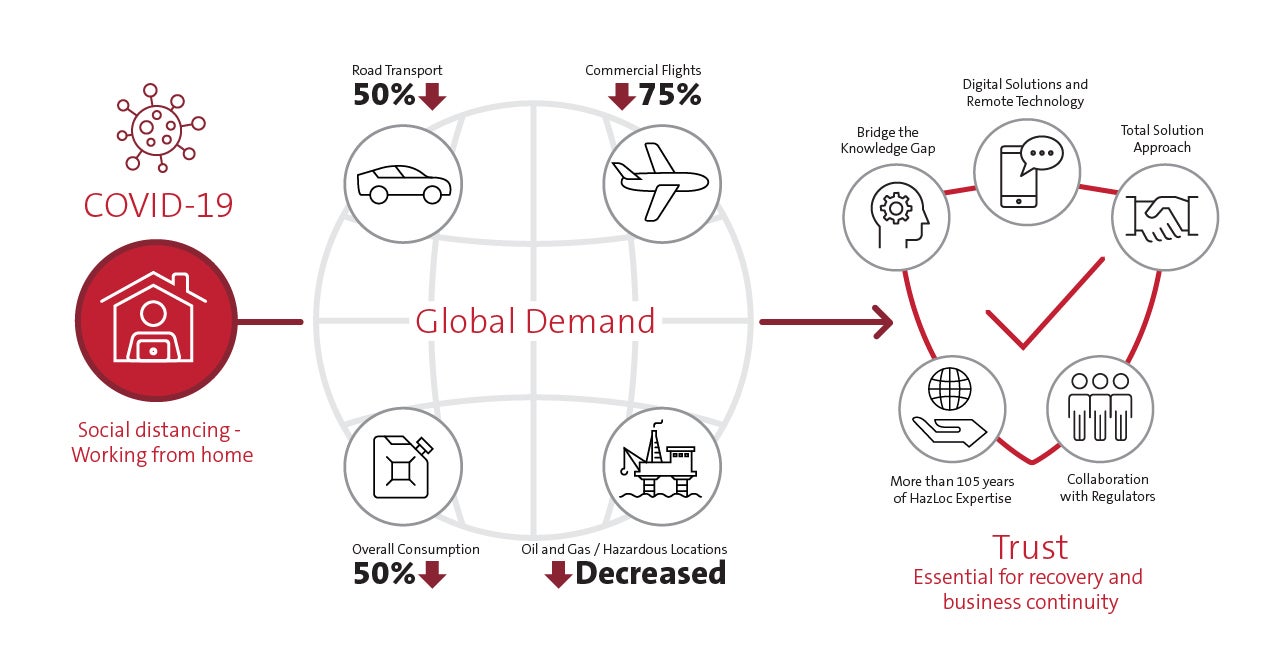 As we look ahead to the second half of 2020, all businesses are wondering how long it may take to rebound as phased re-opening plans are in place. We may want to consider several other global incidents as a guide for how long recovery may take. The Severe Acute Respiratory Syndrome (SARS) crisis of 2003 reduced oil and gas demand below business-as-usual levels for six months after the epidemic had eased. The SARS impact had a shorter duration than what is expected with COVID-19, as the global outbreak of SARS caused 8,089 cases and 774 deaths. For COVID-19, as of June 29, 2020, there were 10,063,319 confirmed cases and 500,108 deaths globally. So, COVID-19 will have a 99.9% larger global impact compared to SARS.[2]
Due to the travel restrictions as a result of COVID-19, we can anticipate that it will take some time for normal travel behavior to resume. Therefore companies have quickly implemented digital solutions to help aid business continuity in order to help ensure safety. Adopting the use of additional online video conference platforms, online event portals and remote viewing software is now becoming the new normal. The adoption of this technology for many may turn into a more permanent solution that could have a lasting impact on future travel as well. Videoconferencing could replace some business trips as the current situation continues to evolve in order to help save costs. Companies should prioritize working with partners who have implemented these technologies and processes to help support business continuity and their customers' evolving needs.
Remote technology delivers flexibility while maintaining consistency and quality. We have put into place modified working arrangements under guidance from public health officials to continue to deliver critical services. We have implemented the use of remote technology to support the UL Data Acceptance Program (DAP), International Electrotechnical Commission (IEC) Customer Testing Facility (CTF) Program and the Witnessed Test Data Program (WTDP). These enhanced service offerings allow for greater flexibility for our customers to continue to submit products for certification.
Additionally, we are performing remote quality system audits for ATEX Product Quality Assurance (PQAN), IECEx Quality Assessment Report (QAR), and INMETRO, in accordance with the rules and regulations of these certifications. We are performing remote unit verifications wherever possible to avoid delays in certifying unique or custom equipment. 
As we move forward, unsure of what may happen, the unknown keeps us looking for answers. In times of uncertainty, knowledge is power. Certification bodies with informed experts with global expertise, who collaborate with regulators, can help bridge the knowledge gap. Valued certification bodies today can offer their customers more than just certification and take a total solution approach to helping customers by engaging early in the process.
Today, trust matters more than ever. Our knowledgeable global experts who have deep expertise in standards, testing, certification, inspection and advisory services can help you effectively manage safety and compliance while streamlining a cost-efficient process. Our expertise spans certification of components as well as end products — helping to ensure the right components are being used in the right way to deliver a safer, more compliant end product. Working with a trusted partner like UL can help you navigate the current landscape and be proactive, keeping your business continuity in place. More companies are interested in a collaborative approach by expanding their access to staff that allows their staff to concentrate on the most important task for their business — developing new, safer and more secure products without having to worry about keeping up with the complex global compliance landscape. We collaborate with local regulators and have a team dedicated solely to meeting the information needs of the regulatory community with the ability to deliver certification and Marks for North and South America, Europe and Asia. With more than 100 years of experience in explosion protection, we are committed to working for a safer world.
Learn more about our global hazardous locations services at UL.com/HazLoc.
[1] https://www.iea.org/articles/changes-in-transport-behaviour-during-the-covid-19-crisis
[2] https://www.npr.org/sections/coronavirus-live-updates/2020/06/28/884419951/covid-19-cases-top-10-million-worldwide