Even as a young girl, traveling shaped how Ellen Shieh viewed the world. A San Francisco Bay area native and child of Taiwanese immigrant parents, she flew with them to their home country almost every other summer.
"I had a different, I suppose more global, viewpoint of things," said Shieh, an environmental sustainability manager with UL. "I knew that where I lived was not everything; people on the other side of the world also lived, went to school and went to work."
Finding her calling
From transportation to plumbing, Shieh realized people behaved radically different in California and Taiwan due to each place's historic development and infrastructure. She believed people's actions in one community could have a ripple effect on others whether it was one town over or halfway around the world.
She observed how difficult it was for some communities to sustain due to a lack of natural resources. Filled with compassion and a desire to help those communities, she knew she wanted to pursue work that was purposeful and impactful on a global scale. After receiving her degree in International Studies from the University of California, Irvine, she felt her calling was in corporate sustainability.
Large organizations have capabilities and resources that can be used for good. That brought to light the importance of corporate sustainability for Shieh. She was determined to learn more about it. She not only read about sustainable behavior, but she was also actively involved in her community informing others how to change mindsets and habits within their own homes.
She also analyzed the overall strategy and operation of businesses creating products and bringing them to market, and how they can make changes for a more positive influence locally and globally.
"I learned from my parents you're not going to be given anything," Shieh said. "If there's anything that you want, you're going to have to work hard to earn it. It's how I've approached my career growth and tried to navigate what makes the most sense for what kind of career I want to really have."
Discovering a new world
Her heart was set on a career in corporate sustainability. After some practical experience in sustainable behavior in her community, she wanted to further her education on the subject.
"I realized that you could do as much googling as you want, but a formal education will give you more opportunities," said Shieh.
She left California and received her Master of Science in Sustainable Systems from the University of Michigan. It was her first time living in the Midwest region of the United States. She wondered if the program was right for her.
"I was a little unsure how I even got there," Shieh said. "A lot of the work that I was doing was, from my perspective, very low scale because it was really community-driven. Everyone that I had been in classes with was involved with things like the UN and the environmental program, participating in the climate changes negotiations."
Over time, she began to see the value the program provided. Each student in the program brought with him or her unique perspectives to approach and manage sustainability issues. While she marveled at the high-level work some of her classmates were doing with large environmental organizations, she knew how important it was to drive sustainability in local communities. She also learned different ways to grow businesses while having a positive impact on the bottom line, the community and the environment.
Her education kick-started her career in corporate sustainability. After graduation, she moved back to California and it was almost a foregone conclusion she was staying there.
"I had every intention of staying in the West Coast," said Shieh. "I said to myself, 'Well, I did my time and tried to get a different perspective and live somewhere else besides California.'"
However, an opportunity came along in Chicago that she could not refuse. She was hired at cr360, now known as EHS Sustainability, a division at UL, as an implementation consultant.
"When I told my parents that, they were excited, but they were like, 'You're going to move to Chicago for a position at a software company that specializes in sustainability?' I was like, 'yup,' so, I moved out here to Chicago," Shieh said with a laugh.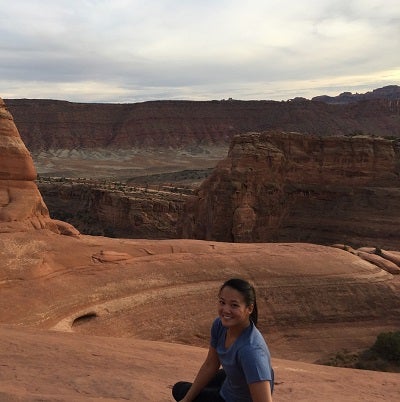 A sustainable future
In her initial role with cr360, Shieh helped companies get an idea of what is important and what kind of data they need to collect to measure the impact on the environment that they have. After being promoted to lead implementation consultant at cr360, she is now with UL driving the environmental sustainability program that the company is looking to build and grow internally.
Shieh, like many UL employees, is driven by the company's safety mission. She is focused on the overall organization making a positive impact socially and environmentally. She wants to add an environmental sustainability component to UL's already existing operations.
"My job is to make sure that we are not just part of the conversation, but also leading the drive around what we can be doing to make the world a safer, more sustainable place," Shieh said. "It's not just through the services that we offer, it's not just what we do for our clients, but it's also how we operate as an organization."