Gone are the days of merely writing checks and walking away when it comes to companies supporting nonprofit organizations. Some businesses used to send money to charities to simply 'check off the box' of giving back. Things have certainly changed when it comes to for-profit and nonprofit entities working together. With corporate social responsibility (CSR) and sustainability gaining visibility in the public eye, it is now more important than ever for companies to demonstrate their full commitment to doing well and doing good. 
One key element of sustainability is corporate and charitable partnerships. Companies now seek to form meaningful, multifaceted relationships with nonprofits which encourage employee engagement, utilize financial assets and enhance their brand. 
These endeavors certainly ring true at UL, as we actively seek partnerships which involve our brand capital, financial capital and human capital. When well-executed, these joint ventures are beneficial for both the company and the nonprofit. One example of how successful this can be is UL's work with Habitat for Humanity.
Brand Capital
When companies support nonprofits, they want to talk about their good work. More than a simple logo placement, companies want to create communications that are mutually beneficial. Collaboration allows a nonprofit to tap into the business' creative assets and media contacts, while the corporation highlights the human interest and feel-good nature of a nonprofit's mission. Both parties can use powerful, wide-reaching pieces to amplify each other's philanthropic endeavors.
UL has fully embraced this idea in our work with Habitat for Humanity of Northern Fox Valley. Our combined effort not only generates more content for social media, blog posts, videos and external media coverage, but it also allows us to reach a larger audience than we would on our own. Our efforts portray the truly comprehensive nature of our partnership.
Financial Capital
Although writing checks to give back might be in the past, financial support is still a priority for many companies. The difference is that corporations now want to know exactly how their donations are used, who benefits from the financial support and what difference their dollars make. Nonprofits should be prepared to provide robust impact metrics, particularly when it comes to securing larger gifts.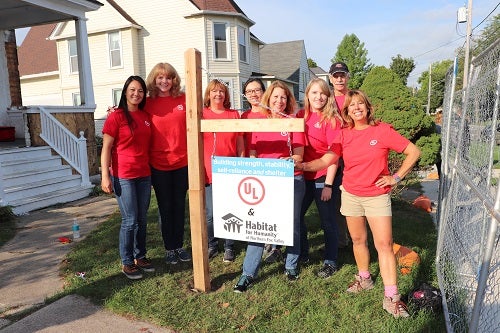 Companies seek charitable partners they can trust to use their contributions strategically and honestly. Moreover, offering multiple support levels gives businesses the ability to give as much, and as often, as they want. 
For example, in 2018, UL provided Habitat for Humanity of Northern Fox Valley with a $75,000 donation to sponsor the renovation of an entire home in Elgin, Ill.
But, we also donated an additional $30,000 to fund employee build days at other Habitat for Humanity homes in the U.S. and China.
Providing different donation levels allowed UL not only to increase its contributions to Habitat for Humanity but to also allow our global employees to engage at a local level.
Human Capital
The final key element of corporate and charitable partnerships is employee engagement. This is particularly important for companies, like UL, which offers employees Volunteer Paid Time Off (VTO), a program that truly demonstrates the business' commitment to the community.  When organizations create consistent opportunities for volunteerism, it gives companies more opportunities to engage their employees in giving back.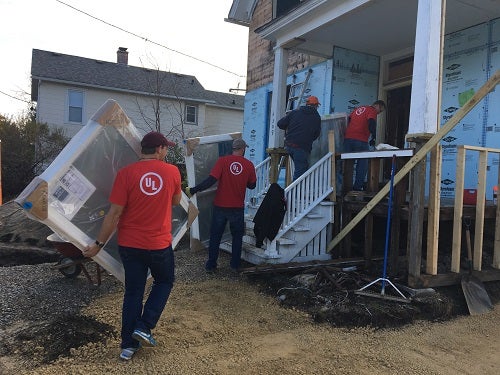 Consistency often builds rapport between employees and the nonprofit.  People look forward to going back time and again when they have a positive volunteer experience. Plus, group activities like Habitat Build Days are great for teambuilding. UL has certainly seen all of this play out, as we have had more than 162 employees volunteer 1,300 hours on our sponsored house since September 2018.
Corporate and nonprofit partnerships can come in many shapes and sizes, but no matter what they look like, real success occurs at the intersection of brand capital, financial capital, and human capital. 
Here at UL, we are certainly proud of how this has come to life through our work with Habitat for Humanity, and we look forward to continuing our story in the coming months.