The Chemical Packaging Committee (CPC), a technical committee of the Institute of Packaging Professionals (IoPP), held their spring meeting February 13th – 14th, 2019.  The theme of the meeting was IBCs, or Totes, as they are commonly called.  Of the several presentations regarding IBCs, one covered the issues relating to static electricity and the potential for an IBC to ignite while loading flammable liquids, if not grounded.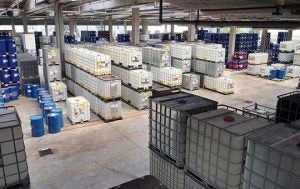 The (USA) National Fire Protection Association's (NFPA) new standard NFPA 30 2018 for storage of flammable liquids in warehouses and distribution facilities states that:
"*Nonmetallic intermediate bulk containers shall be listed and labeled in accordance with UL 2368, Standard for Fire Exposure Testing of Intermediate Bulk Containers for Flammable and Combustible Liquids, FM Class 6020, Approval Standard for Intermediate Bulk Containers, or an equivalent test procedure."
This is an example of UL's traditional strengths in fire safety and testing, meeting our growing strengths in chemical safety and advisory work out in the real world!
The CPC also held the election of Officers for the next two years. The new officers elected were:
Steve Schulte – UL – Chairman
Amy Lee – Ecolab – Vice Chairman
C.L. Pettit – Reusable Industrial Packaging Association – Secretary/Treasurer
The CPC's next meeting will be held September 16th through 18th, 2019 in Alexandria, VA and will be providing an update by the Associate Administrator and staff of upcoming Hazardous Materials Transportation Regulations changes.
Never Miss an Update:
UL's global Regulatory Assurance Team contains more than 50 regulatory analysts worldwide, serving customers in six continents, with multi-lingual support in more than 30 languages. Our team can help you navigate the complex, ever changing regulatory landscape to understand and execute your compliance obligations.
For all of the latest regulatory news and the most important industry updates, sign up for our monthly Regulatory Round-Up Newsletter.