Linking business impact to the UN SDGs

The UN Sustainable Development Goals (SDGs) designed by the UN General Assembly for governments to report on their progress towards sustainability objectives have recently undergone a transformation for business. Many people are familiar with the Global Goals, but some may not know that that they are supported by 169 individual targets and 230 supporting indicators.
For example, Goal 1 is supported by the following targets and indicators:
Goal 1:  No Poverty
Target: 1.1 By 2030, eradicate extreme poverty for all people everywhere, currently measured as people living on less than $1.25 (USD) a day
Indicator: 1.1.1 Proportion of population below the international poverty line, by sex, age, employment status and geographical location (urban/rural)
Fundamentally the SDGs and associated targets and indicators were originally designed for nation states to report progress on a set of sustainability objectives including: human health and development, environment, social equality, peace and several others. While they acknowledge the role of business and wider society in this, they were not designed for as a corporate sustainability reporting framework. As a result, many of the targets and indicators don't map to company activities in a clear way.
This hasn't prevented companies across the globe from linking their strategy, products and operations to the outcomes of the SDGs. According to the Governance and Accountability Institute, 32% of the Russell 1000 index[1] (a proxy for the 1,000 largest listed companies in America) presented alignments in their reporting with the SDGs. This was less than the 47% who reported to the Global Reporting Initiative (GRI) standards but more than the 23% who referenced or aligned with the Sustainable Accounting Standards Board (SASB) standards. This indicates the relative importance of the SDGs in framing corporate sustainability and their widespread recognition, at least in the U.S. In our work advising companies on sustainability strategy and providing sustainability software solutions the 17 SDGs are widely referenced internally at multiple levels within company hierarchies.
The challenge with this is that the attribution mechanisms by which companies link strategy, products and operations to the SDGs are not consistent across companies, even within the same industry. Typically, claims of attribution come in three forms:
1.    Company sustainability programs e.g. sustainable sourcing are linked to individual SDGs without metric/target based attribution 
2.    Company sustainability Key Performance Indicators (KPIs) are linked to the SDGs at the Goal level 
3.    Company sustainability KPIs are linked to the SDGs at the KPI level
 
This lack of consistency makes it difficult for stakeholders to identify companies that are making meaningful contributions toward the SDGs. An important stakeholder group are investors who are increasingly focused on driving positive SDG outcomes. For example, in July 2020 four asset owners (APG, AustralianSuper, British Columbia Investment Management Corporation (BCI) and PGGM) with $1 trillion (USD) under management launched the Sustainable Development Investments Asset Owner Platform[2]. This platform applies a "common definition, taxonomy, and data source for investments" to assess SDG alignment based on their own taxonomy (publicly available).
A key point is that investors are applying a top-down approach across thousands of companies that have vastly varying levels of disclosure on their sustainability performance, products and business strategy. As a result, assessing company attribution is limited to easily comparable data, such as whether companies have emissions controls in place to meet investable goals for chemical management under Goal 12: Responsible Consumption and Production. In doing so, the framework does not explicitly assess the relative performance of companies that qualify for attribution or the materiality of specific topics to specific companies. This is not a criticism of the approach but underlines one of the central problems in sustainable investing that sustainability data is not widely reported, is not consistent and is often of poor quality[3].
Ambition Benchmarks to the rescue?
Enter the UN Ambition documents. Released in September 2020[4], these aim to translate the UN SDGs for business as globally we kick off the Decade for Action[5] 2020-30. They detail 10 "Business Benchmarks" that are linked to specific SDGs and further to a company's operations, products and value chain.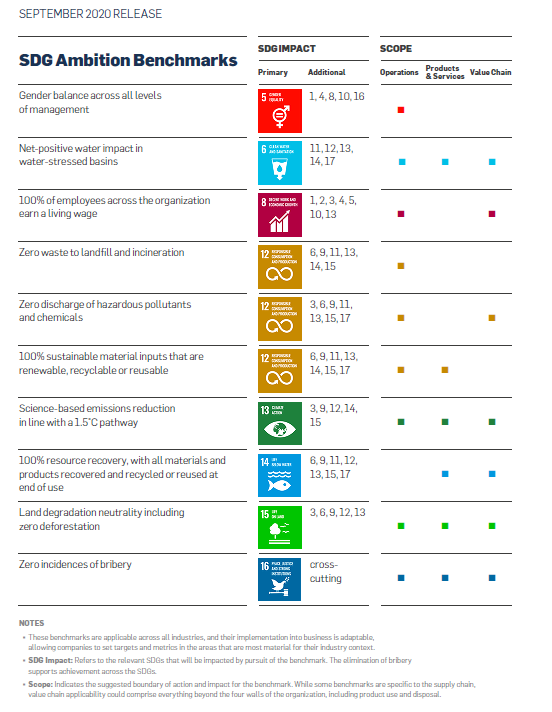 The benchmarks are designed to be cross-industry and cover a range of SDG topics in this way they depart from current ESG standards such as GRI or SASB. They are however similar to the recently released WEF-IBC ESG standard consultation. 
This number of benchmarks is also in contrast to the 230 indicators that supported the original SDGs, but simplicity will drive adoption. This especially important if you are trying to appeal to small and mid-sized firms that may not have the resources to do comprehensive ESG reporting but are hugely material in achieving sustainable outcomes. 
Finally, in contrast to the top-down investor framework these benchmarks represent specific targets which are (largely) numerical and/or absolute targets; which the authors believe companies ought to commit if they truly want to claim they are advancing the SDGs. 
Aiming to be inclusive, not comprehensive
The Business Benchmarks reflect a shift to quantitative and certifiable attribution mechanisms (including some outcomes such as zero waste to landfill and sustainable material inputs which UL defines standards for and certifies).  They also reference leading practice in areas such as climate change; with for example inclusion of 'science-based emissions reductions' a nod to the Science Based Targets initiative. This is surely welcome to enable effective comparison across companies, however in making this shift some company activities previously linked to the SDGs would be excluded especially those linked to outcomes which are not easily certifiable or quantifiable. 
Also important is that the Benchmarks frame businesses as agents needing to reduce environmental and societal impact while not acknowledging their role in driving some industry-level SDG outcomes. This is most striking on SDG 9, Build resilient infrastructure, promote inclusive and sustainable industrialization and foster innovation. Here several SDG Targets (level below the Goals) would clearly be supported by specific industries.
 
More letters to add to the list of ESG acronyms?

It will be illuminating for the future of measuring corporate action on the SDGs to see how the Ambition Benchmarks emerge into the ESG reporting landscape given:
General fatigue with the range of reporting standards and new launches e.g., International Business Council/World Economic Forum (IBC/WEF) ESG standard[6], Global Reporting Initiative (GRI)/CDP/Climate Disclosure Standards Board (CDSB)/International Integrated Reporting Council (IIRC)/Sustainability Standards Accounting Board (SASB) announcement[7] in 2020
 
Existing standards already provide resources to map from their standards to the SDGs, e.g. SASB, GRI and IBC/WEF
 
Investors are taking matters into their own hands to assess SDG outcomes based on current limited data and without widespread adoption by businesses the Benchmarks will not be adopted by investors.

Overall, the SDG Ambition Benchmarks are a welcome initiative to help companies take their reporting to the SDGs to the next level by giving them time-bound, clear, consistent and quantifiable goals. In this way they are an industry agnostic SDG Taxonomy and will help to focus corporate action on a common set of objectives to drive real change on SDG outcomes. 
UL helps companies measure and report their ESG data to a variety of frameworks including the UN SDGs, CDP, GRI, SASB and others. For more information and to arrange a demo of our solutions visit UL.com/360.
[1] https://www.ga-institute.com/research-reports/flash-reports/2020-russell-1000-flash-report.html
[2] https://www.prnewswire.com/news-releases/us1-trillion-asset-owner-platform-launches-solution-for-identifying-sdg-investments-301088185.html
[3] https://www.ssga.com/investment-topics/environmental-social-governance/2019/03/esg-data-challenge.pdf
[4] https://news.sap.com/2020/09/sdg-ambition-guides-un-global-compact-accenture-sap-3m/
[5] https://www.un.org/sustainabledevelopment/decade-of-action/
[6] https://www.weforum.org/reports/measuring-stakeholder-capitalism-towards-common-metrics-and-consistent-reporting-of-sustainable-value-creation
[7] https://www.cdp.net/en/articles/media/comprehensive-corporate-reporting