Like many of us, Dwayne Sloan's journey is filled with stories. A Lexington, North Carolina native, Sloan was born into a small town that not so long-ago practiced segregation, the forced separation of a racial group, until the Civil Rights act in 1964. As with most Southern towns, separate water fountains, restaurants, even hospitals and schools cast a pall over its Black residents. Sloan's story, however, is one of overcoming, being a trailblazer and finding his niche in a company whose mission is working for a safer world. 
Sloan started working for UL in 1988 as an engineer in the fire protection group. Since then, he has moved steadily up the ranks, from an entry-level project engineer to a principal engineering director in UL's Built Environment. Today, he is recognized globally for his fire protection expertise. He has presented on challenging topics throughout the U.S. and Canada, and the United Arab Emirates, Germany, India, the United Kingdom and Japan.
Sloan serves as a corporate fellow of UL's William Henry Merrill Society, chair of UL's Fire Council, and a leader within numerous associations, including the National Fire Protection Association (NFPA) and the American Society for Testing and Materials (ASTM). Sloan has also completed the Yale Global Leadership program, the Yale Executive Leadership program and the MIT Sloan Advanced Management Program.
Sloan reflected on his journey in the below Q&A, including some firsts, to encourage Black students to join the growing ranks of Black engineers in the United States. 
When did you know that you wanted to be an engineer?
That's an interesting story because I didn't start with an interest in engineering — I wanted to be a musical/sound engineer. I love music, and I liked the idea of recording songs. So I chose the major at North Carolina State University (NC State) in Raleigh, North Carolina, that appeared closest to sound engineering. However, I soon learned that it wasn't about sound engineering but the science behind sound, airflow and wind flow, in other words, how the wind flowed through instruments to make a sound. I was now committed to this thing called "engineering," but at the time, I didn't really know what it was. 
I read up on it and thought to myself, "Okay, I'll make the best of this." Ultimately, I had to qualify for the mechanical engineering school by making strong enough grades to get into the program. I tell this story when I visit high schools and colleges. I encourage them to take that first step even if they are not entirely sure about what they're getting into; it will move them forward.
 What prompted you to apply to UL?
I already had a job offer, but I saw an equal employment opportunity commission advertisement that said that UL was looking for minority applicants. It raised an eyebrow to think, "Hmm, maybe if I go there, I'll get a better opportunity to get a terrific interview." 
I found the idea of working for a company that breaks things and burns things for your livelihood extremely interesting. I interviewed and visited UL's  North Carolina facility. There I saw the fascinating laboratory and the wide variety of products that UL touched. The mission for keeping people safe seemed so fulfilling; I was hooked at that point. 
You've had a lot of firsts in your life: Can you elaborate?
Looking back, I've had a lot of firsts. I'm told that I was the first Black student body president of my high school. In my small town of Lexington, North Carolina, people in the community still remembered integration. My brother was one of the first sets of Black students to integrate at that same high school. He is 13 years older than me, so his being one of the first Black students to integrate into the high school around 1967 to my being elected as Black student body president around 15 years later was a big deal.
The firsts continued throughout my UL career as well. I was the first Black college-degreed engineer to join UL's Fire Protection division. UL colleagues, who had been in Fire Protection since the late 1960s, said they had worked with minority lab technicians and support staff, but they shared with me that I was the first Black engineer on staff for the division. 
 I'm also the first Black employee to be inducted as a Corporate Fellow into the William Henry Merrill Society, UL's highest technical society. In 2012, I became a Distinguished Member of Technical Staff, the organization's first level, and then a Corporate Fellow in 2017. I also celebrated being the first Corporate Fellow from UL's Research Triangle Park office location. I was floored to receive such prestigious recognition and the opportunity to be associated with many other brilliant technical experts. 
I am also excited to be the first Black chair of UL's Fire Council. I was delighted to inherit the chair role in 2018 from Tom Chapin, UL's vice president of research, who had done a fantastic job leading the Fire Council for 17 years. The council is a respected group of UL staff and external experts that assist UL in some of its toughest challenges. With one of our recent council meeting themes, we focused on resiliency — the whole idea of getting ahead of safety hazards before they even occur. I was thrilled to lead discussions for what I believe is a significant part of UL's future, determining how we can identify potential hazards and risks and prevent or remove them entirely rather than being reactive. We want to get ahead of potential threats before there's a problem. 
What was it like to break ground in so many different areas?
Before college, there was a family joke that my Mom would attend special events, such as band concerts, musical programs or academic award functions. She would frequently be one of the only Black attendees. She said with pride, "… at least everyone recognizes my son and me!" It is gratifying to visit there and know that things have gotten considerably better over time and that I may have played a small part in opening doors. 
When I enrolled at NC State as a freshman in 1983, I was only one of a few hundred Black students. The university strongly recommended that we participate in a summer African American Symposium to prepare Black students for what they were about to encounter as a minority on campus. On the first day of the course, the instructor said something like, "This training is to increase our chances of retaining you as a minority student. On day number one, you're going to walk onto campus, and you're hardly going to see anyone that looks like you. The few 100 minorities will be completely consumed in the university's 20,000 student population." 
As predicted on day one, I had to intentionally find my support group or else I would have felt like I was there alone. And this was before cellphones, so I couldn't just text a friend to say, "Meet me here." That symposium made a huge difference in my life because, quite honestly, the lack of diversity, along with the new college experience, would have been a tough challenge without a healthy support system. I'm still friends with many of the people from that symposium group today, and we are all proud to be making a difference in our perspective jobs and our communities.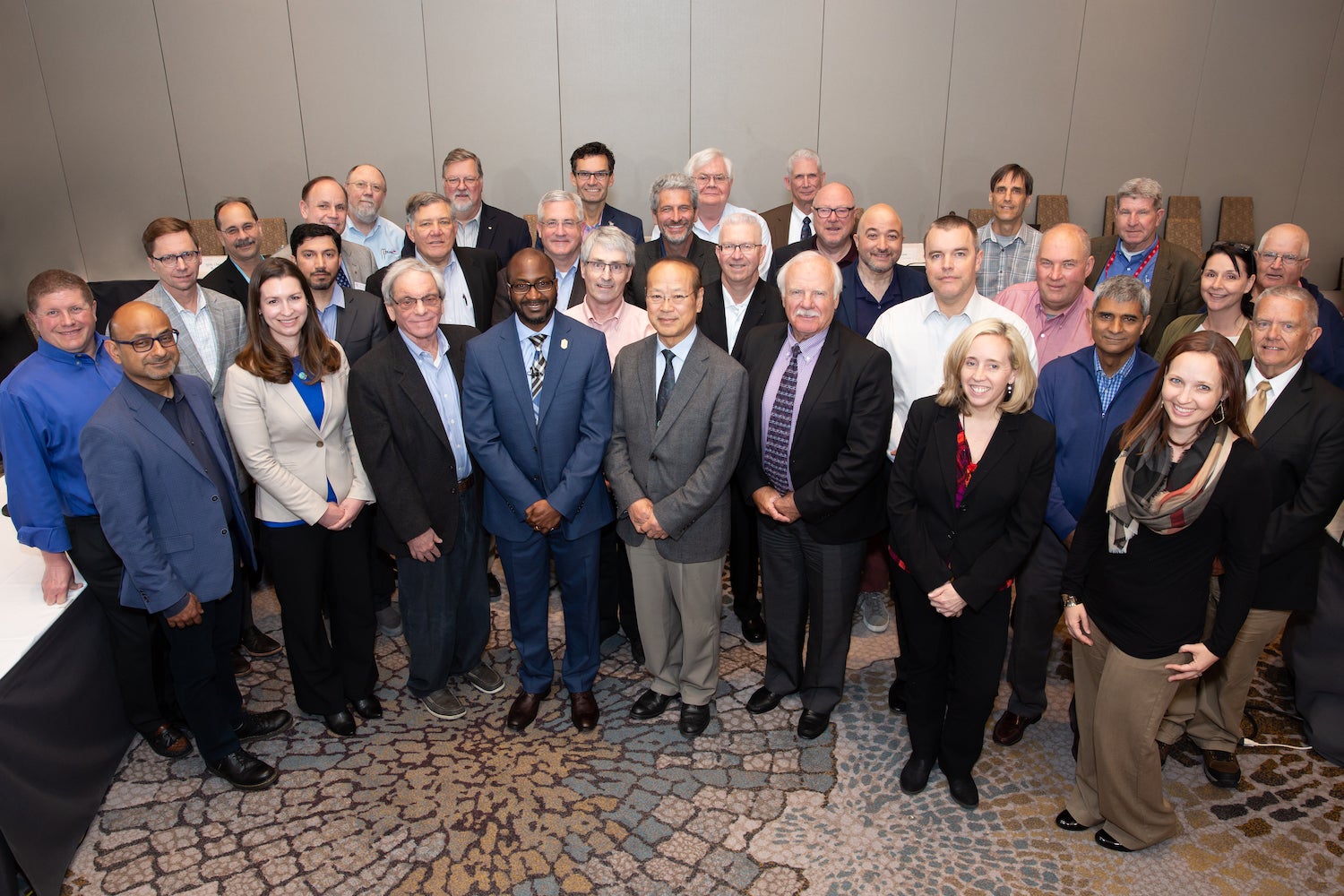 And at UL? Did you feel welcome as the first Black engineer in UL's Fire Protection division?
Oh, yes, very welcome. I have been surrounded by amazing friends, colleagues, and mentors who have not allowed race or other differences to interfere with close relationships and collaborative work successes. Many of these colleagues have been strong supporters of my career – I would not be where I am today without them! Where it has been a bit of a struggle is with some external contacts and organizations. There were times when I introduced myself, walked into large groups, or taken the stage as a presenter, and I could tell that those around me were not expecting a person of my race. There were comments made and different mannerisms that made me understand that I would have to work harder to prove myself or be accepted. 
 I've learned to adjust in such a way that they recognize and appreciate me for the value I bring to that group or those activities.
What's the best part of working for UL?
The best part of working at UL is, by far, the people. The culture is a family-like atmosphere, and most everyone is eager to learn from one another. It's contagious because when you talk to so many people who are excited about their job, it ignites your passion as well. Before you know it, you look up, and 33 years have passed.
The extraordinary UL mission is an excellent part of UL also. We are continually benefiting society, bringing safe and sustainable products to market and protecting property. The work is so diverse — I've worked on fire pumps, fire doors and hardware, roofing shingles, commercial kitchen ventilation, exit lighting, air duct ventilation, building materials, Christmas trees, solar panels, and the list goes on. I've had the chance to shape safety requirements for many of these products. As the years have gone by, I've encountered more complex but exciting safety challenges.  
How does your job build trust in products and solutions?
Our core work is taking products, devices and systems submitted by our customers and applying appropriate standards and requirements toward a safer environment where we all work, play and live. Whether regulators, inventors or engineers, our customers need our background and experience to help them navigate those standards and certification programs. They have confidence in the trusted UL brand.
There's a connection between the safety of society and what we do at UL. Regulatory authorities, manufacturers and consumers need to get safe, sustainable, secure products into society. The standards that exist and the regulatory codes go hand in hand; without standards and a regulatory framework, you wouldn't have anything to guide society. 
Creating standards is a massive part of who we are, so when we see new technologies and new challenges, we can safely harness their use. Solving these toughest challenges gets to the spirit of our founder William Henry Merrill. He wrestled with addressing the concerns with this new thing called electricity. He paved the way for its safe use by all of us today. UL enables the safe deployment of new technologies and conveniences that we all enjoy. 
How can we encourage more Black people to pursue STEM careers?
First, we have to promote the fact that STEM disciplines exist. Black students know about other professions, but they know very little about engineering or its financial potential compared to other jobs.
I know several high school or college-age students, and they only know about engineering through other colleagues or me. High school counselors still do not focus on engineering or many other STEM opportunities. By offering students more exposure to UL and its career opportunities and science contributions, we can improve discussions about engineering curriculums and career choices.   
What do you think when you hear Black History Month?
Black History Month is a time for reflection and to remember those who opened doors for us. It is also a time to assess where each of us is today, regardless of race, and determine how we can help each other succeed together. This past year was particularly challenging, with tough race discussions and civil unrest. UL rose to the occasion and ensured that everyone's voice could be heard. The company was genuinely concerned about our state of mind. Out of such challenges, we as an organization emerged even more committed to being more diverse and inclusive. This very commitment to care for one another and striving for equity embodies the spirit of Black History Month.