By Chian Haw YONG, ASEAN and greater China global market access lead
The China Energy Label (CEL) regulator announced the 15th  batch of CEL product implementation guidelines. The following lighting products will be regulated for CEL.
| CEL Number | Products | CEL Standards | Effective Date |
| --- | --- | --- | --- |
| CEL 034-2020 replace CEL 034-2016 | LED products for indoor lighting | GB 30255-2019 replacing GB 30255-2013 | Nov. 1, 2020 |
| CEL 040-2020 | LED luminaires for road and tunnel lighting | GB 37479-2019 | Nov. 1, 2020 |
One-year grace period is given in order to comply to the new CEL requirement.
CEL 034-2020 is applicable to the following:
Products with LED as the light source, excluding LED downlight with integrated LED lamp:
Input not more than 250Vac, 50Hz
Power rating not less than 2W
Beam angle more than 60 degrees
LED lamp with rated voltage of 220Vac, 50Hz, lamp cap comply to GU10, B22, E14 or E27 requirement, PAR16, PAR20, PAR30 and PAR38 series of directional integrated LED lamp
Non-directional, self-ballasted LED lamp without external optical lens with rated voltage of 220Vac, 50Hz, rated power between 2-60W
Not applicable to LED lighting for non-lighting purpose such or LED lighting with brightness/color adjustable or sensor function.
CEL 040-2020 is applicable for road and tunnel LED lighting with rated voltage 220Vac, 50Hz.
Example of China Energy Label: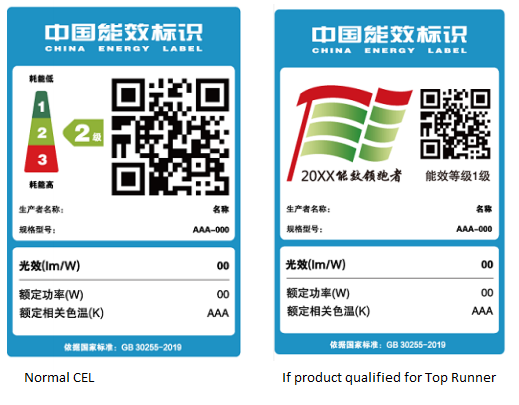 How UL can help
Test and issue test reports according to newly adopted GB standards from UL CEL test laboratories
Monitor and keep manufacturers informed about the regulatory changes
Provide training to manufacturers regarding the requirements in newly adopt GB standards