Safety and performance reliability are essential attributes for an electro-magnetic device such as a motor, transformer, generator or solenoid. And the electrical insulation system (EIS) used in the device is a critical link.
An EIS is a unique combination of electrical insulating materials (EIMs) used in electrical equipment, closely packed together, operating at or below the maximum operating temperature of the device. An example is the combination of magnet wire, ground and interwinding insulation and impregnating resin in a transformer.
As these devices operate at elevated temperatures, thermal degradation of the EIMs is likely to occur, and performance reliability depends in large part on the compatibility of these materials and how they will react together as a system. While this may seem self-evident and simple to execute, the reality is that polymeric materials may not thermally perform as anticipated based solely upon the individual material thermal ratings. This is why conducting a thermal performance evaluation on the combination of materials used in the device as a system is so important.
Learn about the key elements of ANSI/CAN/UL 1446, the Standard for Safety for Systems of Insulating Materials, the requirements for a full thermal aging test, a discussion of the pathway for modifying existing thermally-aged EIS, and some considerations for OEM manufacturers incorporating an EIS established by an EIM supplier into their finished products.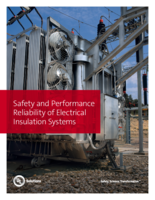 Reliability of Electrical Insulation Systems
5.98 MB
To access the rest of this engaging content, please fill out the form below: