Smart home cybersecurity and the Internet of Things (IoT)
The need for greater protection for home devices, including those in the smart home category, is on the rise. As technology continues to advance, more devices are becoming connected to the internet. With more devices relying on wireless networking, even traditionally unconnected digital devices such as alarm clocks and thermostats can become part of the home network.
The Internet of Things, or IoT, refers to the billions of physical devices around the world that are now connected to the internet, all collecting and sharing data. The home of the future is smart and smart homes will have integrated IoT devices.
Smart home cybersecurity vulnerabilities
When an IoT device is compromised, cyber criminals have access to a wide range of intellectual property that can include software and firmware that could give them control over a home's security and entertainment systems as well as other electronic devices. While not all IoT devices are vulnerable, recent stories of security breaches involving IoT devices highlight the need to bolster security in smart homes.
In the case of IoT, the compromise allows cyber criminals to access and control systems that communicate with the home's HVAC system. In other cases, the hackers gain access to basic configuration information that enables them to bypass standard protocols and gain unauthorized access to smart homes.
Empower trust in an ever-evolving IoT space
Smart home products or home automation products are significantly increasing in popularity with consumers. With enhanced digital connectivity, the smart home industry is expected to reach $400 billion worldwide by 2030. Many manufacturers are creating innovations and designing existing products to leverage this growing industry.
At UL Solutions, we help device manufacturers identify key cyber vulnerabilities in the design and implementation of connected smart home systems and devices and offer specific recommendations that can help you achieve effective, foundational cybersecurity hygiene. We offer a unique approach to addressing cybersecurity vulnerabilities in smart home systems and connected devices of all types. Our IoT Security Rating helps assess and demonstrate cybersecurity posture to retailers, regulators and consumers. The UL Verified Mark security label can help you differentiate your products in the marketplace. Make your products stand out in the competitive global markets and let UL Solutions help you navigate compliance complexities.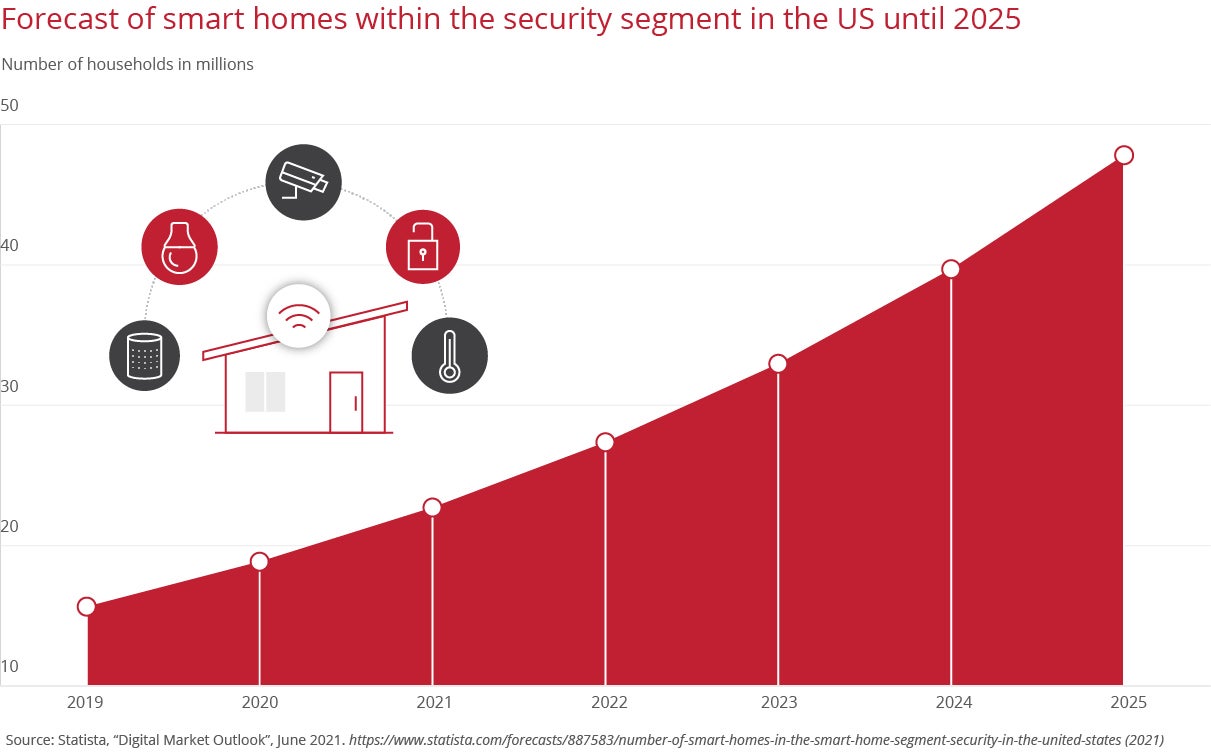 Why UL Solutions for smart home cybersecurity
UL Solutions has extensive expertise in cybersecurity with a global network of IoT and OT security laboratories, security experts and advisors, with specialized expertise in global security standards, frameworks and best practices for the smart home ecosystem. We can help companies define where they are in their cybersecurity maturity, understand what they will need to do to develop secure devices, manage digital identity of people and products, improve internal cybersecurity capabilities and processes, validate security built into their products throughout their lifecycle and differentiate their products based on security in the marketplace.