At UL Solutions, our first concern is always safety. We've been testing and certifying lightning protection equipment since 1908, helping keep buildings and their occupants from harm, and we can offer you our extensive expertise when evaluating these essential systems.
UL Solutions is the only organization offering Master Label® Certificate inspections for lightning protection systems that is also a Nationally Recognized Testing Laboratory (NRTL) recognized by the Occupational Safety and Health Administration (OSHA) to perform evaluations of products used in lightning protection systems.
OSHA recognizes private sector organizations to certify certain products that meet the requirements of the construction and industry electrical standards.
Lightning strikes are a direct cause of an average of 43 deaths and an average of 243 injuries each year in the United States. Direct lightning strikes cause fire and property damage, which exceeds $400 million (USD) annually. Every year, insurance companies pay claims exceeding billions of dollars caused by direct or indirect lightning strikes. Properly installing lightning protection for structures could minimize or eliminate much of this property damage.
UL Solutions' Lighting Protection Inspection Program is accredited to ISO/IEC 17020 by International Accreditation Service (IAS).
Code compliance and standards
ICC Codes
The 2024 International Building Code (IBC) has added a requirement in chapter 27, section 2703.2, stating, "Lightning protection systems shall be installed in accordance with NFPA 780 or UL 96A." The code will also require surge protection to be installed as applicable.
NFPA codes and standards
NFPA has standards for a wide range of structures that will often call for a lightning protection system to be installed. One of the newer requirements comes in NFPA 1.
NFPA 1 requires lightning protection for structures with in-building emergency responder communication enhancement systems (ERCS) as per section 11.10.4
UL Solutions demonstrate compliance with the following requirements:
ISO/IEC Standard 17020, Conformity assessment – Requirements for the operation of various types of bodies performing an inspection.
IAS Rules of Procedure for Inspection Agency Accreditation.
ILAC P15, Application of ISO/IEC 17020:2012 for the Accreditation of Inspection Bodies.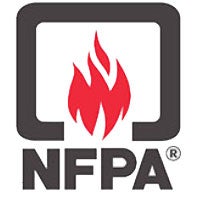 The National Fire Protection Association (NFPA), the NFPA is a global self-funded nonprofit organization, established in 1896, devoted to eliminating death, injury, property and economic loss due to fire, electrical and related hazards. They publish NFPA 780, Standard for the Installation of Lightning Protection Systems, the national design guide for complete lightning protection systems in the United States. NFPA published its first document on lightning protection in 1904. The lightning protection Standard NFPA 780 is reviewed on a three-year cycle. In chapter four, it includes lightning protection for typical building construction as requirements for ordinary structures. NFPA 780 also covers many specialty constructions — from hazardous materials storage to boats and ships to open picnic structures — and gives recommendations for personal safety outdoors.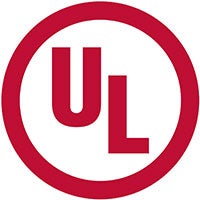 The installation requirements of UL 96A, the Standard for Installation Requirements for Lightning Protection Systems, can apply to lightning protection systems on all types of structures. In addition to directing system designs, UL Solutions field inspections of completed lightning protection installations are done in accordance with UL 96A. UL Solutions inspections can result in a Master Label Certificate or a Letter of Findings. The difference between the two depends on the scope of the inspection. An inspection of an entire structure can result in a Master Label Certificate. Whereas, if the scope of the inspection is limited to anything less than the complete lightning protection system, it can be eligible for a Letter of Findings with specifically listed exceptions to the inspection. We can also perform testing to UL 96, the Standard for Safety Lightning Protection Components. UL 96 covers lightning protection components for use in the installation of complete lightning protection systems on buildings and structures. 
Inspections of installed lightning protection systems are done in accordance with required regulations, most notably UL 96A and NFPA 780. UL 96A details the requirements for the installation of lightning protection systems. NFPA 780 covers lightning protection methods for ordinary structures as well as structures containing flammables, explosives, solar arrays, wind turbines, and a variety of unique applications. Compliance with these standards can help building owners achieve a more trustworthy, reliable safety system. Select government and military installations mandate compliance with robust requirements defined in a variety of government and military standards and specifications. Our highly experienced Field Engineering team has extensive expertise with military and government standards. These include, but are not limited to, standards such as Air Force AFI 32-1065, Department of Defense UFC 3-575-01, Department of the Army DA PAM 385-64, FAA CFR requirements, and other related requirements specifications for government and military applications.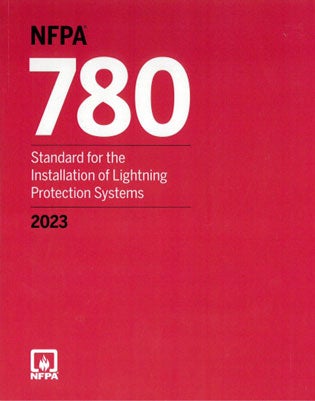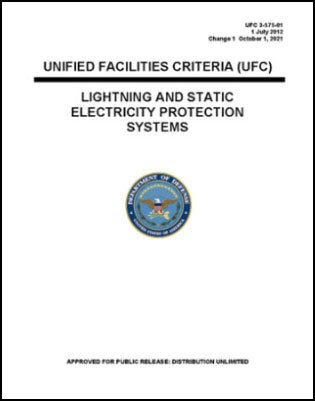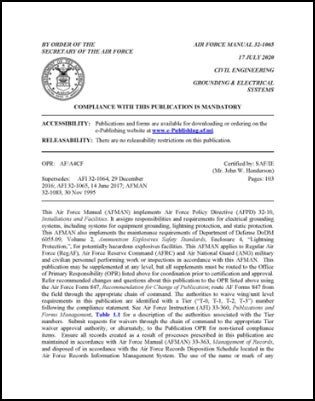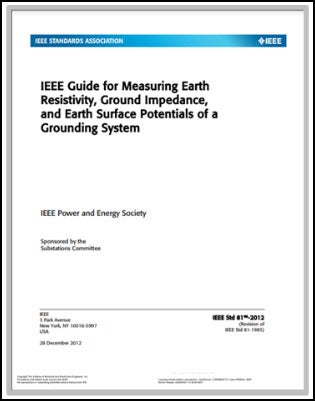 General lightning protection system information
The following items are needed and used in accordance with the appropriate standard to provide an effective lightning protection system.
Strike termination devices shall be installed to provide a zone of protection for each part of a structure that is exposed to direct lightning strikes and must be suitable to accept a direct lightning strike.
Cable conductor is the portion of a lightning protection system intended to transfer lightning discharge currents between strike termination devices and ground or to provide potential equalization between conductive bodies in/on the structure.
Grounding electrode the portion of a lightning protection system, such as a ground rod, ground plate electrode, or ground conductor, that is installed for the purpose of allowing lightning current flow into the earth.
Bonding the electrical connection between an electrically conductive object and a component of a lightning protection system that is intended to significantly reduce potential differences created by lightning currents.
Surge protection device (SPD) is a device intended for limiting surge voltages on equipment by diverting or limiting surge current that comprises at least one nonlinear component while remaining capable of repeating these functions.
Lightning protection components must be Listed and are manufactured from different materials designed to be resistant to corrosion and must be protected from galvanic deterioration. Copper, copper alloys (including brass and bronze), and aluminum are basic system component materials.
Methods to verify compliance
Master Label® Certificate
Issued for a complete structure.
Demonstrates full compliance with requirements.
Available online through UL Solutions lightning protection system portal.
Valid for five years from the date of issuance.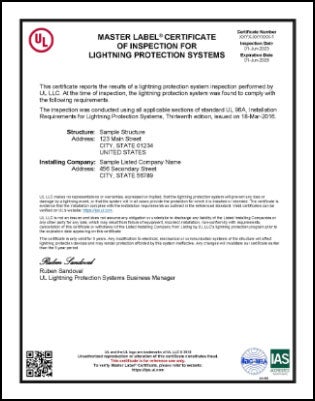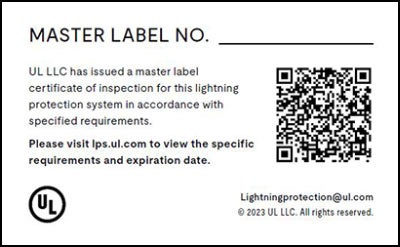 Letter of Findings
Issued for partial structures or limited-scope installations.
Distributed directly to the applicant.
Verifiable by contacting a member of the UL Solutions Lightning Protection team.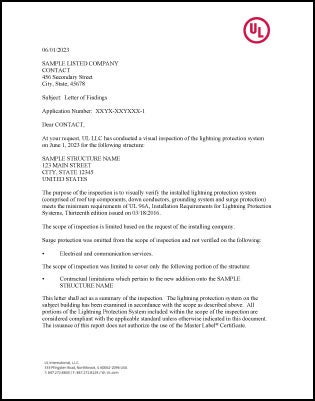 Engineering Inspection Report (EIR)
Issued for a variety of client needs 

Design or Gap Analysis
Evaluation to original equipment manufacturer (OEM) specifications or standards
Ground witness testing

May include deviations (if any)
Distributed directly to the Lightning Protection Contractor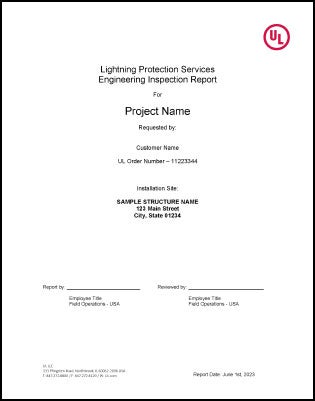 X
Get connected with our sales team
Thanks for your interest in UL's products and services. Let's collect some information so we can connect you with the right person.