Third-party product inspection to help mitigate risk of substandard products
Third-party inspections of consumer goods is a key checkpoint in a global quality assurance program to ensure the product meets specification prior to release and shipment. UL maintains a team of trained inspectors across all categories of consumer goods and located in all major sourcing locations in support of our client programs, and maintains robust global training, quality, and integrity systems across our global inspections team.
UL serves as a key partner for major global retailers in designing and customizing global inspection programs to their specific requirements, leveraging our global reach, expertise, and data management systems to minimize the risk of substandard products from being shipped.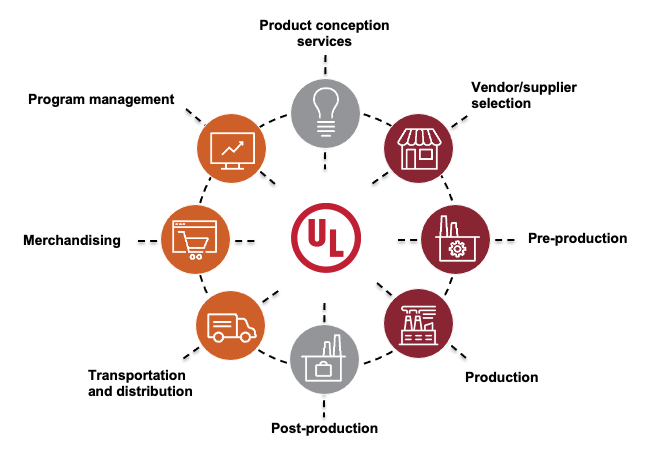 UL offers multiple types of inspection for consumer goods
Top of Production Inspections (TOP)
TOP inspections are performed on raw materials and first run product. Before full production, UL's inspection team will evaluate the first 200 units produced to ensure compliance with necessary criteria, including regulatory requirements and brand specifications.
During Production Inspections (DUPRO)
DUPRO inspections help you identify and address issues in the manufacturing process before the order is completed, in order to avoid jeopardizing the shipping schedule. UL's product inspections take place once a minimum of 20%, but no more than 40% of finished goods are produced to ensure consistent quality in the manufacturing process.
Pre-Shipment Inspections (PSI)
PSI inspections act as a final check to evaluate product quality, packaging, product labeling and carton markings and ensure that items are correctly packed and fit for their intended use. The PSI takes place at the 100% production mark with a minimum of 80% of goods packed and seated in shipping cartons for verification of your purchase specifications.
Loading Inspections
Loading inspections are conducted at the factory or port to verify count, confirm load and seal container. These inspections also ensure that the product has not been tampered with. Production schedules should be shared in advance so UL Solutions can work with the factory to plan loading inspections.
Additional consumer product inspection services
Quality Assurance Platform
UL Solutions' Performance Analysis & Trending Hub (PATH) is a single platform for all quality assurance data — inspection, testing, and audit data. This online management platform uses data analytics to predict product quality problems that need to be improved.
Dedicated Program Management
UL Solutions ' global service delivery approach includes inspector qualification training, supervision of third-party contractors, integrity systems, and quality control. Our program management team can provide you with global coverage and expertise across product categories to ensure efficient service delivery.
Why UL Solutions for consumer product inspections
UL Solutions' inspection services for consumer products offer quality, expertise and innovation.
UL Solutions supports major brands and retailers in customizing a Global Inspection program's parameters to their unique business requirements, applying best practices and new ideas.
UL Solutions delivers value through specialized product category expertise, superior service, and data-driven solutions.
UL Solutions provides training, oversight, governance, and data analysis of Supplier Self Inspections programs and works to investigate and address the root cause of non-conformances through our engineering and training services.
Let us know how we can help you.