Human-centric lighting in the marketplace
The emerging lighting technologies that focus on the impact of light on health and well-being are growing rapidly. In addition to medical and healthcare applications, human-centric lighting (HCL) solutions designed for homes, offices and commercial spaces are becoming more prevalent in the lighting industry.
Whether indoor, outdoor or as a part of a landscape, lighting in residential spaces has become an important tool in personalizing space. As scientific studies continue to highlight potential health benefits that can result from properly lit spaces, homeowners and residents are becoming increasingly interested in ensuring that their homes are retrofitted with lighting that exhibits high color quality and controllability.
Human-centric lighting in offices, schools and industry is being used to enhance work and learning environments and improve productivity. In industries like hospitality and entertainment, smart lighting is being used to elevate the customer experience and add to the entertainment environment.
In healthcare settings, lighting has an important impact on patient outcomes, with LED light therapy being used to treat skin and sleep disorders and other conditions related to circadian rhythm.
We recognize that beyond utility, the future of lighting is connected to its impact on human health and well-being. The recent publication of UL DG 24480, Design Guideline for Promoting Circadian Entrainment with Light for Day-Active People, offers potential baseline performance goals for indoor lighting specifiers and building owners to consider when seeking circadian entrainment in addition to quality illumination.
Circadian design guideline
UL's DG 24480 was developed for those who design and specify lighting in buildings and wish to provide light for vision and for circadian entrainment for typical day-active and night-inactive people.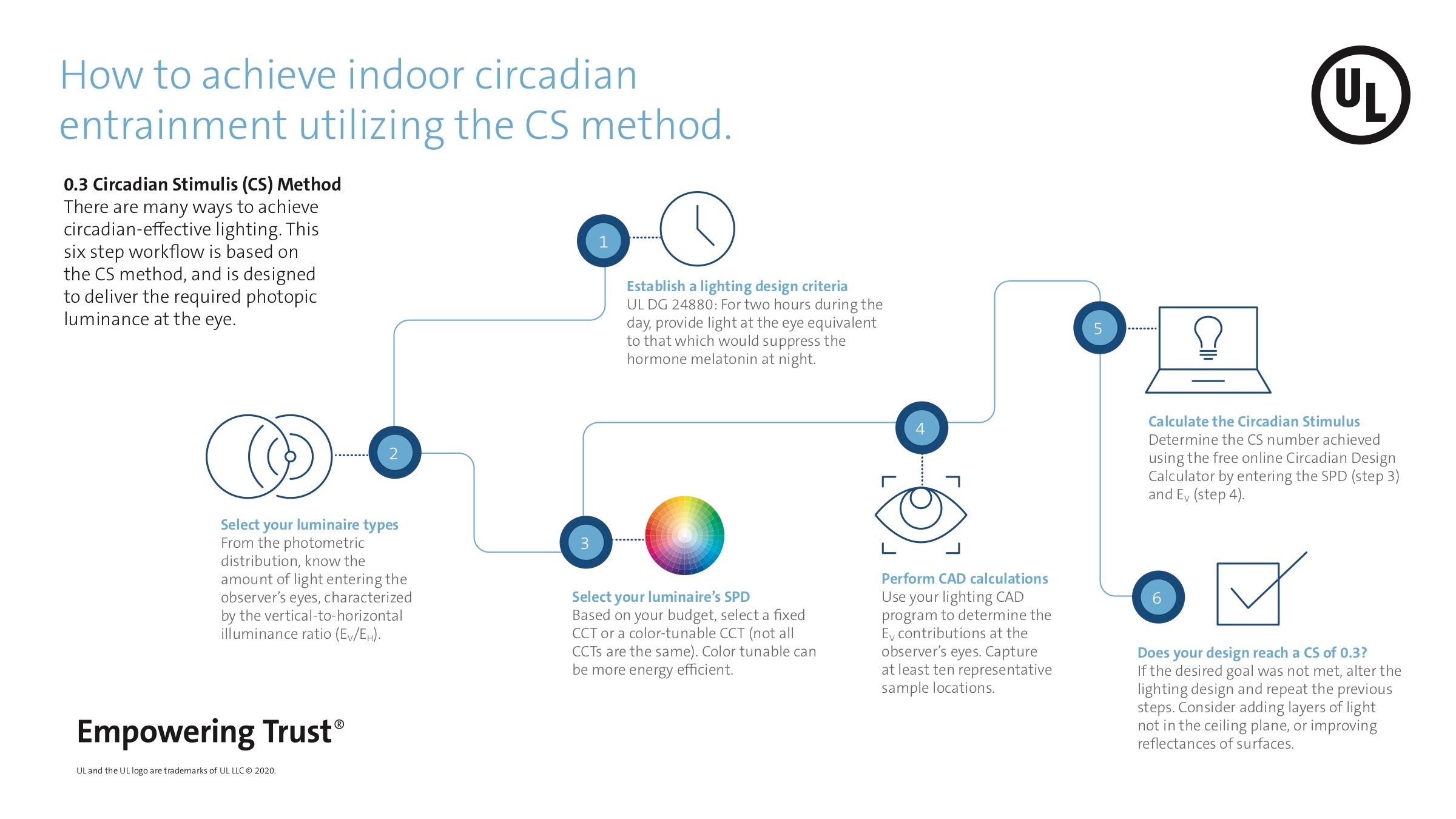 Working with lighting specifiers, distributors, manufacturers, researchers and institutes like the U.S. General Services Administration (GSA) and the Lighting Research Center (LRC), we are poised to follow the lighting industry's needs as human-centric lighting technology advances.
Contact us to get the conversation about human-centric lighting started.