Overview of UL Solutions' building inspection services
It is important for buildings to be safe, secure and operate efficiently. That is no easy task. It takes a thorough understanding of complex issues, including regional code requirements, hidden maintenance needs and emergency response tactics. 
We have the global expertise to assist you in evaluating the compliance of your building's safety systems to international code requirements. Our building inspection services (BIS) help identify building compliance gaps that can help you make improvements for the proper operation of your fire, life safety and security systems. 
UL Solutions understands complex construction requirements across the globe, and we customize our services to meet your needs.
UL Solutions' BIS offers an independent, objective and holistic solution, including a review of fire safety, life safety and security systems.
Who can benefit from UL Solutions' building inspection services
We offer a comprehensive solution for the building industry. Based on your building's user and/or occupancy type, UL Solutions assists the customer in determining the required safety levels of protection.
Our building inspection services assist various types of customers in evaluating for code compliance and other performance-based code inquiries, including: 
Planners/designers – Concept review, document review, risk assessment and level of protection.
Installers/integrators – Compliant specifications for installation and construction compliance.
Consultants – Problem demands a solution and verification of code-compliant options.
Management companies – Assessment of data quality, verification of up-to-date safety policies and mapping policy to standardization maintenance.
Building owners – Validate commissioning, maintenance and service and self-assessment data quality and assist in identifying gaps and future cost investments.
UL Solutions' building inspection services cover the life cycle of the building, including building inspection, recommissioning, training, and regular safety and security reviews. We offer services for a wide range of occupancies, including data centers, warehouses, energy storage system facilities, factories, healthcare facilities, residential buildings, high-rise buildings, modular buildings, high-value storage facilities and more.
Watch our building inspection video to learn more. 
Applicable standards for building inspection services
We provide the following services:
| | |
| --- | --- |
| ICC IBC | ICC International Building Code |
| ICC IFC | ICC International Fire Code |
| NFPA 1 | Fire Code |
| NFPA 5000 | Building Code |
| NFPA 101 | Life Safety Code |
| NFPA 72 | National Fire Alarm and Signaling Code |
| NFPA 80 | Standard for Fire Doors and Other Opening Protectives |
| NFPA 13 | Standard for the Installation of Sprinkler Systems |
| NFPA 25 | Standard for the Inspection, Testing and Maintenance of Water-Based Fire Protection Systems |
| NFPA 70 | National Electrical Code® |
| NFPA 750 | Standard on Water Mist Fire Protection Systems |
| UL 3400 | Outline of Investigation for Additive Manufacturing Facility Safety Management |
| UL 3401 | Outline for 3D Printed Building Construction |
| NFPA 855 | Standard for the Installation of Stationary Energy Storage Systems |
| UL 3223 | Outline of Investigation for Data Center Certification |
| UL 827 | The Standard for Central-Station Alarm Services |
| UL 1076 | The Standard for Proprietary Burglar Alarm Units and Systems |
| NFPA 731 | Standard for the Installation of Electronic Premises Security Systems |
| UL 681 | The Standard for Installation and Classification of Burglar and Holdup Alarm Systems |
| IEC 62676 | Video surveillance systems for use in security applications |
Building Inspection Services
7.32 MB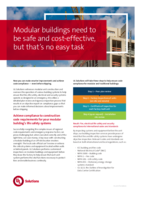 BE-Modular Building Auditing and Inspection Services
754.72 KB
Related products and services