What you need to know about 5G testing and compliance 
The industry's race to 5G wireless is in full force, with a number of 5G devices already on the market. 5G innovation taps into the mmWave frequency ranges which is one of the major differences when compared to previous cellular generations. The allocated mmWave frequencies will enable 5G to deliver on the promise of very high speed and low latency, bringing forth applications yet to be realized. However, mmWave also brings new challenges when seeking to meet global compliance requirements.
UL Solutions can test and evaluate the safety, connectivity and performance of devices operating on sub-6 GHz and mmWave (Millimeter Wave) frequencies to global regulatory and industry requirements. And we can help launch your 5G devices to the global market with confidence.
UL Solutions' 5G experts answer some of the most common questions around 5G testing.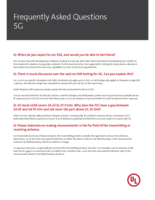 Frequently Asked Questions on 5G
38.6 KB
To access the rest of this engaging content, please fill out the form below: