We define prosperity as the opportunity for a thriving, abundant future for all. Our mission to work for a safer world and our founding legacy to "do something for humanity" offers us a meaningful part in helping to secure this future we envision. We do our part by working together and applying scientific rigor to ensure the safety, security and sustainability of the products and processes we evaluate, test and certify. Our advisory and data intelligence helps our customers actively address their business challenges, discover new solutions and protect their efforts. Every day, our people engage their expertise across a wide range of industries with a passion for problem-solving and optimism for our shared future. 
We help our customers establish and maintain trust by imparting confidence in their goods and services. Traditional definitions of safety have expanded to include security and sustainability, and our services have mirrored that growing scope of concerns. As we work to address quality and safety, we have an additional opportunity and responsibility to promote sustainable practices per our mission. Indeed, our customers share our desire to uncover even more ways to advance trust and improve future economic, social and environmental outcomes. 
Customer centricity and environmental, social and governance (ESG) enablement took the top-priority spot among strategic topics identified by all stakeholders, internal and external, in our 2021 materiality assessment. Our stakeholders expect and embrace our ongoing efforts to meet the growing need for ESG solutions and collaboration to address climate change, renewable resources, environmental stewardship, supply chain management, safety, diversity and inclusion, workplace conduct, human rights, philanthropy and support for local communities. 
We focus our strategy and operational efforts on continuing to advance our leadership in applying safety, security and sustainability science to meet this worldwide demand. We will invest in and focus our science-based expertise on addressing critical sustainability trends, risks and opportunities fundamental to our collective long-term prosperity.
Continual evolution
The lessons we learned from the global pandemic include an increased awareness and respect for our connectivity, a renewed emphasis on health, safety and well-being and a deepened understanding of both our vulnerabilities and our collaborative strengths. More than ever, we recognize the interdependence of people, planet and prosperity and the importance of our sustainability purpose. 
Our mission to help make the world a safer place anchors our efforts to enact our purpose to partner with our stakeholders and apply science to the safety, security and sustainability challenges they face. 

The COVID-19 pandemic response affirmed and demonstrated our core capabilities in safety science, the importance of our strategic and digital evolution amid a global crisis to come out stronger, and our focus on customers and employees to drive partnerships and innovation.  

Our corporate sustainability purpose, strategy and alignment push us to remain responsible and lead ESG enablement through our words, actions and the services we provide. 

We will continue performing, transforming and expanding in response to our stakeholders' needs, working for a safer world by finding solutions to challenges and driving positive change. 
In 2021, we identified multiple key trends where our services have the opportunity to make an immediate and long-term positive impact: 
Key trend: The COVID-19 pandemic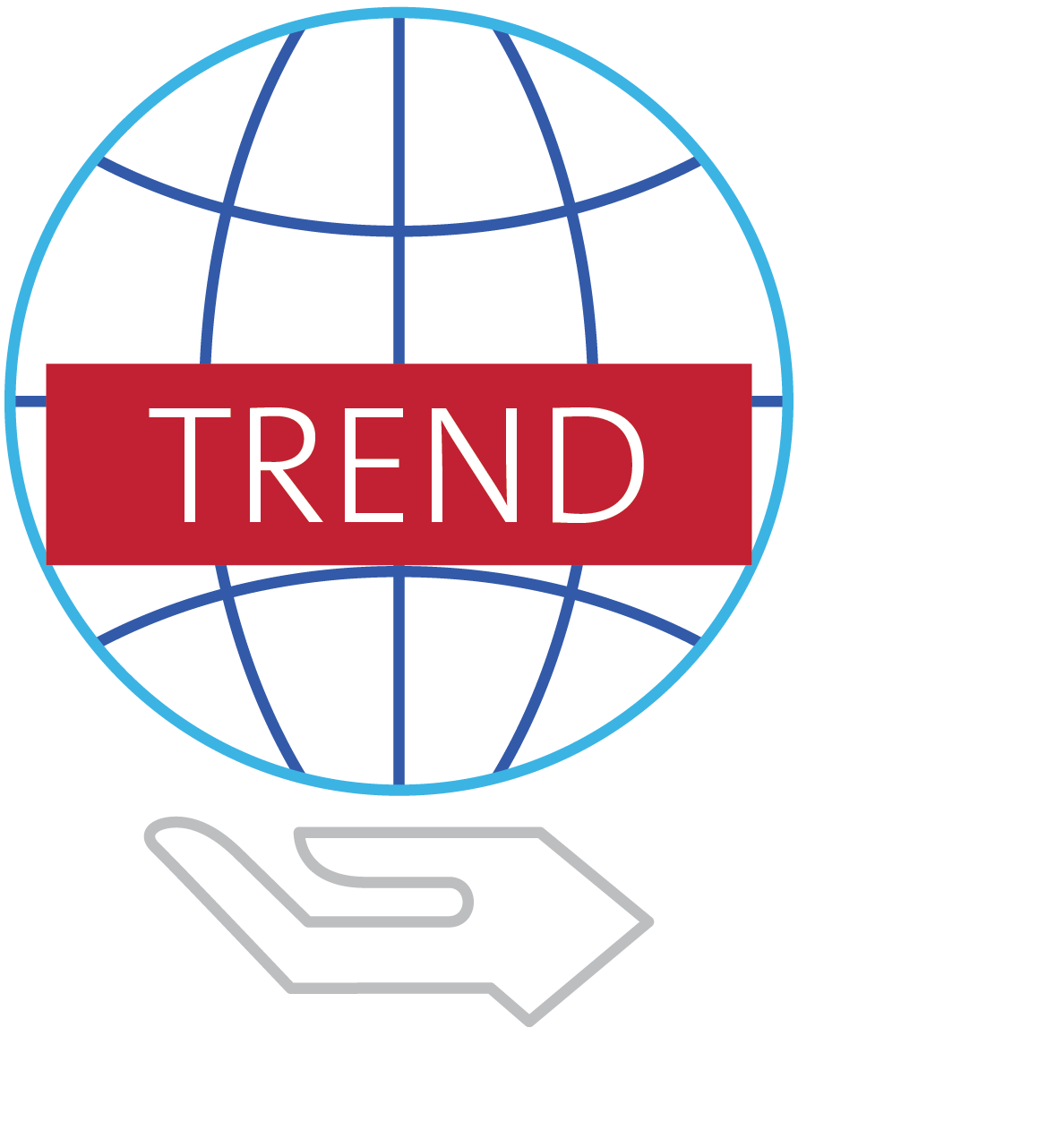 The pandemic shifted priorities around business and community resilience. The challenges COVID-19 presented expanded the world's definition of safety and created an imperative for companies to reconfigure their operations with increased digital technology collaboration and adoption. As companies transformed operations to work virtually and remotely during the pandemic, the accelerated digital transformation of business brought gains, improving resilience and sustainability performance. However, the increased reliance on mobile and internet connectivity also elevates security concerns. 
COVID-19 forced businesses to address new risks like exposure risks that frontline health workers face and mental health and ergonomics challenges for remote employees. A safe, resilient workplace must manage operational health and safety along with psychological safety. Meanwhile, remote work, automation and human resources (HR) technology continue to push organizations to adapt their processes and practices. 
UL connection: Increasing digital technology collaboration and adoption plays an essential role in modern work and life. Our services and solutions addressing COVID-19, employee health and safety and training, digital security and business resilience connect with and serve this key trend.
Key trend: Customer expectations for innovative technology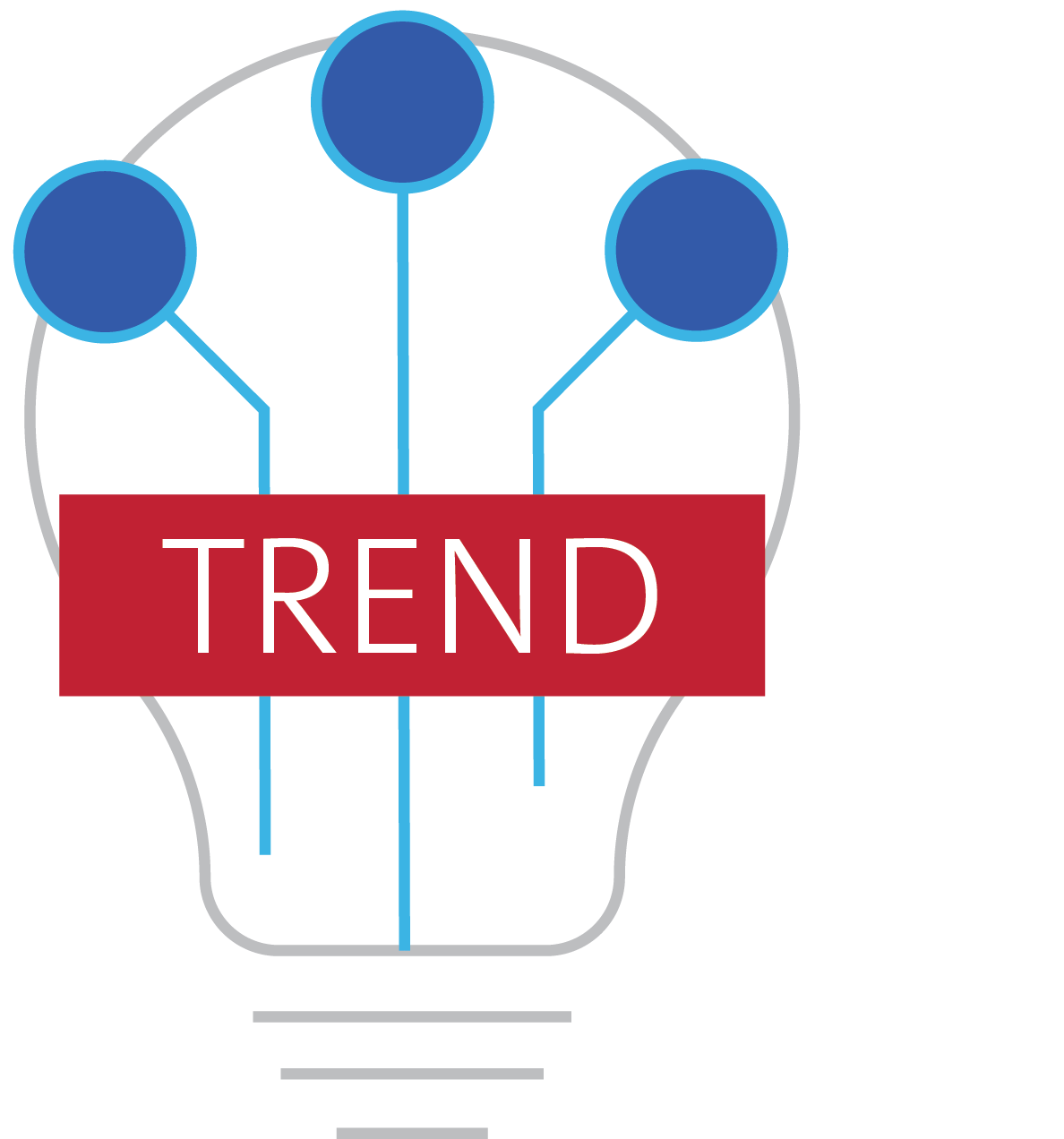 Customer expectations continue to drive investments in innovation and technology to keep up with the pace of today's digital transformation. Investment in technology is at an all-time high as customers demand digital experiences. Businesses work hard at accelerating their digital transformation with increased automation, remote working, personalized customer experiences and the strengthened cybersecurity these adaptations necessitate. 
UL's Innovation Safety Survey revealed the top five trends in innovation safety in 2021. Customer expectations remain a key factor for the third consecutive year, highlighting the consumer importance of innovation.
These innovations must also meet social aims to foster equal and affordable access to technology and address the digital divide with inclusive solutions and opportunities for all stakeholders, including consumers, employees and suppliers.  
As digital tools improve, stakeholder transparency expectations increase regarding disclosures, data, analytics and reporting as businesses work to increase and maintain trust with consumers. 
UL connection: Helping to ensure innovative technology's safety, security and sustainability represents one of our business's core features. Our research on innovation safety, AI and inclusive technology, as well as services and solutions in wireless testing, autonomous vehicles and cybersecurity, connect with and serve this key trend. 
Key trend: ESG reporting landscape evolution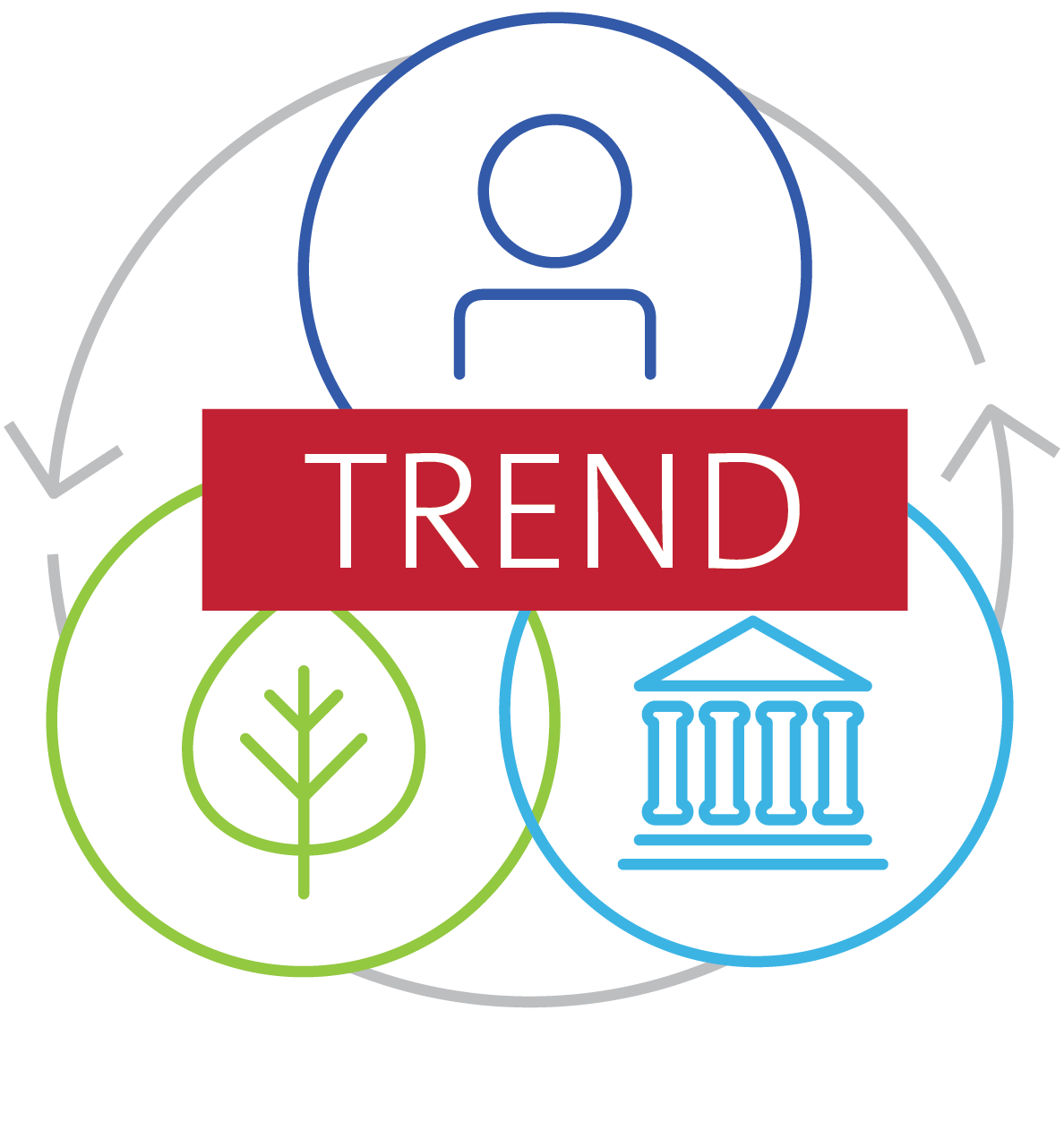 With a rising awareness of social justice issues, extreme weather events, worker safety and other sustainability topics, stakeholders' expectations for reporting transparency on ESG issues also rise. Effective January 2023, the Global Reporting Initiative (GRI) has released a significant update on the Universal Standards with additions to material topic disclosures, sustainability governance requirements and new Sector Standards to expand reporting coverage. These updates are intended to align with other reporting frameworks and meet emerging regulatory reporting requirements, such as the EU Corporate Sustainability Reporting Directive and the International Financial Reporting Standards Foundation (IFRS). At the 26th UN Climate Change Conference of the Parties (COP26), the IFRS formed the International Sustainability Standards Board (ISSB) to create a global baseline for the financial markets for corporate sustainability disclosures, helping investors and other stakeholders assess sustainability performance and related risks. The ISSB will consolidate the Climate Disclosure Standards Board (CDSB) and the Value Reporting Foundation (VRF) into the IFRS Foundation. 
These changes reflect the growing desire for stakeholders and investors to gain clarity on the management of sustainability topics like climate change, human rights and supply chain from business. ESG reporting helps stakeholders understand how companies can address and impact sustainability topics and how relevant sustainability topics can also impact a company's value and resilience. We'll continue advancing UL's sustainability reporting to remain aligned with the GRI's new Universal Standards, which enable us to focus on all external impacts we may have on society and the environment and our contributions toward sustainable development in addition to enterprise value creation and financial impacts. 
UL connection: We work with our customers to support their ESG reporting and implementation journey with product solutions, responsible sourcing and tools and advisory services services to help them track, manage and report on ESG throughout their businesses and supply chains and disclose that data using a variety of frameworks, including the Sustainability Accounting Standards Board (SASB), the Climate Disclosure Project (CDP), the Global Reporting Initiative (GRI) and more. Our services and solutions for navigating the changing global regulatory environment, promoting supply chain compliance and validating environmental product claims connect with and serve this key trend.
Key trend: A caring and equitable workplace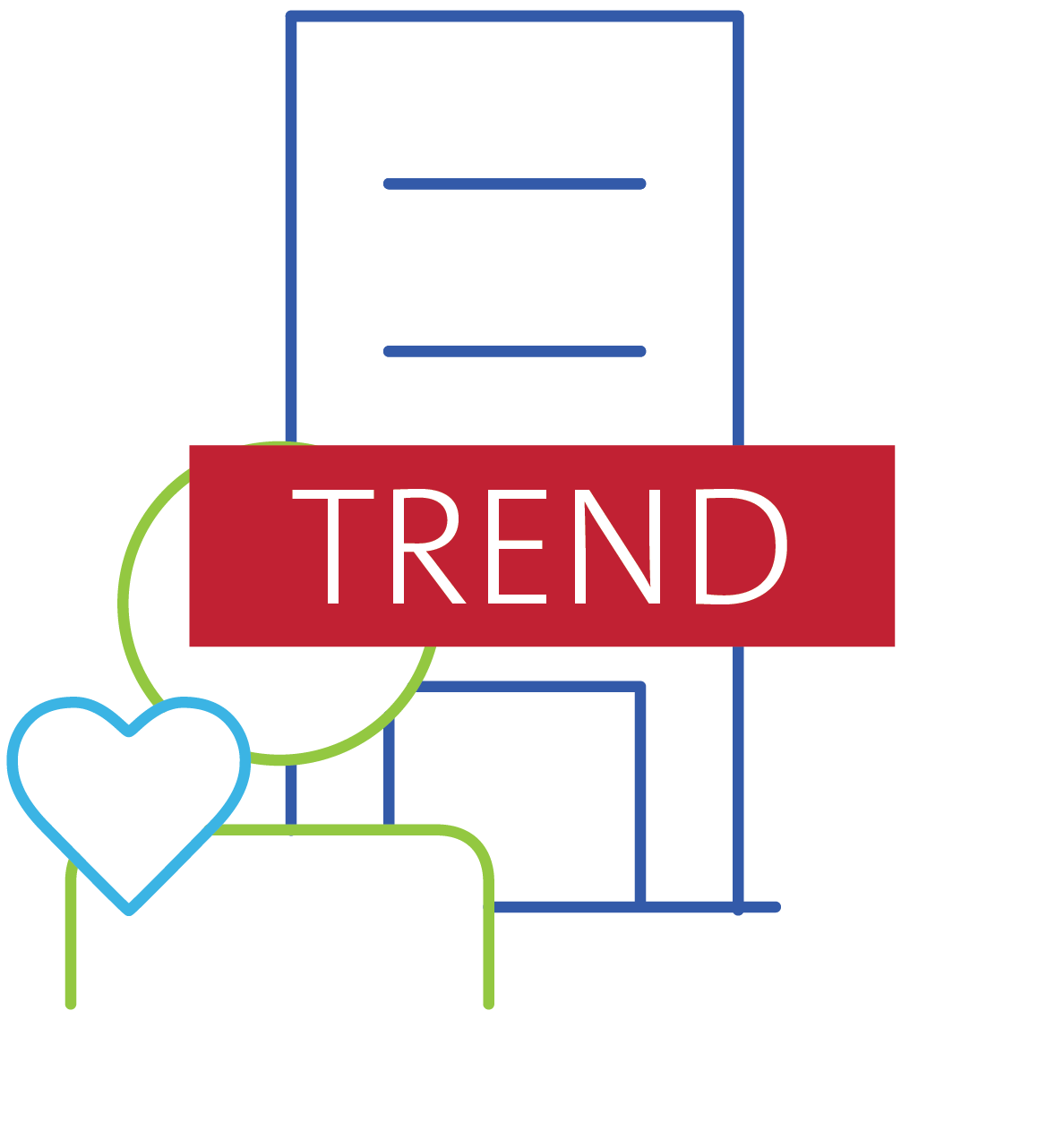 Sustainability efforts to remedy racial, gender and generational inequity, unconscious bias and lack of diversity at each organizational level represent DEI imperatives critical to attracting and engaging talent. Gen Z and millennial employees help drive these comprehensive changes to corporate culture by prioritizing working for companies that align with their personal values. Businesses are adapting to changes brought on by the pandemic that shifted workplaces and established the need and opportunity for flexible and remote work.  
UL connection: As we enhance our DEI commitments and seek to meet our people's health, safety and working needs, we also offer our customers ways to address employee health and safety through our global EHS training — including mobile learning — and support for the digital tools and innovations that keep us connected. Our social sustainability initiatives, BRGs and impact campaigns help us engage our talent and support their passion and values as we positively influence our stakeholders and communities to connect with and serve this key trend.
Key trend: Investor demand for ESG data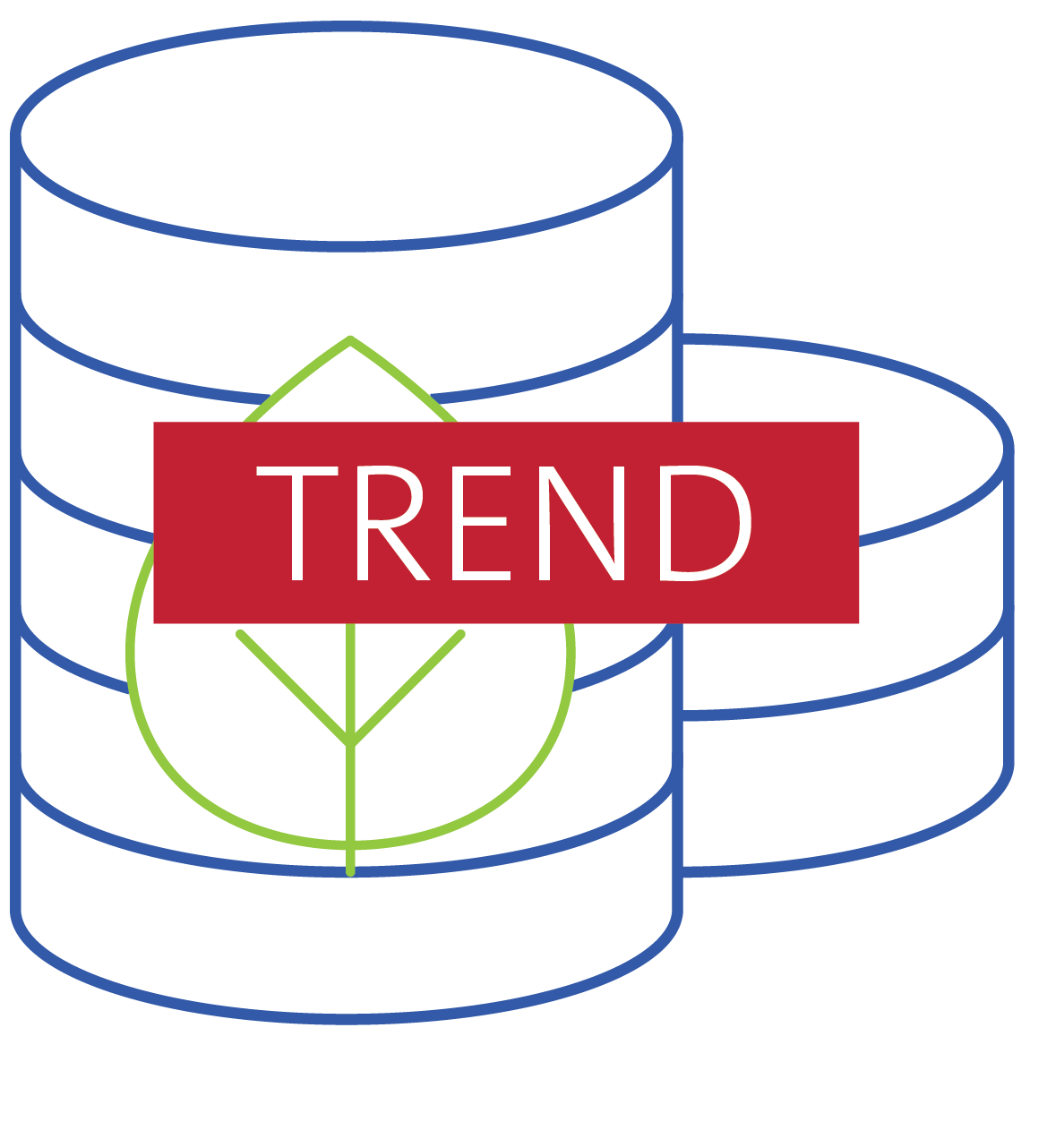 With the success of ESG investing, investors are putting pressure on companies to include key ESG topics like climate risk, human capital management, workforce and board diversity, board effectiveness and strategy and resilience in business models.  
ESG funds are growing exponentially. The majority of ESG funds outperformed S&P 500 in the first 12 months of the pandemic, highlighting the resiliency of ESG-related funds and demonstrating the bottom-line value of ESG management to business. 
Societal pressure from COVID-19, demands for social justice and the urgency of climate action represent top-priority ESG issues in reports issued by BlackRock, EY and the U.S. Securities and Exchange Commission. Investors are increasingly demanding evidence supporting company efforts to address climate change by setting emissions reduction goals and ending plastic pollution, for example.  
UL connection: Our services and solutions enable ESG reporting and integration, carbon reporting, product sustainability, responsible sourcing and more for our customers, helping them validate and share their ESG management efforts with stakeholders. Our renewables advisory and certification services help to accelerate companies' climate action by supporting renewable energy projects in all phases, including feasibility, design, operations, funding and more to connect with and serve this key trend.
Risk strategy and governance
---
Ongoing efforts to identify potential risks and sustainability opportunities play a key role in the integrated aspects of the business planning processes that inform our global investment priorities. We assess risks and opportunities in many ways throughout the year, including in quarterly monitoring reports, our annual enterprise risk survey and annual reviews and refreshes of long-term strategic plans. Additionally, our business teams continuously analyze the likelihood and potential impact the top opportunities and risks may have on their activities.
We regularly review ESG trends and opportunities with our Operating Committee and Board of Directors. Our Enterprise Risk Management program categorizes global opportunities and risks based on the perceived level of impact to the enterprise, with ESG opportunities and risks evaluated by our Board of Directors. These evaluations include current state assessments and mitigation plans.
Mirroring the results of our new materiality assessment, each of our business segments also identified the increased global demand for ESG and sustainability services among their top opportunities and risks in 2021.
Customer centricity and ESG enablement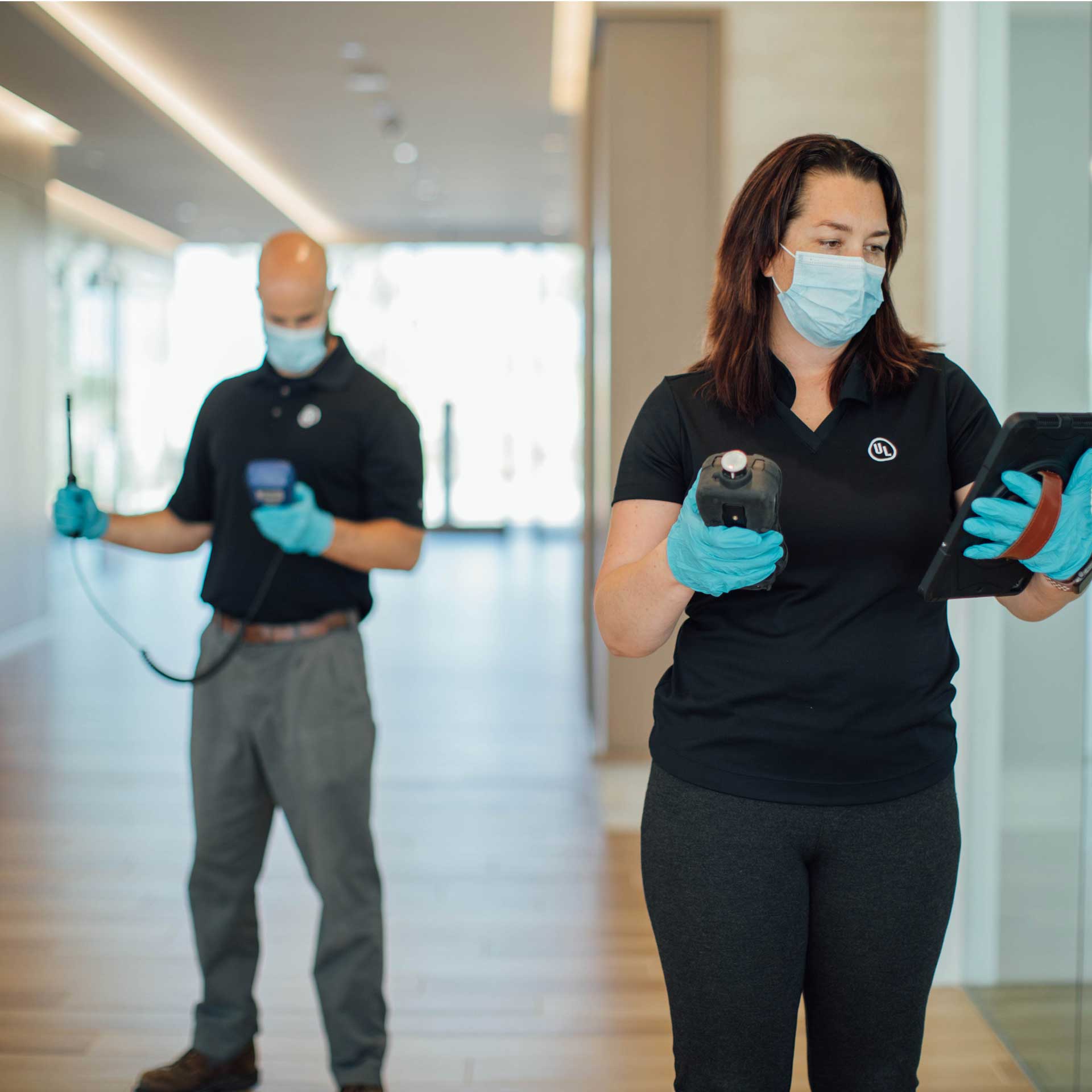 UL's portfolio of ESG services and expertise, which has steadily expanded over the past several decades to satisfy ESG market and customer demand, addresses the highest-rated topic in our 2021 materiality assessment. We prioritize investment in a broad range of ESG-related testing, inspection and certification (TIC), software and advisory services to support our customers' ESG journey including: energy efficiency, renewables, electric/ autonomous vehicle, batteries and energy storage, material sourcing, chemical data management, supply chain and product stewardship and environmental health and safety, among many other services and capabilities.
Whether initiating their ESG program or well on their way, our 360 Sustainability ESG reporting software supported by our expert advisory team manages investment grade data to help our customers define their ESG roadmap, identify material priorities, connect their value chain to track Scope 3 carbon emissions, set science-based targets and create ESG reports. Many UL customers also take concrete operational actions to ensure healthy buildings, improve waste management, perform responsible sourcing audits, adopt renewable energy, validate environmental claims, and enhance worker safety.
Moving forward, we will further support the results of this assessment across our business functions and alongside our partners. UL's sustainability subject matter experts play a critical role in advancing ESG science, developing future opportunities into customer service offerings and deepening our capabilities to address future risks.
We feel excited about the potential these results represent for impactful and measurable improvements to safety, security and sustainability for all of our stakeholders. At the same time, we remain resolved to help mitigate potential risks for our planet, its people and prosperity in alignment with our strategy and purpose. With customer centricity and ESG enablement the top priority for all of our stakeholders, we're eager to multiply the possibilities of our collective societal impact.
Our products and services meaningfully impact and help advance all 17 of the United Nations Sustainable Development Goals (UN SDGs), contributing to overall prosperity as we work to fulfill our mission and serve our customers. As we enable our customers to achieve their sustainability commitments, we collectively and positively improve environmental and social impact through our dedicated ESG and sustainability solutions. UL offers many services that can help companies contribute, measure and report on their SDG alignment and progress: 
Our ESG reporting and supply chain management tools provide our customers line of sight into their operations and help them report on their own sustainability journeys. (Goals No. 9, 10, 11,12 and 17) 

Our work in greenhouse gas (GHG) emissions, circular economy, waste diversion, labor and human rights issues, performance testing, environmental air quality and emissions, and the broad range of ESG issues of concern to investors directly advance many of the SDGs. (Goals No. 3, 6, 9, 11, 12, 13 and 15) 

Our experience with product development and chemicals of concern, renewable energy and battery technologies, refurbished and remanufactured products plays a vital role in protecting the planet's health and resources. (Goals No. 3, 7, 9, 11 and 12)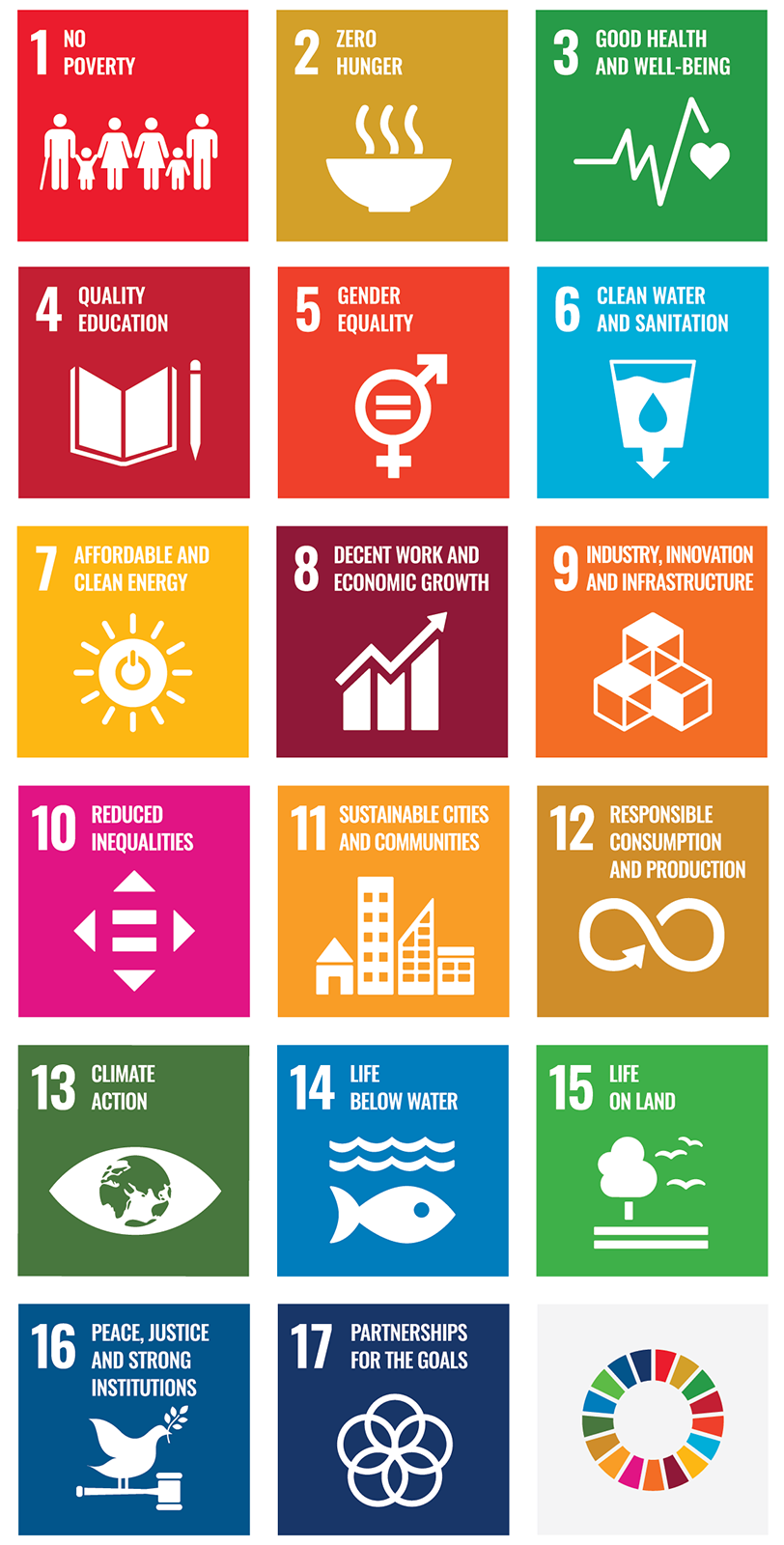 These capabilities and services help our customers enhance their sustainability efforts, amplifying our impact as we work together to safely progress society.
Working to prevent childhood drowning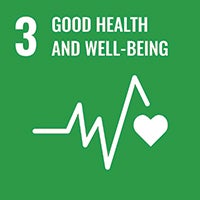 UN SDG No. 3, Good Health and Well-Being, aims to "ensure healthy lives and promote well-being for all, at all ages." Every SDG also identifies specific targets and indicators to achieve the goal. SDG Target 3.2 challenges the world to end all preventable deaths in children under five years of age. According to the World Health Organization (WHO), childhood drowning represents a leading cause of the accidental death of children worldwide. "The highest drowning rates are among children 1-4 years, followed by children 5-9 years." Among all age groups, drowning represents the third leading cause of preventable death, with more than 236,000 drowning deaths recorded annually, accounting for nearly 8% of total global mortality. Nonfatal drowning incidents can also result in serious lifelong health concerns, including long-term disability.
Death by drowning is preventable; that's where UL plays a critical role — by providing testing and certification services that span the global market for personal floatation devices (PFDs) including life jackets, vests, rings, suits and more. PFDs save lives by preventing drowning deaths. Most children who die by drowning do so when they stray out of reach of adults or outside of "touch supervision." That's why all children under the age of 5 should wear a PFD when they are in or near water.  
As with all our processes, we take a meticulous and comprehensive approach to testing PFDs. Our team maintains a thorough understanding of requirements, such as standards developed by the U.S. Coast Guard, United Kingdom Conformity Assessment, European Directive (CE), Wheelmark, PPE Recreational and more.
Testing procedures for PFDs accommodate different products, uses and users, from infants just able to lift their heads to seniors with limited mobility. This equitable approach means that we can provide testing services that help manufacturers ensure that all users can access products that fit their needs and bodies. UL's employees often volunteer as test subjects for our PFD testing, going above and beyond to fulfill our safety mission.  
We have also built sustainability into the design of our testing environment to conserve water. Our PFD test tank uses precise water-capture techniques to provide a self-sustaining environment. Through careful chemical calibration, we maintain a safe and hygienic environment for test subjects and staff accessing the tank, and we haven't needed to refill the tank water since 2015. Advanced insulation helps maintain a consistent temperature of approximately 91° F.
Preventing accidental drownings, especially in children, is a Global Goal worth pursuing. We appreciate our customers who manufacture these life-saving devices to help keep people of all ages safe in and around water. We also appreciate the opportunity to help ensure that these products are of high quality and are safe to use as we educate consumers on their proper use.
Measuring progress
Simple math cannot quantify the impact all our services have on critical sustainability issues. How do you calculate the number of electrical shocks that never happened, fires that didn't light or accidents avoided due to a device that operates safely or a product that UL tested and certified? Much of our mission-driven work eliminates risks and dangers before they can become statistics by mitigating and helping prevent their occurrence. 
We know we have a profound and likely immeasurable overall impact on the quality and safety of human life. However, there are elements we can measure that begin to quantify the outcomes of ESG enablement and help us communicate the positive impact of our sustainability services on the SDGs in concert with our customers. 
UL operates from a remarkable position, given the compounding effects of our sustainability efforts and impacts. As we help our customers achieve their existing and emerging sustainability goals, our Assets and Sustainability Performance (ASP) Customer Operating Unit (COU) houses many solutions that help enable our customers to strengthen their sustainability efforts.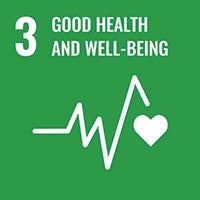 SDG No. 3
Target 3.9 By 2030, substantially reduce the number of deaths and illnesses from hazard chemicals and air, water and soil pollution and contamination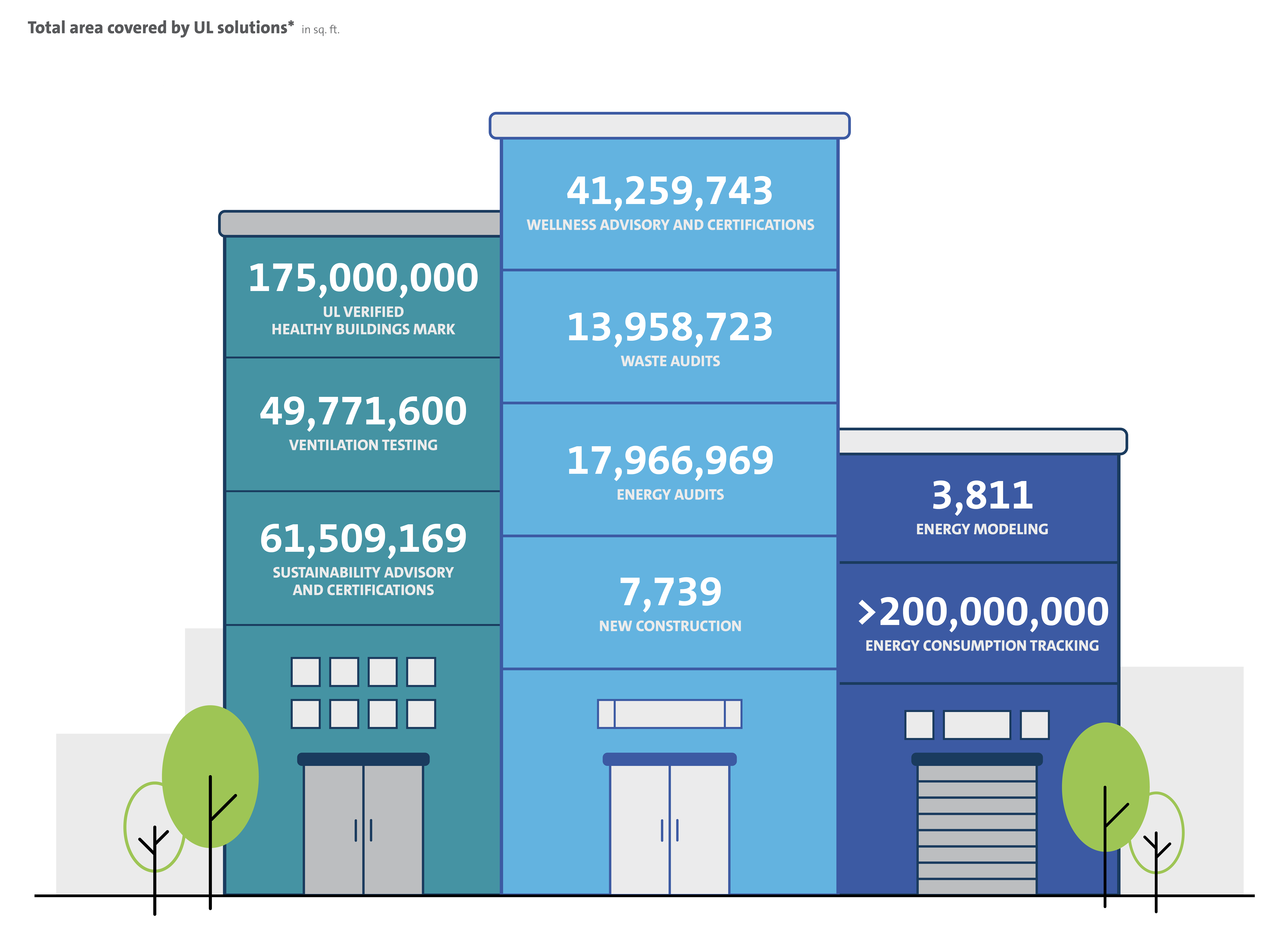 *Conservative approximation to account for errors and overlap
Through our Healthy Buildings services, UL supports our customers in their commitments to improve the health and performance of the indoor spaces where they live and work. The positive combined footprint of these services impacts more than 552,000,000 square feet of occupied space, improving indoor air and water quality and hygiene, directly progressing SDG No. 3, Target 3.9 to reduce the number of illnesses from air and water contamination.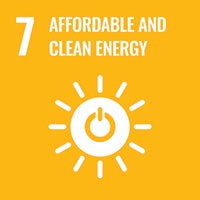 SDG No. 7
Target 7.2 By 2030, increase substantially the share of renewable energy in the global energy mix
Target 7.2.1 Renewable energy share in the total final energy consumption
Our Renewables advisory services enable the installation of clean energy projects worldwide. We supported the financing for 70% of all new U.S. wind installations in 2021. Our combined energy forecasted for wind and solar in the U.S. equaled 120 GW of renewable power.
To put that in perspective, 1 GW represents the power equivalent of 364 utility-scale wind turbines, or 1.3 million horsepower, to power 750,000 homes. UL plays a critical advisory role in helping to increase the renewable energy share in energy consumption around the world, directly progressing SDG No. 7, Target 7.2.1.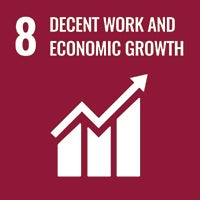 SDG No. 8
Target 8.8 Protect labour rights and promote safe and secure working environments for all workers, including migrant workers, in particular women migrants, and those in precarious employment
Through our LearnShare solution, UL supports safety and compliance training for our customers and their employees, resulting in safer work environments. In 2021, we made a significant impact on safety training with more than 64 million courses completed and more than 2 million hours spent training. These efforts help secure safer working environments, directly progressing SDG No. 8, Target 8.8.1.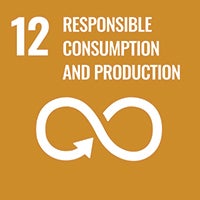 SDG No. 12
Target 12.6 Encourage companies, especially large and transnational companies, to adopt sustainable practices and to integrate sustainability information into their reporting cycle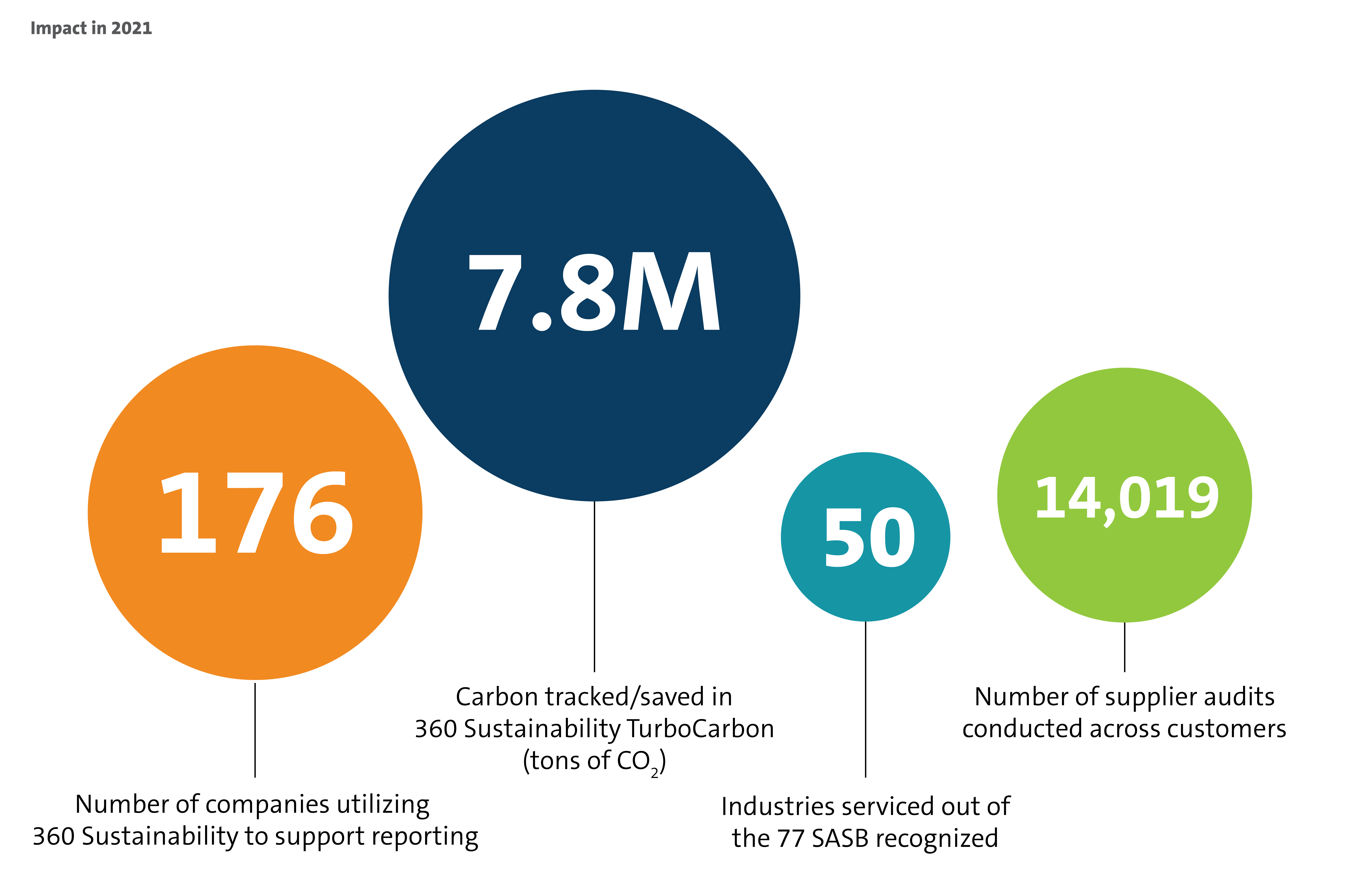 Through our 360 Sustainability ESG software solution, we support our customers' data collection, planning, and tracking of sustainability efforts. This software helps our customers evaluate real-time risk analytics, monitor supply chain risks, capture carbon emissions data and manage ESG reporting. Creating the tools to help even large, complex companies manage this data allows them to integrate sustainability information into their reporting cycle, directly progressing SDG No. 12, Target 12.6. In 2021, 176 companies, including UL, used 360 Sustainability to support their ESG reporting.
In 2021,Verdantix, an independent research and consulting firm with expertise in environment, health, safety, quality, operational risk and smart building technologies, ranked 360 Sustainability as a top ESG software.  
In shared pursuit of progress
---
As a company founded on sharing our scientific research and discoveries to make the world a safer place, our subject matter experts across the enterprise contribute to essential global dialogues and sustainability research. SDG No. 17 reveals the need for cross-industry, public, private and civil society partnerships to accomplish sustainability goals. We embrace this SDG through participating in collaborative research and thought leadership, working directly with partners across the circularity value chain. We continue to increase our level of engagement and visibility within our key sustainability alliances to drive a sustainability culture and advance the best science-based possibilities for our future.
Sustainability research and scientific expertise
Customers share their success
---
Our customers join us on a shared mission to work for a safer, more secure and sustainable world, entrusting us to effect demonstrable impacts on the industries we serve. We honor our collaborative customer relationships and the dedication to sustainable progress that we share. In 2021, our customers made incredible progress on their sustainability commitments and demonstrated reportable impacts on their ESG commitments and sustainability strategies. We celebrate their goals and outcomes.
Sustainability commitments and reportable impacts
Power in partnership: La-Z-Boy®, UL and Habitat for Humanity
Many people encounter chemicals through the air they breathe every day in their homes, offices, schools and other indoor environments. These airborne chemicals — volatile organic compounds (VOCs) — play a role in manufacturing and maintaining building materials, indoor furniture, cleaning products and personal care products. 
Excessive exposure to VOCs indoors where we work and live can prove harmful to human health, causing symptoms ranging from eye, nose and throat irritation to vomiting, visual disorders and memory impairment. Researchers have found that some VOCs cause cancer, particularly in the lungs. 
---
---
The products that we use to build and furnish our indoor environments can have a significant impact on indoor air pollution levels and our health. Products that have achieved UL's GREENGUARD Certification have undergone thorough scientific evaluation to demonstrate that they meet some of the world's most rigorous third-party chemical emissions standards, helping to reduce the risk of chemical exposure and leading to healthier indoor environments. 
To achieve GREENGUARD Certification, we place fully assembled, unused furniture into a chamber where we can measure VOC emissions.
Once the testing is complete, we remove the furniture — not to be sold, but still in perfect condition. Nora Vanderhoff, a Project Manager based in Marietta, Georgia, recognized an opportunity to reduce waste, create social value and build a stronger relationship with her customers. Nora approached Amy Vernon, Director of Global Product Safety and Stewardship at La-Z-Boy Incorporated, with an idea to donate their furniture testing samples to the local Habitat for Humanity in Smyrna, Georgia, following completion of GREENGUARD Certification.
Vernon states that La-Z-Boy has a sustainability goal to keep its products out of landfills and now measures Scope 3 emissions, so beyond the obvious positive social impact of donating new furniture to those in need, keeping tested furniture out of landfills was "a no-brainer and the right thing to do." 
"La-Z-Boy is happy to be a part of this effort and grateful to Nora for making the recommendation and coordinating the effort. We will be adding more products for testing in 2022 and looking forward to donating 100% of the tested products in the future." 
All the donated furniture earned GREENGUARD Certification, providing peace of mind. La-Z-Boy has committed to donating furniture test samples annually upon completing GREENGUARD Certification. 
This represents one example of how UL works to truly partner with our stakeholders beyond our business objectives so we can share our mission of working for a safer, more secure and sustainable world. 
In the third year of our sustainability reporting journey, we take a moment to reflect on how far we've come since our first year of reporting in 2019 and where we plan to go from here. The global need for our safety science leadership was never more clear than with the outbreak of COVID-19. We supported the essential protocols to help ensure vaccine and PPE safety, met increasing supply chain demands and cybersecurity needs, and expanded and adapted our response to effectively meet the safety, security and sustainability demands of the moment.
Our continued commitment to our mission represents an ongoing commitment to our stakeholders. As our journey progresses, we resolve to keep working for a safer, more secure and sustainable world for all people, no matter the challenges we face.
In the near term, we are eager to fulfill our science-based target commitment, doing our part to address climate change as yet another critical and shared global safety challenge requiring our leadership. And, we are excited to grow and evolve all our services and solutions enabling our customers to meet their ESG and sustainability goals — it's how we believe we can continue to make a lasting and positive impact on people, our planet and its prosperity.