Environmental sustainability
Our incredible planet offers usable energy in many forms, which have powered humanity throughout history. Traditional energy sources — fossil fuels like oil and coal — have a finite limit; they do not naturally replenish as quickly as humans deplete them. Additionally, the continued extraction and usage of these energy sources comes with long-term consequences. Economic growth is often singled out as the most important factor driving climate change and the causal chain is clear: increased economic growth corresponds with increased energy use.
Fortunately, our planet offers abundant sources of renewable energy — energy that we can derive from the sun, wind, rain, tides and more; energy that the planet's natural activities create. This type of energy replenishes naturally and is available in many more geographies than fossil fuels.
At UL, we consider climate change a defining issue of our time, and one that poses perhaps the greatest potential threat to the safety, security and sustainability of our world. Therefore, we believe that supporting the secure transition of our world's energy usage from climate-damaging fossil fuels to clean, renewable energy represents one of our most needed contributions to safety science and engineering.
We also believe that we must examine our own operations and improve them to align with the latest climate science and robustly reduce our global carbon footprint. In 2021, we committed to the Science Based Targets initiative (SBTi), pledging to set enterprise-wide emissions reductions targets to help limit global warming to 1.5 °C.
We've publicly shared our science-based target commitment through SBTi, honoring our dedication to sharing our sustainability journey transparently. The SBTi offers the rigorous, science-based third-party validation we support and endorse through our services and standards. Additionally, we intend to manage our enterprise waste, energy consumption and water usage, and to raise awareness of these environmental challenges among all of our global colleagues. With continued education and understanding, we can all become more mindful of our individual impacts and discover more opportunities for collective improvement.
From how we conduct our daily business to the solutions we offer our customers, we fully invest our efforts in helping to guide our planet to a cleaner, clearer and more stable future.
Our commitment
To meet our science-based target commitment and other environmental goals, we'll address and improve operational efficiency across all our sites. As a professional services organization operating laboratories around the world to fulfill our safety science mission, our facility energy use represents the greatest contributor to our carbon emissions. Our stakeholders understand this; energy took the top-ranked spot as a material environmental topic in our 2021 materiality assessment. We must optimize our energy efficiency to reduce carbon emissions.
To demonstrate our commitment clearly, we are aligning our business with the Paris Agreement's ambitious aim: to limit global temperature rise to 1.5° C above pre-industrial levels and help offer humanity the best chance at avoiding the worst impacts of climate change.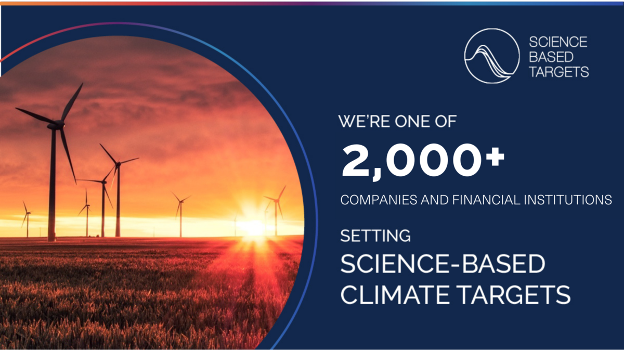 Our journey
As the year unfolded, we took on the challenge of systematically collecting site-level environmental metrics and partnering with our site leaders to identify opportunities to reduce energy consumption and limit greenhouse gas (GHG) emissions. Our dedicated group of employee subject matter experts (SMEs) making up our Energy and Carbon Task Force served as advisers, uncovering and helping to prioritize initiatives to reduce energy consumption globally. 
A core SME project team assembled and met weekly for months, passionate about this project as something vital not just to our organization, but to all our stakeholders. Region leads, facilities and finance teams participated in data-gathering and analysis to understand our current impact and potential reduction. 
Through their partnership and dedication to UL's sustainability journey, our project team developed a foundational understanding of our operational carbon emissions, accelerated both by their expertise and by 360 Sustainability technology.

By operationalizing best-in-class systems and processes for environmental data management, validation and storage in 360 Sustainability, we're already beginning to reap the business improvements that will coalesce with this undertaking over time.   
The journey to this commitment required a truly enterprise-wide collaboration, utilizing the best of our solutions and advisory skills to manage the project's scope and ensure the highest achievable accuracy in our approach. We feel enthusiastic about our short- and long-term next steps as we work to meet this commitment and participate in the global business partnership to help protect our planet.
Operationalizing environmental impact
In service to people, planet and prosperity, we continue to apply our in-house expertise and sustainability solutions to ourselves, sharing our sustainability journey alongside our customers, adhering to our own rigorous standards and requirements.
Indoor air quality (IAQ) assessments
In 2021, our Verified Healthy Buildings team of experts completed indoor environmental quality assessments at our high occupancy North America office locations in preparation for our employees to return to the workplace.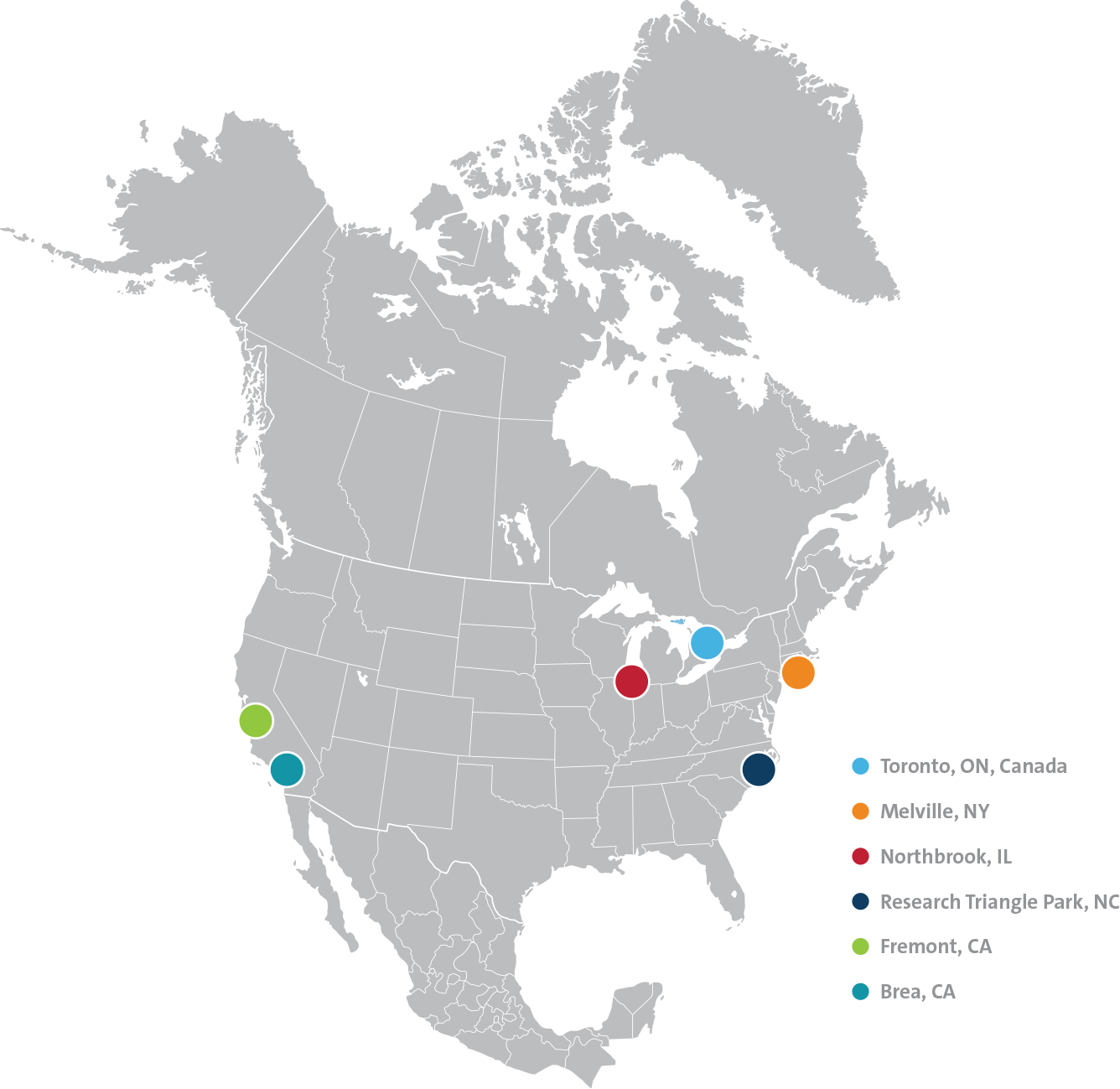 They evaluated each building against rigorous methodologies to assess indoor air quality and established policies for the continual advancement of IAQ. The team also inspected heating, ventilation and air conditioning (HVAC) systems to verify preventative maintenance while focusing on ventilation, filtration and hygiene to help ensure continuous excellent IAQ.  
"Employee safety is always a priority. We take our commitment to our employees very seriously, and we are dedicated to providing a safe, comfortable environment that prioritizes health, well-being and productivity."

Linda Chapin
Executive vice president and chief human resources officer, UL
Energy efficiency audits
Auditing a building's energy usage is a key first step in building a solid plan for improving energy efficiency, reducing energy consumption and thereby reducing carbon emissions. Our Verified Healthy Buildings team completed the American Society of Heating, Refrigeration and Air-Conditioning Engineers (ASHRAE) energy audits at our global headquarters to identify energy efficiency and consumption improvements.
These energy audits identified:

360 Sustainability software
We employ our own sustainability software, 360 Sustainability, to capture and analyze our sustainability data for reporting and to track our environmental progress. This enables us to effectively collect and validate our quantitative and qualitative data from around the world and engages our employees in a collaborative effort to contribute to improving our environmental impact. We also utilize the Frameworks module within the software to collect and govern all our environmental, social and governance (ESG) disclosures for the Global Reporting Initiative (GRI). In 2021, 360 Sustainability continued its Gold-level Carbon Disclosure Project (CDP) Software Partner status for the 10th consecutive year, the CDP's highest ranking for an accredited software provider. 
Our people and the planet
UL's employees care passionately about the planet. To provide opportunities for them to pursue the innovative environmental projects that capture their excitement and enrich their ability to increase our positive impact, we offer an environmental sustainability initiative, Sustainable Environment Excellence Drivers (SEED). One hundred sixty-five colleagues worldwide are registered SEEDs, committing to create and lead local actions for environmental improvements at their sites across six environmental initiative categories. All SEEDs receive environmental education through UL University to improve their knowledge base and help them foster a company culture of environmental responsibility. In 2021, 83 SEEDs completed training on energy conservation and carbon reduction. In 2022, we will offer additional coursework on reducing water consumption and waste management.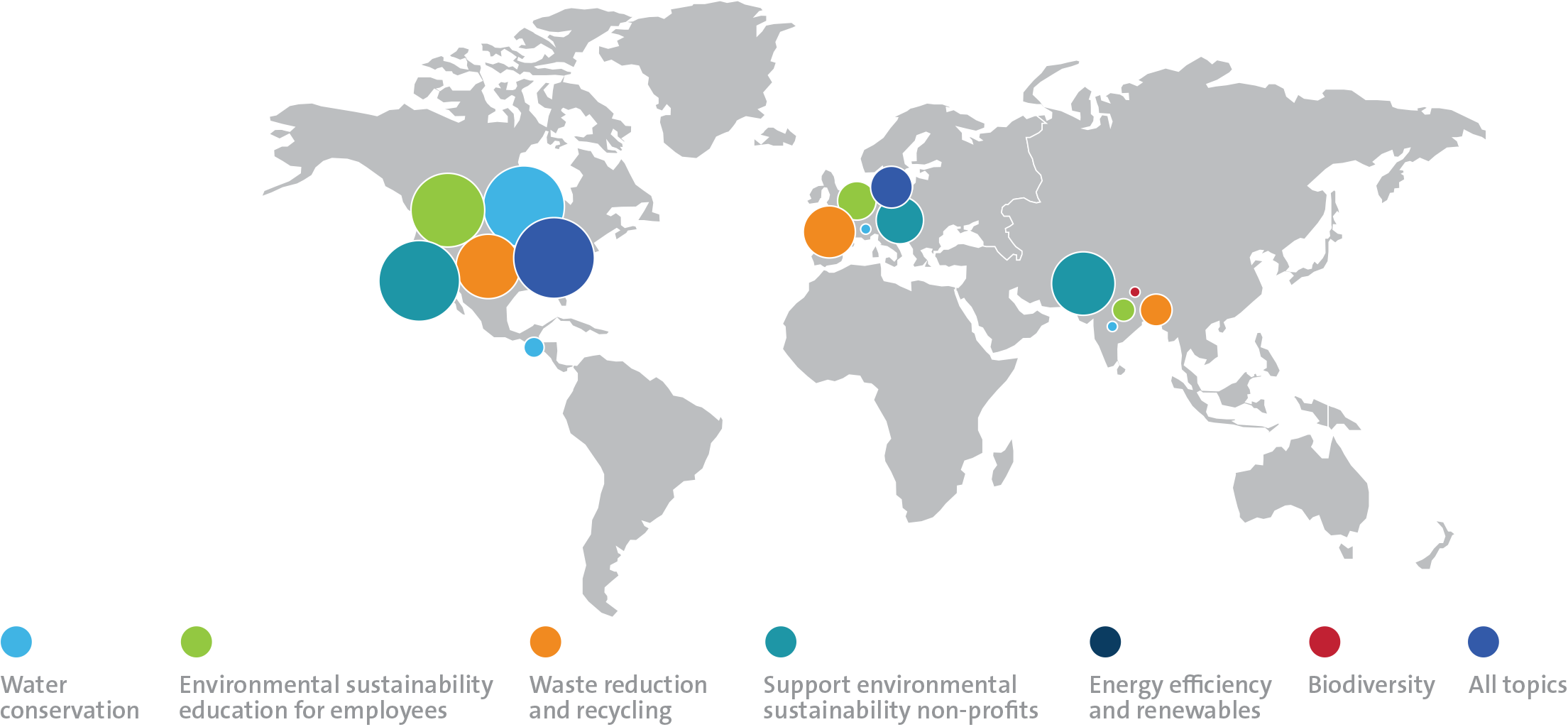 We can measure our effect on our environment through our energy use, water consumption and waste generation. As we perform tests in our laboratories, conduct field evaluations and help our customers improve their product and system safety, security and sustainability, our operations offer meaningful opportunities to investigate ways to improve our impact.
In the past year, working environments around the world have changed, requiring adjustments to how we provide our services. Like many other businesses, we reevaluated our own real estate footprint, strategically decreasing unnecessary square footage and simultaneously increasing opportunities for hybrid and remote working.
These cultural changes have led to a decrease in commercial energy consumption and an increase in residential energy use. As we work to determine the environmental impacts this shift to remote and hybrid work has, we'll need to consider the carbon footprint, energy use and GHG emissions associated with working from home.
We're committed to reducing our worldwide energy usage, improving efficiency in our facilities and shifting service delivery to risk-based modeling and virtual services. Notably, 2021 saw altered energy consumption with avoided emissions from decreasing business travel, conducting virtual and remote compliance audits and an increase in digital alternatives to in-person services and meetings. Our global laboratories remained in operation throughout the reporting year, which our energy consumption reflects. 
In 2019, we launched our reporting journey by disclosing our available data from our global headquarter campus in Northbrook, Illinois (NBK), with the largest footprint of any of our offices and sites around the world. The data from this site, representing a wide range of our service offerings and testing facilities, served as the starting point to inform our strategy on our global operational impact. In 2021, our 111-acre NBK campus continues to operate on 100% Green-e®-certified carbon offsets.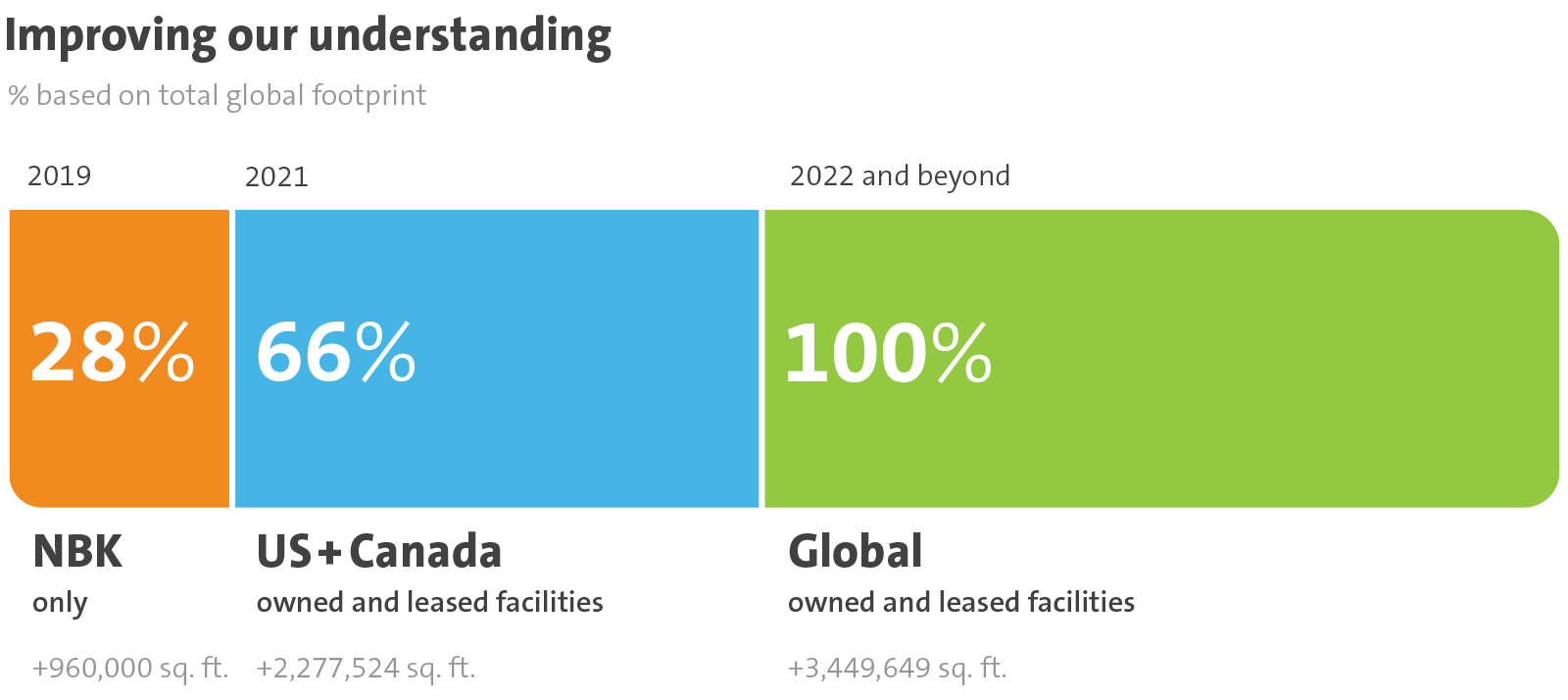 This year, we're sharing our Scope 1 and 2 Carbon Emissions for all our North America facilities, both owned and leased, representing 66% of our global footprint. At this time, we are still collecting, validating and disclosing enterprise-wide carbon emissions to include our EMEA and Asia facilities with accuracy. We intend to use this additional data to support our science-based target commitment.  
Completeness – 100% of owned and leased facilities in North America and Canada: 2.3 million square feet, 66% of UL's total square footage
Consistency – Our third-party service provider deployed a consistent and auditable process to collect electricity and natural gas consumption data. 
Accuracy – Our third-party service provider collects data directly from the utility suppliers and reports to UL monthly.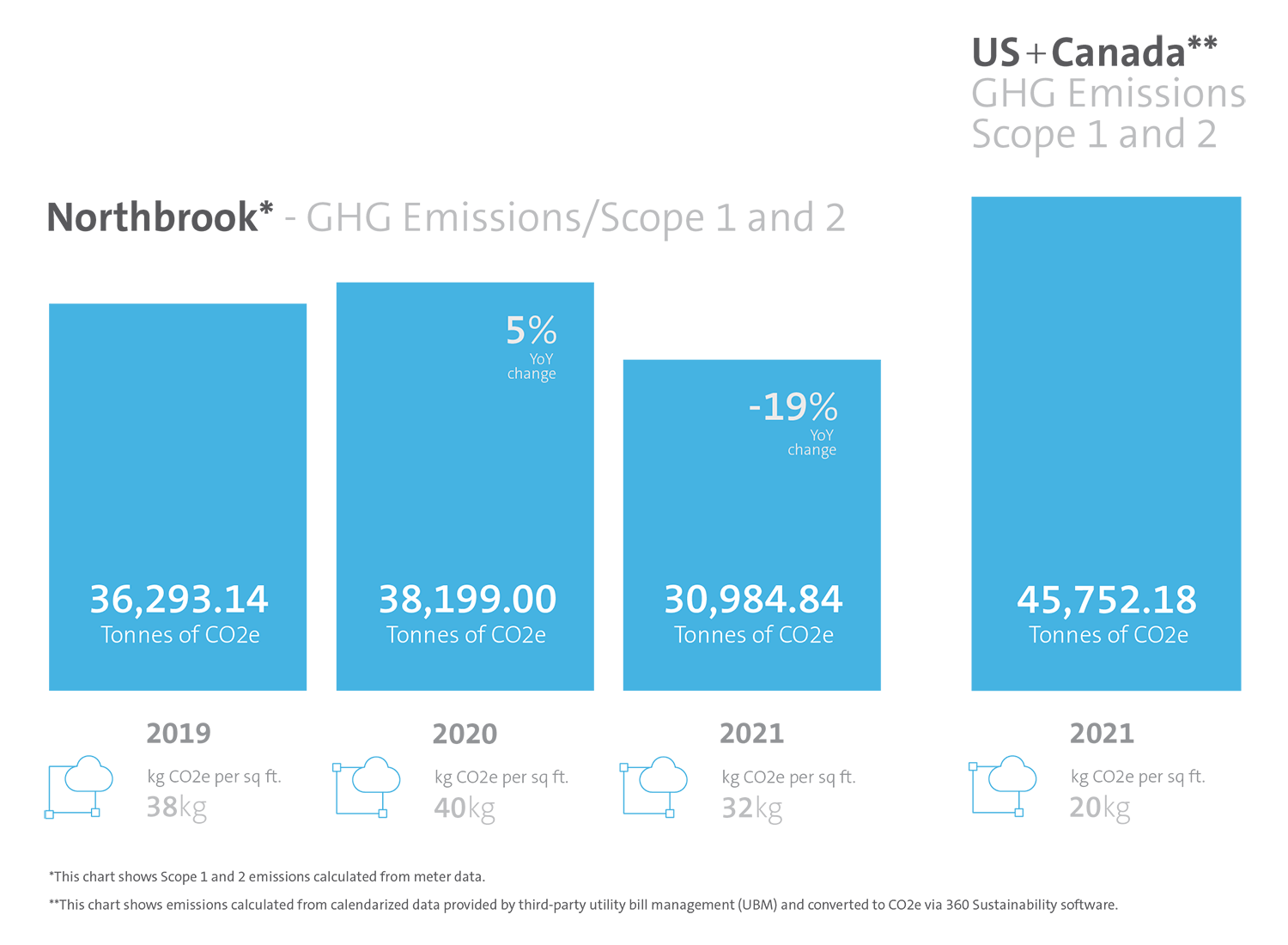 Our Scope 3 emissions includes all business travel: plane, car, train, and hotel stays. In 2021, the pandemic largely restricted international travel, and our data reflects that restriction. 
We continue to evaluate increasing energy efficiency at our sites worldwide, prioritizing opportunities to improve our building system performance overall with a specific focus on high energy consumption in owned laboratory facilities in North America. 
Currently, our Denmark office and laboratory operate on 100% renewable energy.
While renewable energy projects cover our Scope 2 emissions, UL has a significant Scope 1 carbon footprint due to certain testing procedures that require the use of stationary gases. Our SMEs in energy technologies are exploring applying data and predictive modeling to enhance our traditional testing. 
Energy and Carbon Task Force
The Energy and Carbon Task Force reports up to the Corporate Sustainability Council and consists of SMEs from across the business tasked with examining improvements to our energy consumption. In 2021, this group helped develop the processes and solutions to commit UL to a science-based target. In 2022, this employee task force will offer guidance on strategic virtual power purchase agreements for the organization, installing electric vehicle (EV) charging stations at select offices and performing behind-the-meter (BTM) studies to determine the optimal energy mix.
"Behaving sustainably benefits our organization, our customers and society. UL has embraced the sustainability expertise embedded across our organization and implemented our own sustainability solutions. Being a part of the team supporting the science-based target commitment fostered collaborations and motivates me to be a catalyst to make the organization more efficient."

Evelyne Saelens
ESG advisory services manager, and Energy and Carbon Task Force member
Carbon footprint reporting methodology
Operational boundary
The reporting boundary for this reporting cycle includes all UL's owned and leased locations in North America for the calendar year. Due to the nature of our operations, UL maintains a variety of facility types, including laboratories, offices, warehouses and combination facilities.
Laboratories: Much of our leading safety, security and sustainability work happens in our laboratories, where our engineers and laboratory technicians utilize testing equipment and instruments to complete their work. 
Offices:  Many UL employees work in offices. This office-use space consumes less energy than our laboratory-use space, where tests may run for multiple days, consuming energy both day and night. Our offices typically have lower energy consumption during non-working hours.
Warehouses: These locations have minimal utility usage as they function as storage.
Emissions boundary
UL's carbon footprint encompasses Scope 1 (direct), Scope 2 (indirect) greenhouse gas emissions from electricity production, and Scope 3 (indirect) from business activity.
Scope 1 includes emissions from natural gas.
Scope 2 includes our emissions from purchased electricity.  
Scope 3 includes our emissions from business travel (category 6).* 
*Scope 3 for our 2021 report only includes category 6 emissions. In future reporting cycles, we will include other Scope 3 categories covering UL's fuel and energy-related activities (category 3) and upstream leased assets (category 8). 
"It is critically important for UL to commit to setting a science-based target, demonstrating our commitment to driving change and reducing our impact on the environment. I am immensely proud to be part of the project team that is helping to accelerate our progress to a more sustainable future."

Tino Kretschmer
360 configuration specialist II and Energy and Carbon Task Force member  
We're committed to reducing our worldwide water usage. Water usage in 2021 did not decrease significantly as our global laboratories remained in operation throughout the year. Certain critical testing processes that we perform depend on water. Personal protective equipment (PPE) testing is highly water-intensive, as is apparel and footwear, outdoor fixtures and furniture and washing appliances testing. For example, liquid penetration testing, which measures the ability of protective clothing or protective ensembles to resist liquid penetration in the form of a shower spray, requires up to 300 liters of water.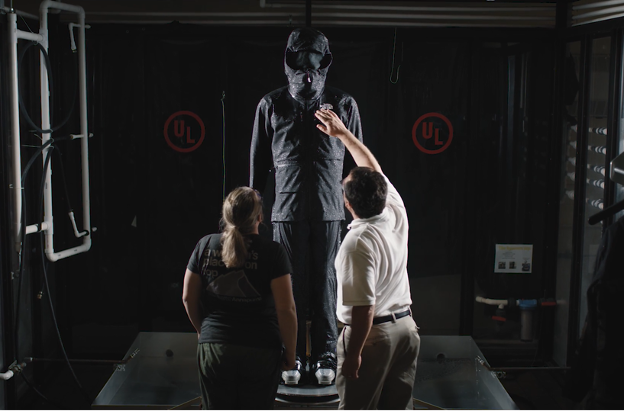 We are keenly aware that water scarcity affects certain communities where we live and work daily. We are committed to preserving this precious resource. Where we need water to perform our services, we will prioritize our efforts to monitor water consumption and plan and adjust based on potential water risks as we continue to find ways to implement water efficiency best practices at all locations. We're also seeking new ways to reduce, recapture and reuse water as an important next step in mitigating our impact on water resources.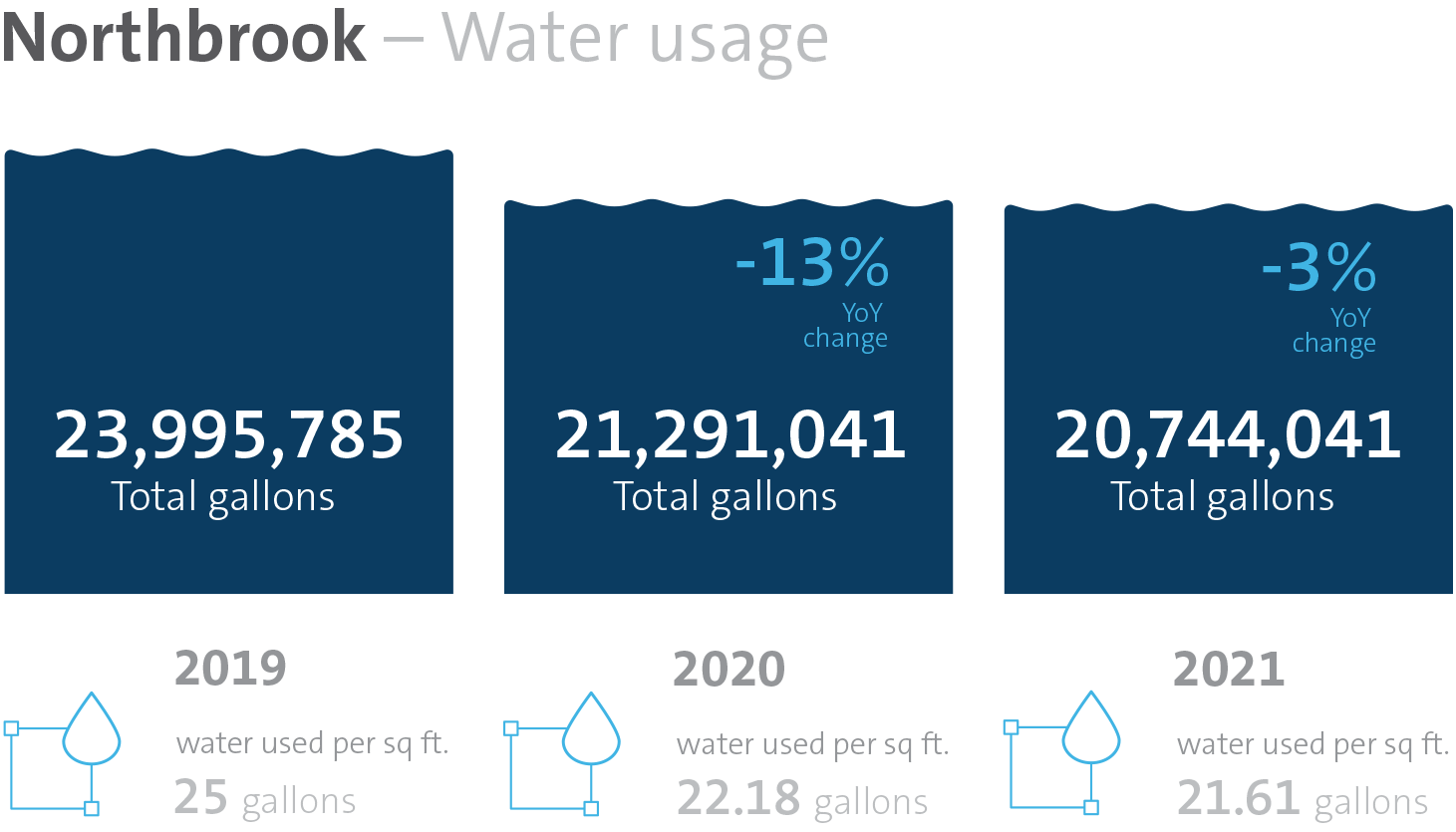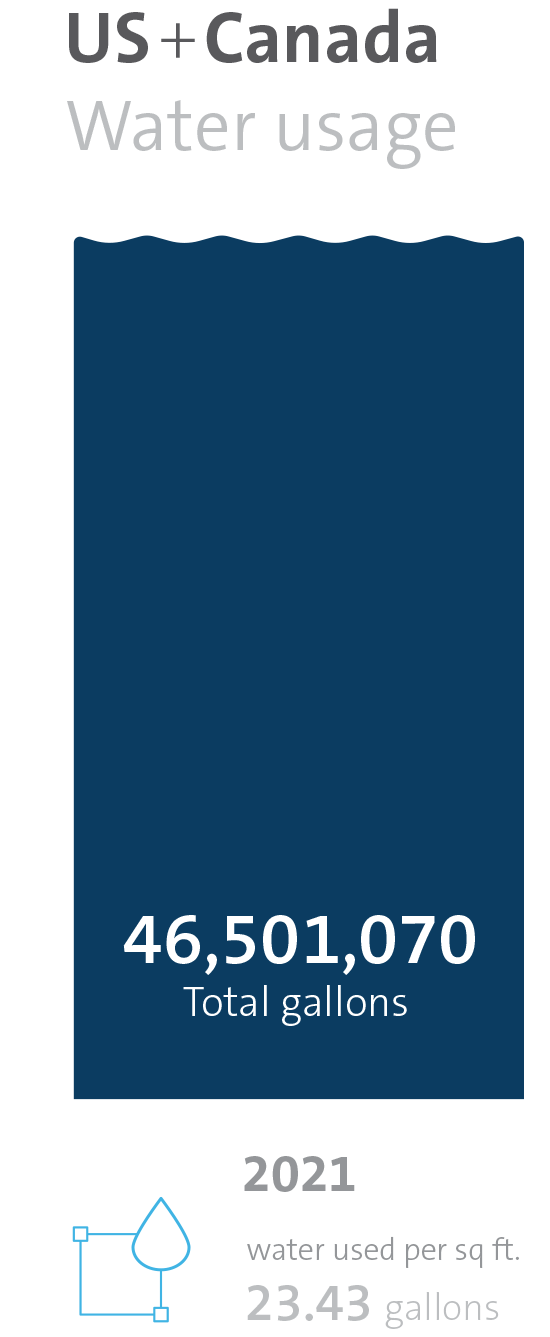 Taking action in Tokyo: Reducing waste and boosting information security
Our Tokyo-based colleagues are committed to growing a culture of sustainability at their workplace. Most offices struggle with paper-based waste, and these UL employees tackled this challenge with a creative and comprehensive, systems-based approach.
Digitization is accelerating across our enterprise. Going digital reduces paper-based waste while improving customer data security. The global pandemic proliferated digitization efforts at UL, including at Tokyo's seven laboratory and office facilities, especially as colleagues there began working off-site more.
In Tokyo, our colleagues have done more to manage paper-based waste than to simply add "consider the environment" email footers and a few more recycling bins around the office. Their holistic approach included multiple strategic approaches that accomplished both sustainability and security goals.
Emiko Ohtsuka, administrative services manager, coordinated these efforts among many different divisions, job types and facilities. Partnering with the building owner, Mori Trust Co. Ltd., Emiko and her office colleagues now sort six different types of paper waste: copy paper, colored/glossy paper, newspaper, cardboard, confidential documents and other paper waste. The simple and convenient sorting system leaves employees feeling proud about the small extra steps they each take to make a larger collective difference.
Since 2017, colleagues in the Aichi electromagnetic compatibility (EMC) laboratory have reduced paper waste by digitizing electronic reports, saving dozens of sheets of paper per project. These practices multiplied in 2021, and now many more divisions and groups use web-based processes to approve, update or stamp documents. Every sheet saved makes a difference.
The rising headcount in our Tokyo offices puts space at a premium. To safely accommodate more people, Emiko and her team have also slimmed down storage space, reducing the number of drawers per employee. This approach reduces printing and encourages digital filing while ensuring greater security around confidential information. The strength of their information security processes helped UL in Japan achieve ISO 27001 compliance.
Employees like Emiko mobilize our mission of working for a safer, more secure and sustainable world beyond our core products and services. Our Tokyo colleagues exemplify our mission-driven people all around the world.
We are examining ways to divert waste from our landfills and seeking responsible, collaborative and innovative methods to repurpose the materials that leave our facilities. As we meet increased needs for testing, we face the challenge of deploying responsible methods to dispose of the materials that leave our laboratories. 
Our engineers need to conduct stringent, robust and repetitive tests. They may involve applying extreme heat, duress and other stressors to prove a product's safety for use. Those tested products often become part of our waste stream, along with any temporary structures created to perform specific tests. 
When possible, we divert our waste from landfills through methods such as recycling and incineration. However, we prioritize collaboration with our business partners to find even more ways to responsibly dispose of or repurpose our waste. In 2022, we will specifically evaluate our sample waste streams to seek innovative methods to repurpose samples that the testing process does not destroy. At both an enterprise and local level, we will provide educational opportunities to our employees to help reduce our overall waste.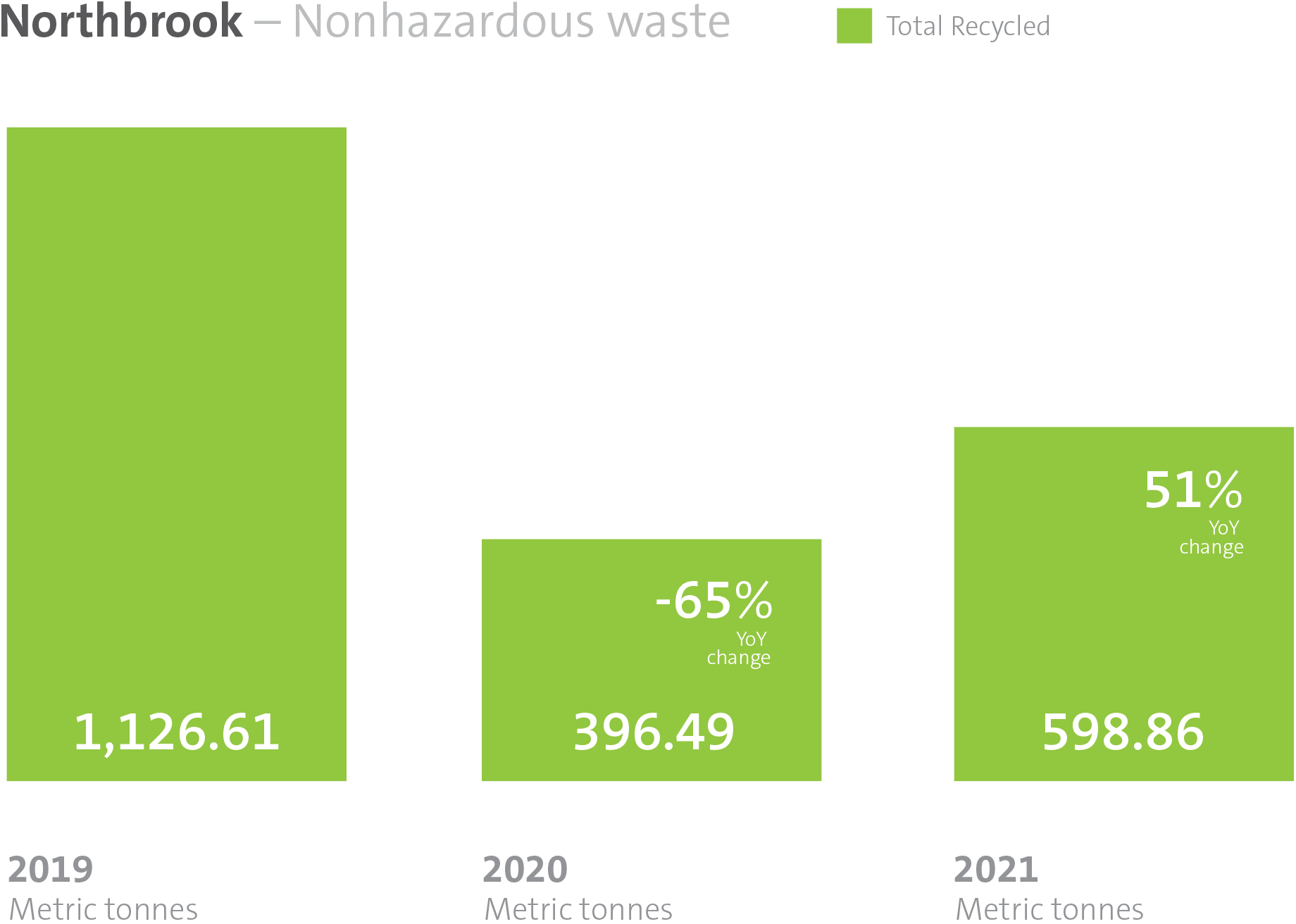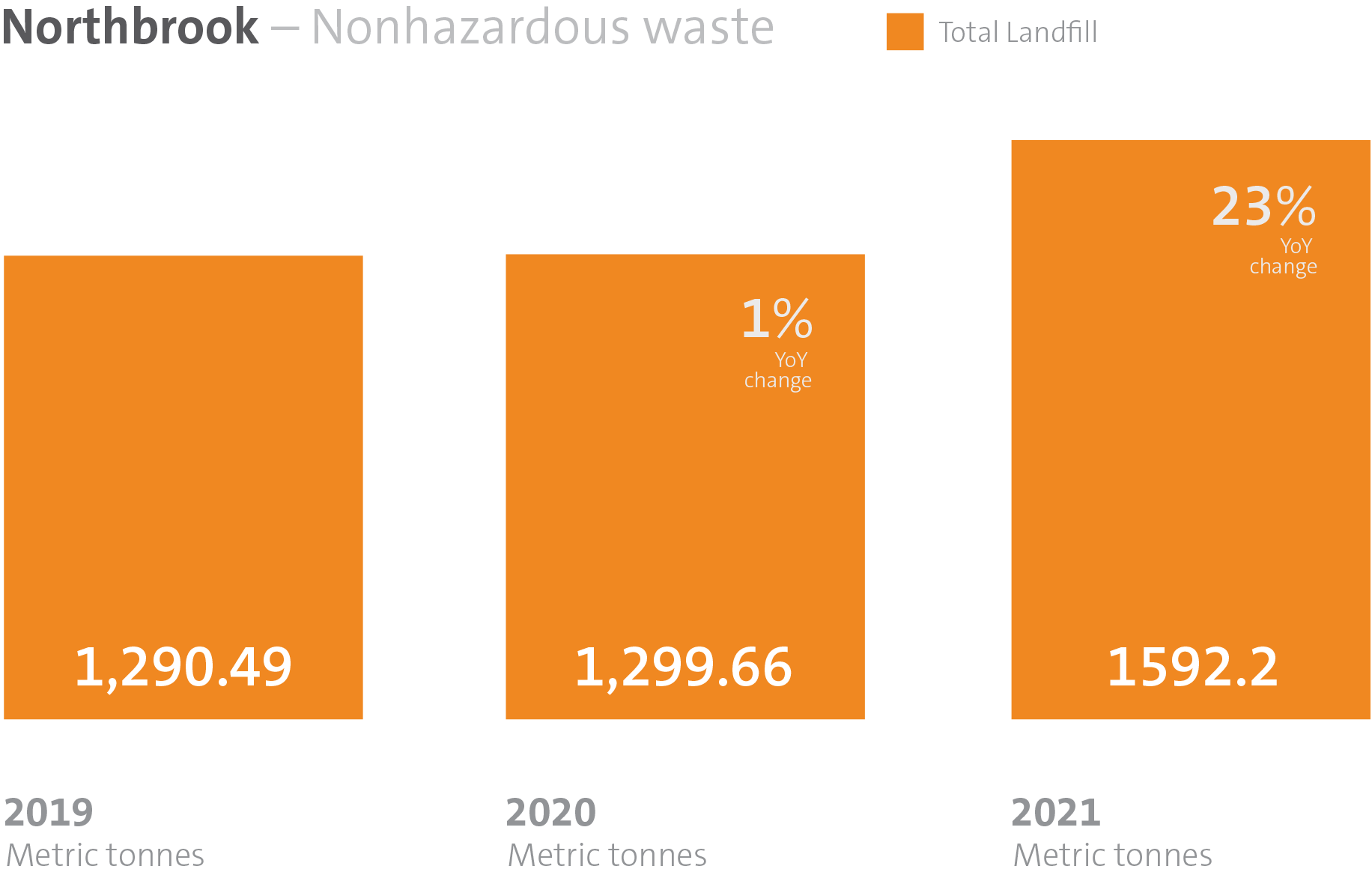 Waste and Materials Task Force
In 2021, we expanded our Waste and Materials Task Force to include global representatives to help us improve our waste and material management internationally. This task force will identify opportunities to reduce waste generated from operations, provide guidance on systemic waste reduction practices and develop tools to simplify and sustain recycling efforts across our laboratories and global sites.
Every day is Earth Day: Global cleanup
From Washington to North Carolina and from the U.K. to Hong Kong, our people don't let Earth Day pass without paying respect to our planet. Every year, we publish our corporate sustainability report on Earth Day, and every day, we provide opportunities for our people to actively participate in our sustainability journey by taking time off to volunteer and model our mission within the communities where we work and live.
In 2021, more than 150 employees in 10 countries tackled waste in their communities on Earth Day.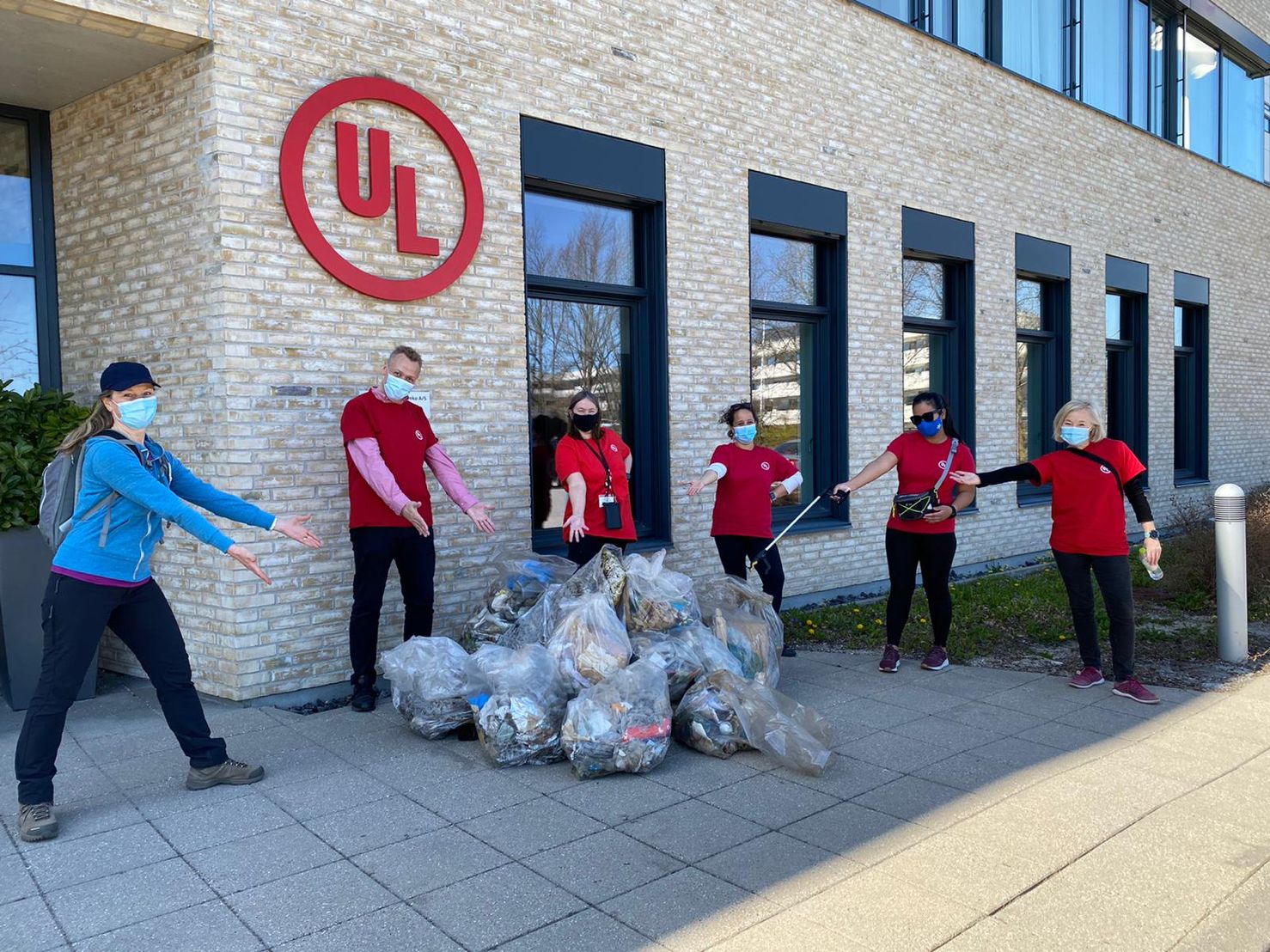 As our colleague Brian Leonhardi in Minnesota rightly states, "Not all heroes wear capes, but some wear UL shirts."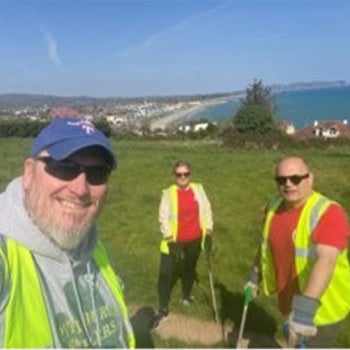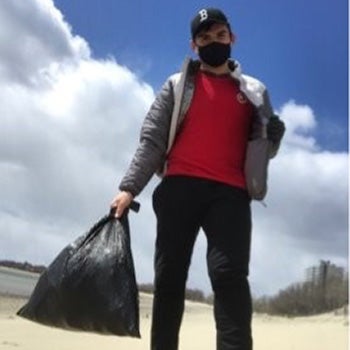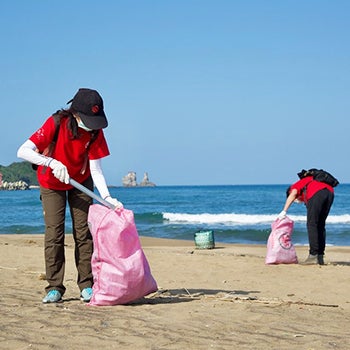 UL colleagues contribute to Earth Day cleanups at (L) the seafront in Bray, Ireland; (center) Carson Beach in South Boston, Massachusetts and (R) a beach in Taiwan.
Environmental compliance
We maintain a robust environmental compliance program as a critical aspect of our long-term success. UL generates air emissions, stormwater, wastewater, hazardous and non-hazardous waste and manages hazardous chemicals. Our stakeholders, including our global colleagues, neighbors and surrounding communities, suppliers and customers, as well as society at large, consider responsibly stewarding these outputs of critical importance.
We manage our environmental compliance at an enterprise level. As part of UL's Environmental Health and Safety (EHS) team, these programs function as a strategic arm of a detailed EHS plan including short- and long-term goals for environmental compliance.
As the global safety science leader, we embrace the strictest compliance policies at all our global sites, implementing internal policies and procedures often more stringently than the local governing bodies.
We have committed to an enhanced environmental management system (EMS) to upgrade how we manage environmental compliance obligations. This new system will enable us to generate meaningful metrics and key performance indicators for EHS.   
Our EHS team ensures that we operate with the appropriate environmental liability insurance, and we evaluate environmental compliance liabilities during due diligence of future potential acquisitions.
In 2021, we did not identify any noncompliance with environmental laws or regulations at any UL sites and therefore faced no fines or monetary sanctions.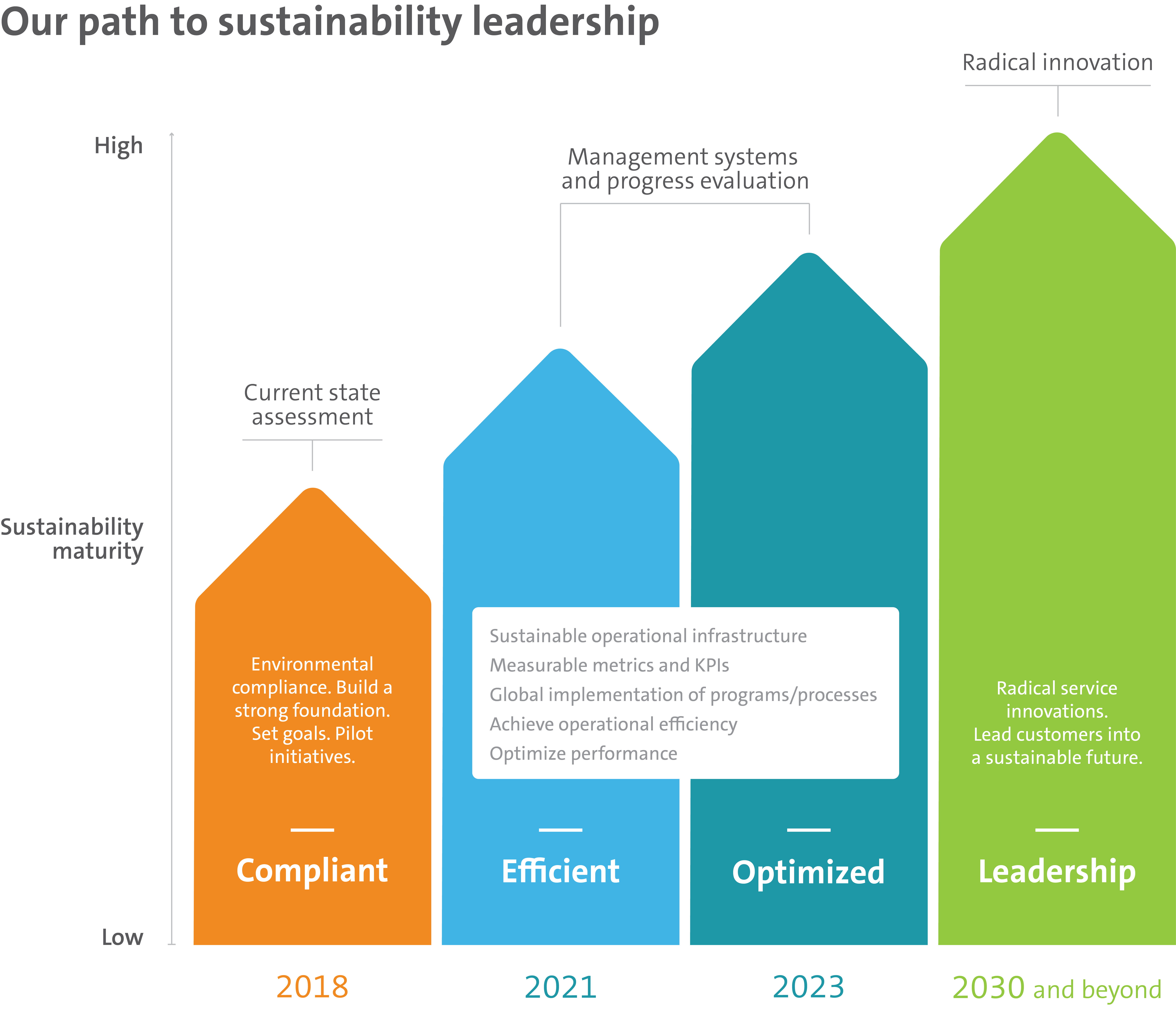 Download the 2021 UL Sustainability Report
2021 UL Sustainability Report
18.19 MB